How To Buy #ImStillWithHer Shirts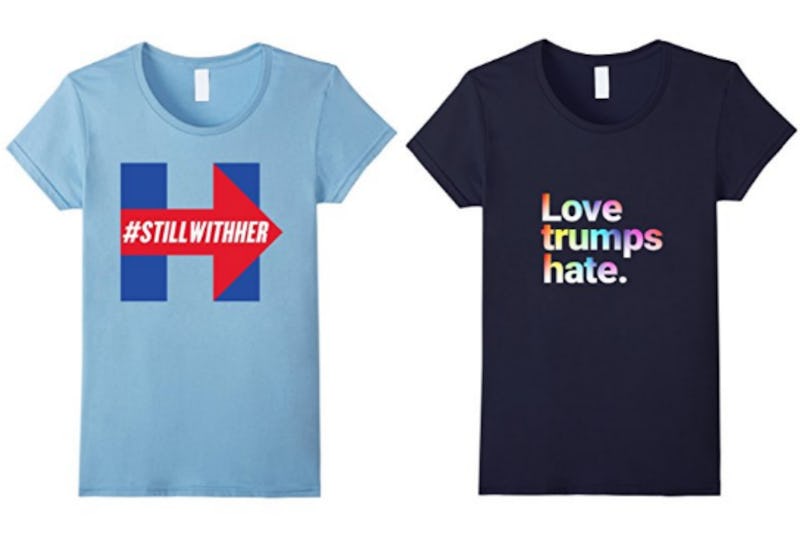 It happened: Donald Trump was elected as the President of the United States. Many people are feeling scared, anxious, hopeless, and angry — all of which are understandable feelings, and you have every right to have those emotions acknowledged and respected. Still, countless folks around the country are showing support for Hillary Clinton, regardless of the outcome, through tweets, apparel, posters, and social media posts. Want to know how to buy #StillWithHer shirts? We've got you covered.
On a personal level, I'm admittedly very, very sad. It's reasonable to feel deeply disheartened at the fact that an historic event did not happen, one that many, many of us have been waiting for and thought finally could occur, the person who was elected is very frightening. It's hard not to be afraid, particularly when you fall into a marginalized or at-risk group that Donald Trump has threatened or vocally discriminated against. But it's more important now than ever that we are all still able to support one another as loudly and proudly as we can.
Still, it is important to show your support for one another and for the values you feel most strongly about. And in the event that you were a hardcore Hillary supporter, here's how you can show it off.
1. Show The World You're #StillWithHer
I'm Still With Her Hillary Shirt, $20 - $29, Amazon
Just because she didn't win the election doesn't mean you don't stand with her. Show that in no uncertain terms via this shirt.
2. Remember That Love Always Wins
Love Trumps Hate Shirt, $16, Amazon
To my fellow LGBTQ+ folks: I know we are all frightened, but our activists before us made it through so much and we will keep up the fight. Remember: love, compassion, and action can truly overcome hate.
3. Kill Two Birds With One Shirt
Hillary Clinton Don't Tell Me To Smile Racerback Tank, $20, Look Human
Give the finger to cat callers while simultaneously showing your support for our first female presidential candidate of a major party via this brilliant shirt that simply reads "Don't Tell Me To Smile" alongside a lovely illustration of Hillary Clinton.
4. Show Off Your Nasty Woman Status
Team Nasty Women Sock, $14, Look Human
The perfect gift for you, your best friend, your siblings, your parents... literally anybody on your holiday list could use these "Team Nasty Women" socks as a stocking stuffer.
5. As Seen On Rihanna, The Infamous NY Yankees Shirt
Hillary NY City Shirt, $20, Amazon
Made famous by superstar HRC supporter Rihanna, this Trapvilla shirt features Hillary rocking a New York Yankees cap. While we are all undoubtedly sad about Hillary not winning, there is nothing wrong with still showing
6. Channel Hillary At The Debates
Current Mood Hillary Pullover, $28, Look Human
Remember the face Hillary made whenever Donald Trump would interrupt her, i.e. every few moments? It was the exact same expression we've all had when a man refuses to yield the conversation, no matter how much he's already spoken or how little he knows. And now, you can channel her inner eye roll with this A+ sweatshirt.
7. Hilla-ray Of Sunshine Tee
Hillary Clinton Shirt, $25, Red Bubble
Hillary gave so many people a lot of hope, and this shirt pays tribute to that.
8. Top Off Your Outfit With A Nasty Woman Hat
Nasty Woman Embroidered Ball Cap, $13, Amazon
For those who want to add something a little subtler to their post-election wardrobe, there's this black "Nasty Woman" hat that works great with just about any outfit.
9. Show Support For Hillary And The LGBTQ Community
I'm Still With Her Rainbow Pride Shirt, $15, Amazon
Show your pride and camaraderie with both the LGBTQ community and Hillary.
10. Learn More About Hillary
Hard Choices by Hillary Rodham Clinton, $14 - $20, Amazon
In addition to learning about her plans and positions on domestic and foreign policy over the last year, you can also take a deeper look at Clinton's past through her 2015 book about her first term serving as President Obama's Secretary of State.
11. Add Flair To Your Phone Case
Hillary Clinton Transparent Phone Case for iPhone 7, $10, Amazon
Give your iPhone 7 a presidential boost with this clear "Hillary for America" phone sticker. She may not be the president, but she is always, always Hillary for America.
12. Sticker Up Your Phone, Laptop, And Notebooks
Hillary Clinton For President Sticker Sheet, $16, Look Human
If you want to simply add a little Hillary to your stationary, phone, or laptop, do so via these little Hill stickers.
13. Remind Them Who Gets Stuff Done
Hillary Clinton Nasty Women Get Stuff Done Shirt, $26, Red Bubble
And get stuff done, she does, and will always do.
Images: Look Human (4), Amazon (7), Red Bubble (2).
Bustle may receive a portion of sales from products purchased from this article, which was created independently from Bustle's editorial and sales departments.