You Definitely Made These Mix Tapes In The '90s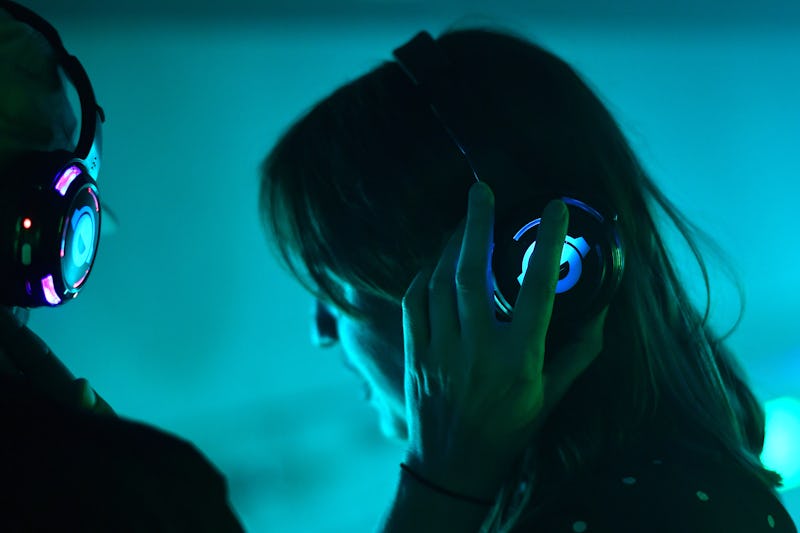 Anthony Devlin/Getty Images Entertainment/Getty Images
For the bulk of the '90s, we didn't have iPods. Heck, we didn't even really have CD burning technology until the early 2000s. But you know what we did have? Ingenuity, a lot of patience, and the desire to mix our own music. Enter, the mix tapes you made in the '90s. Although the songs naturally varied from person to person, there was a universality in the way we organized our mix tapes thematically — and odds are, we all made variatons on these eight themes at least once during our youths.
Those were the good ol' days, right? We were so careful to cultivate our playlists, because we had to work hard to get that playlist on tape. For some of us, the preferred method was sitting by the radio and waiting for the song we wanted to come on. That takes dedication, people! Not to mention time. Others among us were lucky enough to know someone with a double tape deck. This enabled copying from one tape to another, without the incessant waiting around to hear our songs on the radio.
Either way, we always went the extra mile to get it done. IMHO, it was worth the effort — I can't imagine what the '90s would have been like without mix tapes serving as my own personal soundtrack. Join me in reminiscing over some of our favorite mix tape themes of the '90s.
The Summer Mix
Spray some Sun-In in your hair, slide on some jellies, and head to the beach, because this mix was all about the carefree days of summer. Song selections included upbeat and often silly tracks like "Summer Girls" by LFO, "Pretty Fly for a White Guy" by The Offspring, "Steal My Sunshine" by Len, "Crazy Town" by Butterfly, "All Star" by Smash Mouth, "California Love" by Tupac, "MMMBop" by Hanson, and who could forget "Thong Song" by Sisqo?
The "4 EVA" Mix
This was the mix you'd listen to when you were deep in crush or coupled up blissfully. It coincided with the time frame you changed your AOL handle to something like "JuLiEnJaY4EVA." Swoon-worthy song choices might include "Iris" by Goo Goo Dolls, "I Want It That Way" by Backstreet Boys, "Head Over Feet" by Alanis Morissette, "As I Lay Me Down" by Sophie B. Hawkins, "I Swear" by All-4-One, "You Were Meant for Me" by Jewel, "Truly Madly Deeply" by Savage Garden, or "All My Life" by K-Ci & JoJo.
The Make-Out Mix
Whereas the "4 EVA" mix was more sentimental, the make-out mix had a purpose — to set the mood for some serious smooching. What kind of songs were on mine, you ask? "Crash Into Me" by Dave Matthews Band, "Wild Horses" by The Sundays, "Fade Into You" by Mazzy Star, "One in a Million by Aaliyah, "Kiss Me" by Sixpence None the Richer, "Kiss from a Rose" by Seal . . . you get the picture.
The "Could Go All The Way" Mix
We're all friends here, right? So we're not going to pretend some of us who were older teens in the '90s didn't have that magical prom night experience in our boyfriend's Ford Mustang. Hypothetically speaking, of course. Or, at the very least, there was some heavy petting going on anytime this mix tape played. Think "I'll Make Love to You" by Boyz II Men, "Last Night" by Az Yet, "Nice & Slow" by Usher, "Pony" by Ginuwine, "Nobody" by Keith Sweat, "Freak Me" by Silk, and "My Body" by LSG.
The Breakup Mix
Alas, when we weren't crushing hard or making out with someone, we were bawling our eyes out during a break up. In those moments, we needed a solid soundtrack to indulge in our self-pity. Tracks spanned the spectrum from sad to angry and every unhappy emotion in between. So, let's say "Don't Speak" by No Doubt, "My Heart Will Go On," by Celine Dion, "Brick" by Ben Folds Five, "November Rain" by Guns N' Roses, "End of the Road" by Boyz II Men, and "Push" by Matchbox 20.
The Girls' Night Mix
Whether you were hitting the mall or having a slumber party, every '90s girl had a bubbly mix for hanging out with her besties. These songs weren't the most introspective and some of them downright didn't make sense but, hey, they were hella fun. Classic choices include "Genie in a Bottle" by Christina Aguilera, "Where My Girls At" by 702, "Wannabe" by the Spice Girls, "Baby One More Time" by Britney Spears, "Just a Girl" by No Doubt, "No Scrubs" by TLC, and basically anything by Destiny's Child.
The Emo Mix
Listen, we '90s kids were fortunate enough to grow up in the Golden Era of Emo. Sometimes, we just need to really be in our feelings, ya know? On those days, we blasted mix tapes full of tracks like "And Keep Reaching for Those Stars" by I Hate Myself, "lovelettertypewriter" by Mineral, "The Summer Ends" by American Football, "Johnny On the Spot" by Texas is the Reason, "Planetary" by Rainer Maria, and "Goodbye Sky Harbor" by Jimmy Eat World.
The "Top of Your Lungs" Mix
Every minute spent waiting to catch these songs on the radio was well worth the time invested, because this mix tape was the one you belted out a million times on the way to school or hiding in your bedroom from your younger sibling. Songs might include "I Will Always Love You" by Whitney Houston, "Killing Me Softly" by The Fugees, "You Oughta Know" by Alanis Morissette, "Nothing Compares 2 U" by Sinead O'Connor, and "Emotions" by Mariah Carey, of course.
Images: Anthony Devlin/Getty Images