These '90s Holiday Movies Deserve Another Viewing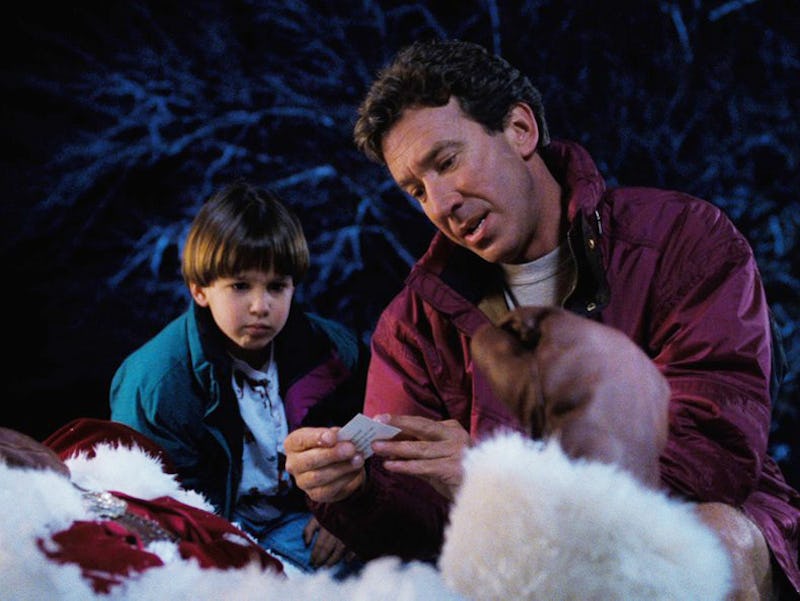 It's that time of year again. With the holiday season in full swing, you officially have permission to blast Christmas music, decorate the tree, and wear a Santa hat whenever and wherever you please. However, if there's one other must-do this holiday season, it's popping in your old VHS tapes to enjoy the holiday movies of the '90s. (OK, I guess a Blu-Ray disk works too.) Whether you grew up in the '90s or not, the movies that debuted between 1990 and 1999 were on the fast track to becoming holiday classics. It just wouldn't be Christmas without them.
Thanks to musicals that beg you to sing along, tales of families coming together in unexpected ways, and adventures unlike anything you've seen before, the holiday movies of the '90s set themselves apart from the classic Christmas cartoons of years prior. Real life mixes with fantasy when a man takes on the job of Santa, a boy is left home alone for the holidays, and two different snowmen come to life. It's really no wonder why so many '90s movies became instant holiday classics. Here are the holiday movies of the '90s that are worth watching over and over again.
Every little kid's dream comes true for Charlie when his dad puts on the famous red suit and takes on the role of Santa Clause. However, when Charlie starts telling his classmates that his dad lives in the North Pole, there's a reasonable amount of concern within the community.
An 8-year-old Kevin (Macaulay Culkin) has quite the Christmas when his family heads on a vacation without him. However, what could have been a lonely Christmas soon turns into a whirlwind adventure between the young boy and two home burglars.
While visiting New York City, Kevin finds himself alone once again — but this time in the big city. With the same burglars from the first movie still on the loose, this Christmas isn't going to be much easier than his last.
You may be familiar with the classic tale, A Christmas Carol. However, a journey through the past, the present, and the future is much more fun with muppets and singing fruit. Mark my words.
When you think of Arnold Schwarzenegger, you usually don't think of holiday movies. But, when it comes to finding the perfect Christmas gift for his on-screen son, this action star proves there's no battle he can't win.
Grab your tissues for this one. After a young boy's father dies in a car crash, they are reunited with one another when the dad's spirit takes the form of a snowman. While that may sound weird on the surface, this movie is sure to bring a tear to your eye.
How could you not believe in Santa? Despite being a remake of the 1947 classic, Miracle On 34th Street will have you believing in magic all over again — with Mara Wilson stepping in as the face of a generation.
All Hallie wants for Christmas is for her parents to stay together after getting a divorce. It doesn't get much more precious than that.
Heading home for the holidays? When a college student tries to head home, he's faced with some unexpected obstacles along the way. You better check that your plane tickets are in order before you leave.
This movie might not be all that popular, but, if you grew up watching ABC Family's 25 Days of Christmas, there's a chance that you've stumbled upon this one once or twice. The story follows a single woman who writes a Christmas list to the Santa at the mall. And, honestly, the '90s kids who are all grown up might appreciate this story moreso today.
Spend Christmas with Mickey, Minney, Donald Duck, and the rest of the gang in this three-part musical celebration. You'll be singing along and reminiscing on all of your childhood memories in no time.
This holiday classic may feel a tad bit more like a Halloween movie, but that still doesn't pull audiences away from the magic of Christmas. After this movie, you may have a hard time deciding which of the two holidays is your favorite.
While this may not be a full-length movie, fans of the Frosty The Snowman classic will appreciate the return of the jolly snowman, who's now facing an entirely new obstacle — the disappearance of snow. This tale will remind you of just how mean adults can be.
Now, if only I could decide which one to watch first. Pour yourself a hot cup of cocoa and get ready for holiday season full of '90s nostalgia.
Images: Walt Disney Pictures