21 Recipes For National Homemade Bread Day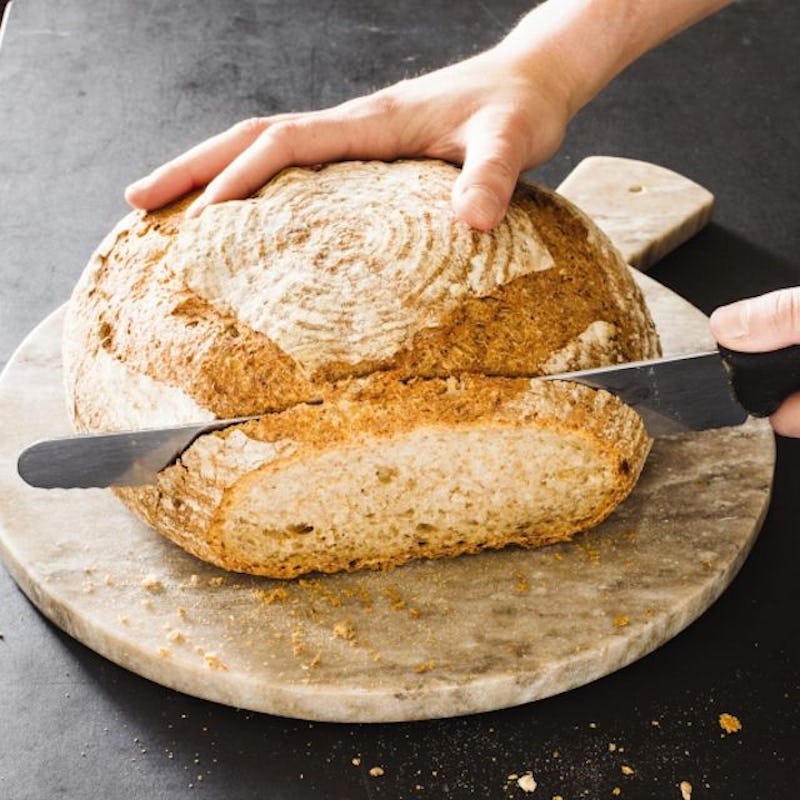 From breadsticks to dinner rolls, bread has a special place in many people's hearts. This Thursday, Nov. 17, consider making a homemade bread recipe for National Homemade Bread Day. It's the best (and tastiest) way to celebrate like the self-proclaimed foodie you know you are. And aside from the fact that bread is a delicious staple, knowing how to make it is a must for any baker.
Yet, it's no surprise that the concept of making bread from scratch makes most people run in the other direction. Many recipes call for yeast and kneading, two things that can be tricky to work with. But when you consider all the benefits of making your own bread, it might be worth the challenge. You can adjust flavors to your liking and experiment with ingredients. To top it off, you'll be able to master a basic kitchen skill that many may not have. It amplifies the appreciation for a homemade loaf of bread that much more.
Homemade bread recipes also double as amazingly delicious holiday gifts. Just slice up a loaf and place a few pieces in a cellophane bag. Tie it up with a strand of festive ribbon and you're good to go. Alternatively, you can gift an entire loaf as a present. It also makes a noteworthy potluck contribution for dinner parties and events.
Need some ideas? Here are 21 homemade bread recipes to get you started. Happy National Homemade Bread Day!
1. Gluten-Free Vegetable Buns
How beautiful are these veggie-based buns by Green Kitchen Stories? Made with ingredients like beets and dates, these gluten-free bites double as a healthy option for bread lovers.
2. Japanese Milk Bread
As a staple in Asian cuisine, Japanese milk bread can be pretty tricky to mold and shape. Luckily, the hosts of America's Test Kitchen figured out a way to make a microwavable flour paste that will make it super easy to shape. How awesome is that? Find the recipe in their new book, Bread Illustrated.
3. One-Skillet Dark and Stormy Bread
Between the rich molasses flavor and the convenience of a single skillet, this recipe by Joy the Baker is ideal for bakers who despise doing the dishes.
4. Cheddar and Black Pepper Bread
When it comes to comfort food, you can't go wrong with a flavorful cheesy bread. And thanks to Bread Illustrated, you can create a loaf full of cheddar-filled pockets.
5. Gingerbread Quick Bread Lemon Glaze
For a holiday bread with a sweet twist, turn to Willow Bird Baking's quick bread recipe with homemade lemon glaze.
6. Rustic Wheat Berry Bread
If you're a fan of the rich texture of wheat bread, check out this unique recipe in Bread Illustrated. This tutorial includes instructions for making homemade flour from wheat berries, a task that will earn you some major kitchen cred.
7. Mallorcas
Mallorcas are delicate and fluffy buns that can be found at nearly every bakery in Puerto Rico. Luckily, you don't need to buy a plane ticket in order to enjoy one. Check out Bread Illustrated to learn how to make them.
8. Gluten-Free Banana Bread with Salted Caramel
Joy the Baker gives the classic banana bread a gluten-free twist in this useful tutorial. The recipe also involves a brown sugar crumble and a homemade salted caramel topping. Yum.
9. Kaiser Rolls
Here's another basic recipe that deserves a place in your arsenal of baking recipes. Bread Illustrated demonstrates how to make a batch of simple kaiser rolls. Homemade sandwiches, anyone?
10. Blueberry Zucchini Bread
Zucchini bread is another baked good that is a classic favorite. Give it a berry twist with some help from Averie Cooks.
11. Brownie Mix Banana Bread
Brownie and banana bread come together in this mouthwatering tutorial by Something Swanky.
12. Paleo Nut and Seed Bread
Contrary to what most may think, it's totally possible to make bread without flour. Green Kitchen Stories demonstrates how to make vegan bread-muffins with psyllium husk powder, nuts, and seeds.
13. Banana Streusel Bread
Cinnamon streusel and icing on top of banana bread? Sounds like a dream. Head to Something Swanky for the recipe.
14. Chocolate Rollup Bread
Made with a tube of store-bought crescent rolls, this chocolate rollup bread idea by Averie Cooks is perfect for the lazy baker.
15. Pumpkin Bread Stuffed with Chai Cheesecake
While the glorious PSL has come and gone, pumpkin's reign is still in full force. Head to Willow Bird Baking for an autumn recipe complete with a chai cheesecake stuffing.
16. Cinnamon Toast Pancake Bread
When cinnamon toast and pancakes come together, it has to be good. Visit Something Swanky to meet your new favorite breakfast.
17. Whole Wheat Graham Cracker Banana Bread
Who says graham crackers are just for s'mores? This bread tutorial by Half Baked Harvest calls for a generous dose of graham crackers in the batter.
18. Soft Garlic Breadsticks
For another basic bread recipe to keep on hand, check out Baked By Rachel's soft garlic breadstick tutorial.
19. Monkey Bread
Looking for a party-friendly recipe? Bread Illustrated explains how to make monkey bread, a flavorful baked good that can be pulled apart for easy sharing.
20. Braided Cheddar Beer Bread
You had me at "cheddar" and "beer," Baked By Rachel.
21. Easy and Healthy Pumpkin and Rosemary Bread
Thanks to the versatility of pumpkin, it can also be paired with savory flavors such as rosemary. Sugar et al shares how to combine the two in this healthy bread recipe.
Images: Green Kitchen Stories; Bread Illustrated; Joy the Baker; Black Illustrated; Willow Bird Baking; Bread Illustrated; Bread Illustrated; Joy the Baker; Bread Illustrated; Averie Cooks; Something Swanky; Green Kitchen Stories; Something Swanky; Averie Cooks; Willow Bird Baking; Something Swanky; Half Baked Harvest; Baked By Rachel; Bread Illustrated; Baked By Rachel; Sugar et al