The 'SNL' Cast Does The Mannequin Challenge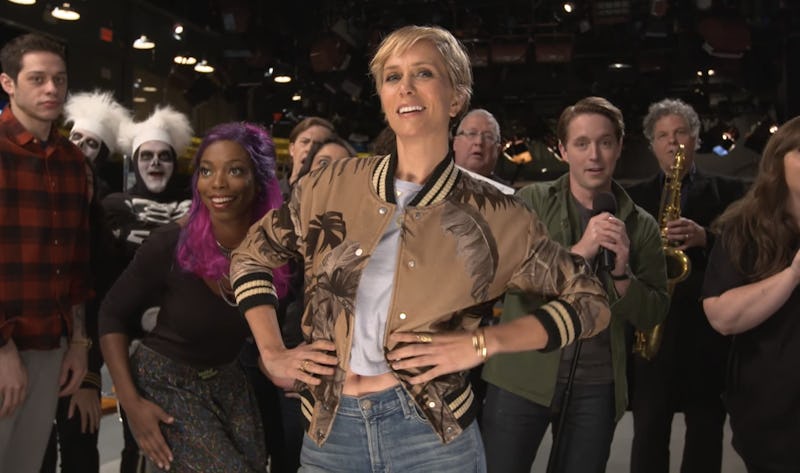 It's the middle of November, and Trump was just elected President: do you know where Melissa McCarthy is? After watching the newly-released promo for the Nov. 19 episode, I'm finding myself wondering if Melissa McCarthy will be on Saturday Night Live for that episode. The actress isn't actually in the video, hiding in the background somewhere behind the rest as Kristen Wiig and the SNL cast do Mannequin Challenge. But with Wiig as the host of the upcoming episode, and Kate McKinnon and Leslie Jones in the cast, what I realized is that three out of four of the main actors from the Ghostbusters reboot will be on set automatically. Thus, this would be a golden opportunity to go four-for-four.
Obviously, the comedic chemistry between the four women is ridiculous, and McCarthy is an honorary member of SNL five-timers club. She's hosted four times and made an appearance on the 40th Anniversary special, so she'd be more than comfortable in front of the camera. But, even beyond that, it sounds like no one would have to twist her arm at all to show up, based on on the amount of fun she describes having on the set of Ghostbusters.
As she told The Hollywood Reporter during a panel earlier this year:
It was kind of ridiculous. That Paul Feig had any footage to cobble together a film is shocking. You'd just hear Paul going, 'Ladies, we're still shooting.' If you go to work and you're like, 'Oh god, If I could just stop laughing so much, we'd get more done,'; if that's our big problem at work, I'll show up every day.
McCarthy also shared that, given the opportunity, she would happily do "102 more" Ghostbusters movies, so I'm betting she'd find a way onto the set of Saturday Night Live no matter what. Especially with as much fun as everybody's already having in this promo.
Here's hoping she makes it, and that she sneaks in Chris Hemsworth as well... maybe in her purse? All I'm saying is think about it.
Images: SaturdayNightLive/YouTube