7 Can't Miss HP Easter Eggs In 'Fantastic Beasts'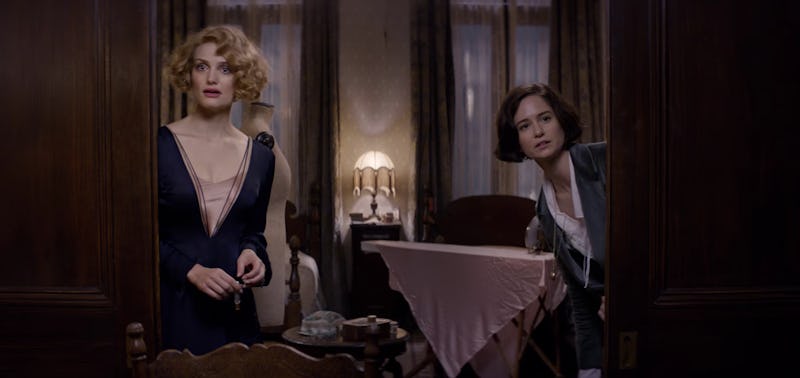 In theory Fantastic Beasts and Where to Find Them is completely independent from the Harry Potter series. The newest film from the magical mind of J.K. Rowling is, technically, a prequel to the beloved HP story, and it's not like they're talking about the Boy Who Lived in 1920s. However, that doesn't mean that there aren't a whole bunch of fun Harry Potter Easter eggs in Fantastic Beasts . After all, there would be no Fantastic Beasts without Harry Potter, and it would be foolish to think that Rowling wouldn't use the new film to help set up the story of Harry Potter. With that in mind, here are all the Harry Potter Easter Eggs in Fantastic Beasts and Where to Find Them .
It could be argued that the entire existence of Fantastic Beasts and Where to Find Them is just one huge Harry Potter Easter Egg. Because, let's face it, it kind of is. It's difficult to separate the basic premise of Fantastic Beasts — the story of Newt Scamander, a man who wrote a textbook used by Harry himself during his time at Hogwarts — from the Harry Potter series, and it's nearly impossible to separate it from all the bonus content found on Pottermore. Superfans, please note that this post will focus on ties between Fantastic Beasts and the Harry Potter book/movie series specifically — Pottermore content not include. Also, be aware of spoilers ahead!
1. Fantastic Beasts and Where to Find Them
The most obvious Easter Egg: at the end of the film, Newt mentions his manuscript on magical creatures, which details his findings on his collections of animals, as well as careful instructions on how to care for them. His new friend Tina calls it "Fantastic Beasts and Where to Find Them." As we know, this becomes the title for Newt's book, which does, in fact, get published.
2. "I'm More Of A Chaser"
Newt makes a super fun, and brief, Quidditch joke during his first run in with anti-magic activist Mary Lou Barebone. Mary Lou is hosting a rally for her Second Salemers group when she singles out Newt from the crowd and asks him, "Are you a seeker? A seeker after truth?" To the delight of Harry Potter fans everywhere, as noted by Inverse, Newt replies with a simple, "I'm more of a Chaser, really."
3. The Niffler
The Niffler makes his onscreen debut in Fantastic Beasts, but fans of the original Harry Potter books might remember the species from Harry Potter and the Goblet of Fire, when Hagrid brings in some Nifflers for a Care of Magical Creatures class. The Niffler also makes a brief appearance in Harry Potter and the Order of the Phoenix when Lee Jordan sneaks one into Umbridge's office to wreak havoc.
4. Dumbledore & Hogwarts
Dumbledore gets a few shoutouts in Fantastic Beasts , namely as the Professor who advocated against Newt's expulsion from Hogwarts. The fact that Dumbledore, who later becomes Headmaster of Hogwarts, believes in Newt certainly endears him to Harry Potter audiences, and reminds us of his reassuring presence over in Britain.
5. Lestrange
In Fantastic Beasts, Newt is revealed to have had a close friendship with a Lestrange family member at Hogwarts. Played by Zoe Kravitz, this Lestrange is only seen briefly as a photo, but her past with Newt is clearly significant. Queenie reads Newt's mind and can see how special his relationship with Lestrange was. Both outsiders at school, they became close, but have since lost touch. Still, he seems heartbroken thinking about their relationship. The Lestrange family, of course, is a pure blood family with historical ties to the dark arts and Voldemort — the evil Bellatrix Lestrange comes to mind.
Given Newt's sadness when it comes to his old friend Lestrange, it's clear that something big happened between the two of them prior to, or during, his expulsion from Hogwarts. When she looks into Newt's mind, Queenie says that Lestrange was "a taker," which sets her up to be a bit of a bad friend. Furthermore, the Lestrange family's pure blood ways suggests that they would have been on the side of Grindelwald in the early 20th Century, which would put them on the opposite side of Newt.
6. The Deathly Hallows
In Fantastic Beasts, the pendant necklace Graves gives Credence to connect them is the symbol of the Deathly Hallows, the three magical objects that can allow a wizard to cheat death. The Deathly Hallows — the Resurrection Stone, the Invisibility Cloak, and the Elder Wand — play a crucial role in Harry Potter's victory over Voldemort in the final HP book.
7 . Gellert Grindelwald
Grindelwald is known to HP fans as the sort of precursor to Voldemort. A dark wizard who rose to power before Voldemort, Grindelwald was close friends with Dumbledore before declaring war on Muggles and preaching wizard-superiority. Grindelwald and Dumbledore were close friends as young men, and together they searched for the Deathly Hallows. Teased at the beginning of Fantastic Beasts as creating chaos in Europe, Grindelwald is later revealed to have infiltrated the Magical Congress of the USA (or MACUSA). Though he is (spoiler alert) taken into American wizarding custody, fans of Harry Potter know that he isn't defeated until the 1940s. He will certainly grow to be an even bigger threat as the series moves forward.
There are, of course, plenty of other things in Fantastic Beasts and Where to Find Them that Harry Potter fans will go crazy over — the familiar wand movements and spells, the mentions of muggles and squibs. But these 7 Harry Potter Easter Eggs in Fantastic Beasts are the ones that will really make an impact on the series going forward.
Images: Warner Bros. Pictures; Giphy (2); fantasticbeasts/tumblr (5)