5 Slightly Strange Beauty Hacks I Swear By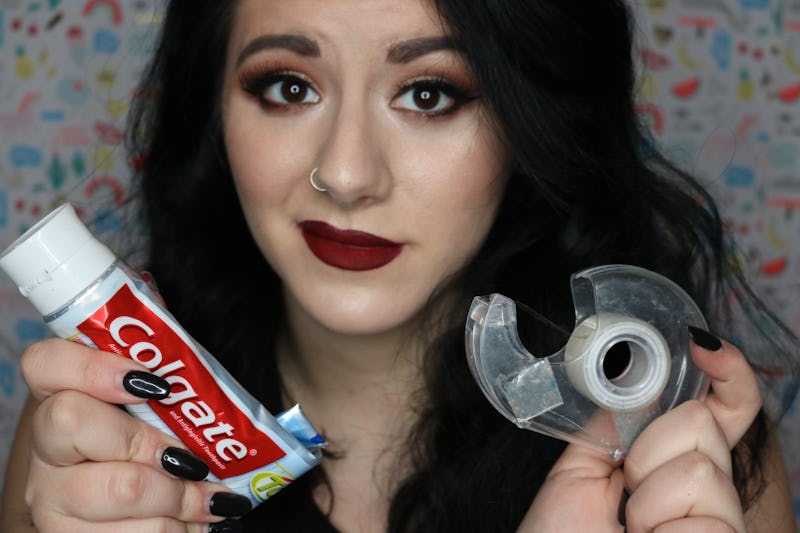 We all have them — things we do when no one's looking that'd cause us to melt into steaming goo puddles if someone saw. Strange beauty hacks might involve plucking stray hairs with something other than tweezers, or frantically rubbing your hair with a dryer sheet while people scratch their heads in confusion. In truth, I live for a strange beauty hack — and no one is going to change my mind.
Now, maybe they aren't as embarrassing as scratching various hidden body parts or eating food off a dirty floor, but these hacks definitely get some mixed reactions across the board. Overall, I'm a modest, clean-cut person. I love me some glitter, but that's pretty much as outwardly crazy as I get. However, if you were to see me in the throes of getting ready, then that's a completely different story: If it makes my life easier, I'll do it. If it makes me feel more confident, I'll do it. Even if it's strange. Even if it's flat-out disgusting. Even if I look like a crazy person while doing it. If it makes me look more glamorous, I'm game.
I'm about to reveal some of my most personal beauty secrets to you – things I don't even tell my closest friends. These are the hacks that take my looks to the next level — and no one is ever going to change my mind on them.
1. Employing Scotch Tape In Various Ways
OK, so this first one isn't totally uncommon, but it can be completely startling to someone who doesn't consult beauty YouTube regularly. If you need a debriefing: For the past year or so, beauty gurus have been using Scotch tape to perfect winged liner and eyeshadow edges.
I find this technique lifesaving, particularly on my laziest of days. If you have trouble getting the shapes of your eyeliner even, tape gives you an easily adjustable way to figure out the perfect angle. If you don't like the initial placement, just shift it. Totally commitment free (and much easier than fixing a sad and poorly placed liquid liner line).
Scotch tape also provides a guard that allows you to blend out your eyeshadow to your hearts desire. Sometimes when we blend without tape, we can blend too much or at the wrong angle and cause the shape of the eye to appear downturned.
Lately, I've even been using a small, rolled-up piece of tape to remove any stray flecks of pigment, mascara, and glitter from my skin. It lifts off the unintentional bits while leaving your makeup unscathed underneath. It's like a lint roller for your face.
2. Using Toothpaste To Zap Zits
Now this technique is definitely something I read in a tween magazine when I was a baby beauty-obsessed bae that could barely afford a Cetaphil cleanser, let alone a blemish cream. Toothpaste dries out the skin, which makes it extra effective for treating stuffy oil glands, aka pimples.
Of course, it's not great for every day — and believe me, many advise against it. Toothpaste contains various alcohols and bleaching agents which are great for you teeth but not so great for prolonged use on the skin. I myself certainly rather use the Kate Somerville EradiKate Acne Treatment if given the chance. However, toothpaste really does work wonders in a pinch. You may look like you have a flesh-eating disease after applying at night, but at least your skin will look fabulous the following morning.
3. Using Old Toothbrushes To Exfoliate & Clean
Once my toothbrushes have lost their strength, I retire them from my teeth, but I certainly don't throw them out. I repurpose those suckers! Reduce, reuse, recycle, amiright? A slightly-weakened, old toothbrush is the perfect lip exfoliator!
I get terribly bad, painful, dry lips in the fall and winter seasons (not so glamorous). Because I get patches of dryness rather than minor light layers of dead skin, even the highly praised lip exfoliators don't do much for me. Sometimes, you just need to get up in there and get physical. I like to think of my old toothbrush as a Clarisonic for my lips.
I also like to use my old toothbrush (a different old toothbrush, let's not be gross) to clean out all the grit and grime from underneath my nails. Because I work in makeup, those little crevices quickly fill with foundation, lipstick, and other substances — yuck! Each morning, I use my old toothbrush to clean out underneath my nails, so no one thinks I recently crawled out of a grave when they shake hands with me.
4. Eyeshadow-ing My Scalp
I have naturally light-brown, mousey hair that I dye jet black. I also have extremely thin hair that has began to shed tremendously in the past two years (partly due to stress, partly due to over-processing). My once full part now looks sparse and sad. In certain lighting, especially when my roots are growing out, it can look like I have small, unintentional bald patches at the top of my head.
I was desperate to find a solution, so I started using black-toned brown eyeshadow to fake the appearance of fuller hair. Using a flat shadow brush, I pat the color onto my scalp at the areas of my part that look more sparse and inconsistent.
The result is certainly convincing. Just a quick word to the wise — if you're trying out this technique,don't rub your head on things that are light in color. If I had a dollar for every time I accidentally got a smudge of black on a wall, car interior, or friend's pillow I'd be... well, I wouldn't be rich, but I'd certainly be able to help them replace their stuff.
5. Allowing The Skin On My Feet To Shed
This is the ultimate hack for getting a pedicure, but it certainly repulses people. I first tried Baby Foot about a year ago out of extreme desperation. I applied Baby Foot the way the package had described and then I waited. A week later, little flakes of skin started peeling off the sides of my feet. Suddenly, huge chunks of skin were falling off every time I looked at my feet. My socks were filled with little pieces of skin. Though it's not recommended on the directions, I began trying to speed up the peeling process by employing a pair of tweezers (because duh, I'm only human).
TonyMoly ShinyFoot Super Peeling Liquid, $6.99, amazon.com
Soon, my new baby feet had emerged from there snake-like skin cocoon, and I'm not ashamed to say that the whole thing is pretty satisfying — though it might make your partner or roommates quake in horror.
Overall, the message I want to share with people is that it's totally okay to indulge yourself in your favorite strange beauty hacks — after all, this is between you and your final #lewk, naysayers be damned.
Images: Kim Carpluk (7); Courtesy of Brand