7 Easy Ways To Hide A Hangover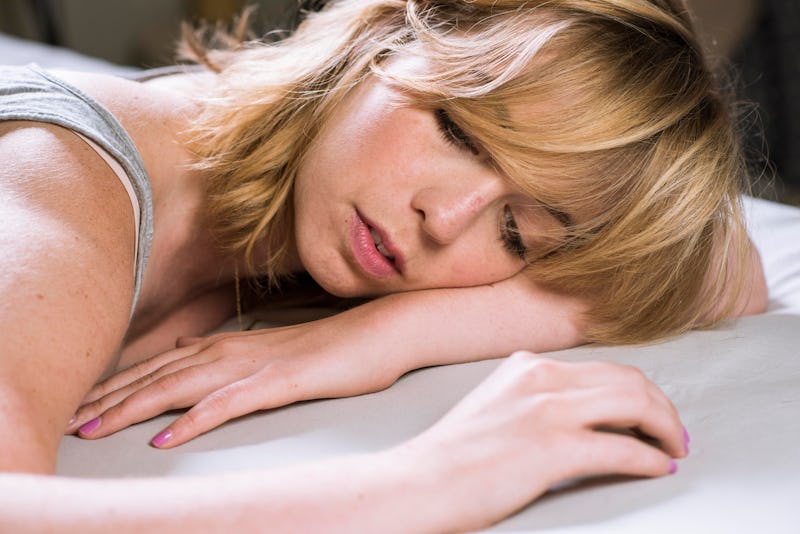 The Wednesday before Thanksgiving is arguably one of the most fun nights of the year. You get to take tequila shots until 2 a.m. with all of your high school besties, and look hot in front of people you haven't seen in years. Unfortunately, a wild Wednesday night tends to make for a majorly uncomfortable Thursday morning, especially when you're expected to look (and act) presentable in front of your family. So how can you hide a hangover on Thursday morning? The secret is in your skincare routine (and only requires you stealing a few products from your sister's makeup bag).
My mom happens to have a built-in "Zoe's Hungover" radar (which was really fun for me in high school), and I am constantly in trouble for not being my normal, glowy self when turkey time rolls around each year. Jokes on her this time, though, because I'm going to be able to mask my exhaustion, dehydration, and nausea (... and hopefully my aversion to turkey) with a few simple skincare and makeup tricks.
Here are seven things you can do, care of the experts, to make yourself look like a functioning human being when you're hungover during the holidays. No one ever has to know.
1. Use A Hydrating Face Mask
Kiehl's Ultra Facial Overnight Hydrating Facial Masque, $35, BergdorfGoodman.com
Pop a gel-based hydrating mask in the fridge, then put it on for five to ten minutes when you get home (while you're drunk eating the food meant for Thursday's dinner). "It revives, plumps and reduces puffiness!" says beauty guru Gregory Dylan. If you're looking for something that will work all night long (and that you don't have to remember to wash off in your drunken state), this Kiehl's overnight mask is one of my all-time favorite beauty products (no, they're not paying me to say that.) and will make you wake up glowing.
2. Drink Lots Of Water Before Bed
Your parents have definitely cleaned their BRITA filter more recently than you have, so this shouldn't be a problem.
3. Eat Your Water, Too
Yup, you read that right. "Keep hydrated by not only drinking your water but by 'eating' your water as well," says Dr. Howard Murad. "Make sure you're choosing water-rich foods like cucumbers, broccoli, eggplant, and watermelon." For breakfast on Thursday, try to eat loads o water-rich fruits like apples and pears. But don't eat too much of it — you'll need to save room for later!
4. Moisturize
Murad Hydro-Dynamic Moisturizing Duo, $150, Murad.com
Lather it on before bed and again in the morning to ensure you're hydrating from the outside as well as the inside. Use a toner or similar product before applying moisturizer to ensure your skin is fully absorbing the product, and don't forget to nourish your lips!
5. Try A Sleeping Mask
Fleur't Cat Eye Mask, $20, ShopBop.com
"This will work to combat the negative effects of alcohol while rejuvenating and repairing, lending to a less fatigued complexion in the morning," says Dylan. Feel free to bring it to Thanksgiving dinner to pull over your eyes when Uncle Bob starts sharing his election conspiracy theories, too.
6. Use Hangover Hiding Makeup
Too Faced Hangover Primer, $32, TooFacedCosmetics.com
When all else fails, grab your makeup bag and hope for the best. Too Faced's Hangover Replenishing Primer hydrates and smooths your skin for a dewy, healthy looking finish, and is basically like a Red Bull for your skin. Can't get your hands on this primer before Thursday? Here are even more beauty products that will help you look more alive when you're hungover.
7. Don't Stress
Spending a ton of holiday time with your family can be stressful, and this can have a major impact on your skin. "Healthy skin is a reflection of how you live your overall life, and holiday stress can definitely affect that," says Dr. Howard Murad. "I strongly believe in a whole-person approach that I like to call Connected Beauty. This means, taking care of yourself inside and out, and although it might be hard, try to incorporate proper nutrition in between holiday meals." Don't forget to engage in some self care over the holiday, and if you can, try to fit it in on Thursday morning before dinner. Trust me, it will help your hangover.
Images: Bustle, Courtesy of Brands