Hulu Is All About The Ladies In 2017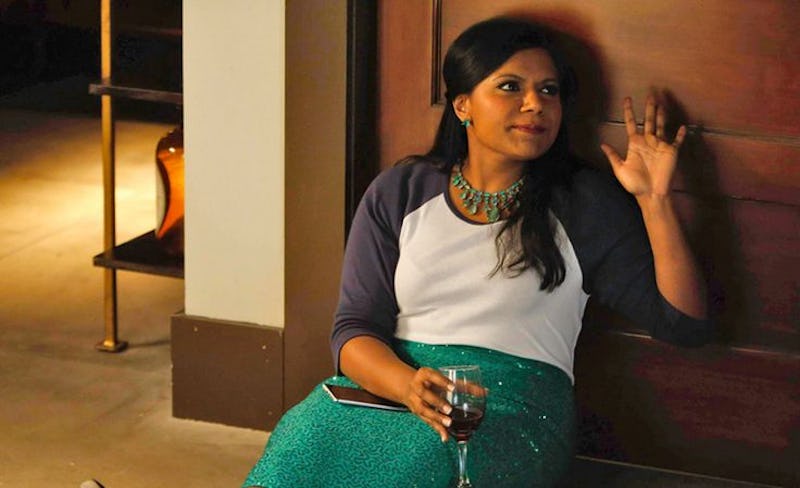 If you find yourself looking for feminist television in 2017, then Hulu should be your destination of choice. In a press release, Hulu has announced their winter 2017 lineup, and between the new and returning shows, the streaming giant is not shying away from telling stories about women from all backgrounds. From the dystopian world of The Handmaid's Tale to the further adventures of Mindy Lahiri, Hulu's originals lineup is dominated by dynamic female characters. While I'm usually the first to cringe when I hear winter is coming, Hulu is giving me some seriously awesome reasons to get psyched about sweater weather (and five excellent reasons to stay inside).
Hulu's impressive slate of shows includes Season 5B of The Mindy Project, The Path Season 2, Casual Season 3, the long-awaited premiere of The Handmaid's Tale, and a new female-centric period drama, Harlots. Each one of these shows has a unique feminist hook, whether it is Mindy's journey as a single mother navigating her professional life, dating, and societal expectations, or Harlots' exploration of the business of sex in 18th century London. Hulu is showing a major commitment to telling stories about women and social issues, which is exactly what the world is going to need in the early months of 2017.
Prepare to get psyched, because these five shows are going to be your first TV addictions of 2017.
The Path
Premiere Date: Wednesday, Jan. 25
Season 2 of The Path is going to delve even deeper into the nature of cults and power as Sarah (Michelle Monaghan) becomes even more involved in The Movement. As a skeptic, Sarah's motives for becoming Co-Guardian of The Light are no doubt going to be fascinating to explore. The Movement has given Sarah access to a new sense of power, and how she wields it is going to make Season 2 even more compelling than Season 1.
The Mindy Project
Premiere Date: Tuesday, Feb. 14
If there is one thing you can rely on, it is The Mindy Project tackling the realities of being a grown, single woman in a hilarious, on-point way. The back half of Season 5 will find Mindy dealing with her breakup with Ben, and the exquisite roommate pairing of Morgan and Colette. Mindy Kaling has always infused The Mindy Project with smart, sharply funny feminist commentary, so knowing Mindy will be back in your life soon should have looking forward to Valentine's Day this year.
Harlots
Premiere Date: Wednesday, March 29
If you cannot get enough of period pieces, then you have to see Harlots. Taking place in 18th century London, the series follows a brothel owner and mother, who finds herself in a turf war when a rival madam moves into her territory. The series stars Samantha Morton, Lesley Manville, Downton Abbey's Jessica Brown Findlay, and Eloise Smyth.
It is rare for a show to focus entirely on women, never mind a rivalry between female business owners. Having the sex trade be at the center of the feud only adds to the story, as it is an area that is rarely explored from a female perspective. If Harlots is done right, it could be one of TV's most feminist new series in 2017.
The Handmaid's Tale
Premiere Date: April 2017
Based on Margaret Atwood's landmark novel, The Handmaid's Tale will offer an unflinching look at life in Gilead. The dystopian future is one where women are used as servants or Handmaids, who are used by the upper class to combat declining birthrates. The story is one that deals with the dangers of letting politics rule women's bodies, class conflict between women, patriarchal society taken to the extreme, and the inner strength of a female protagonist who will not give up no matter what injustices she faces.
The story is astonishing in and of itself, but then Hulu went and cast some of TV's brightest stars to bring it to life. Elisabeth Moss, Joseph Fiennes, Yvonne Strahovski, and Samira Wiley are all starring in this show, which is further proof that it will be can't miss TV.
Casual
Premiere Date: Tuesday, May 23
Season 3 of Casual will no doubt continue to do what Casual does best: offer an unapologetic look at a family of chronically unsatisfied people. Valerie is going to strike out on her own for the first time since her divorce, and her move is going to have serious effects on the lives of her brother and daughter. If you haven't caught up on this dark family comedy, do yourself a favor and start marathoning it now.
Hulu is offering up amazing shows with strong female leads this winter. Go ahead and mark your calendars ASAP, because you are going to want to watch all of them.
Images: Hulu (5)