See The Kylie Cosmetics Holiday Edition Glosses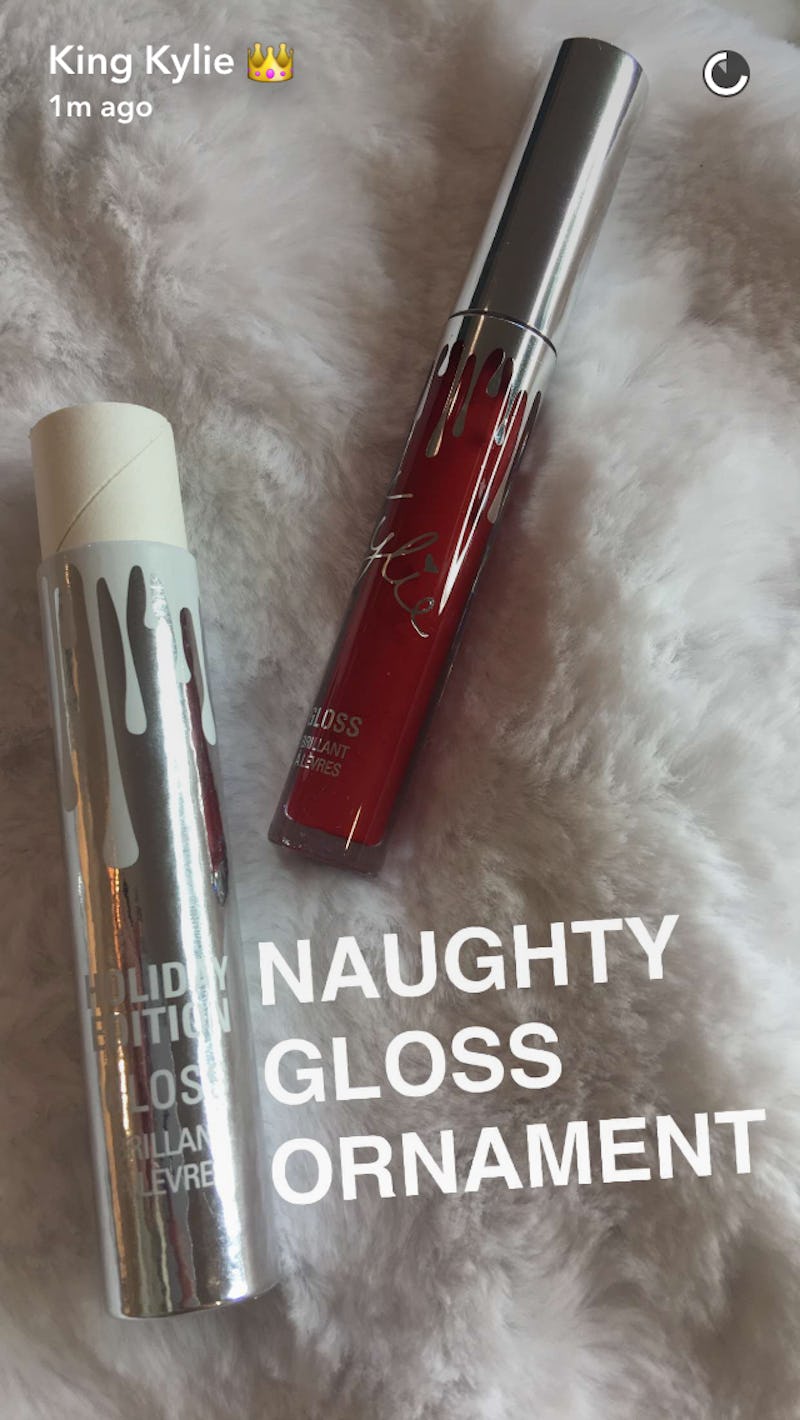 Kylie Jenner knows how to play the beauty game. After releasing several limited-edition product launches, including her Birthday Collection and the Koko Kollection, Jenner seems to be on a roll. Prepare to feast your eyes on the Kylie Cosmetics Holiday Edition collection!
There's so many new products in the new Holiday Edition line that it is hard to keep track, but the new silver-metallic-themed products are perfect for the holidays and include never-before-seen launches. Jenner revealed what was in her holiday stocking on Snapchat, and among all of the goodies are two new holiday glosses that are super shiny, thanks to a new formula that Jenner says is highly pigmented.
The two new glosses are Naughty and Glossy. Naughty is a bright-holiday red while Jolly is a dark plum gloss. She previewed swatches of both glosses on Snapchat, showing off the new formula. Along with the new two gloss shades, the Holiday Edition will include a new metal lipstick shade, two new matte lip kits, a new matte mini set, a new full-sized matte and glitter gloss set, three creme eye shadows, a new Kyshadow palette, and a silver cosmetics bag. Woo!
Of course, Jenner has yet to say when the Holiday Edition products will go on sale, but stay tuned for more updates.
Let's go over all of the new glossy goodies, shall we?
1. Naughty
The new glosses have a hanger so you can use it as an ornament — so cute!
It's perfect for the holidays!
2. Jolly
It's such a good deep berry shade.
3. Cupid Glitter Gloss
It's so pink and glittery — I would totally wear this for NYE!
4. Noel Glitter Gloss
Noel is such a good lipstick topper.
Images: kyliejenner/Instagram (1); kylizzlemynizzl (3)