Set Your Alarms For Kylie's Holiday Edition Launch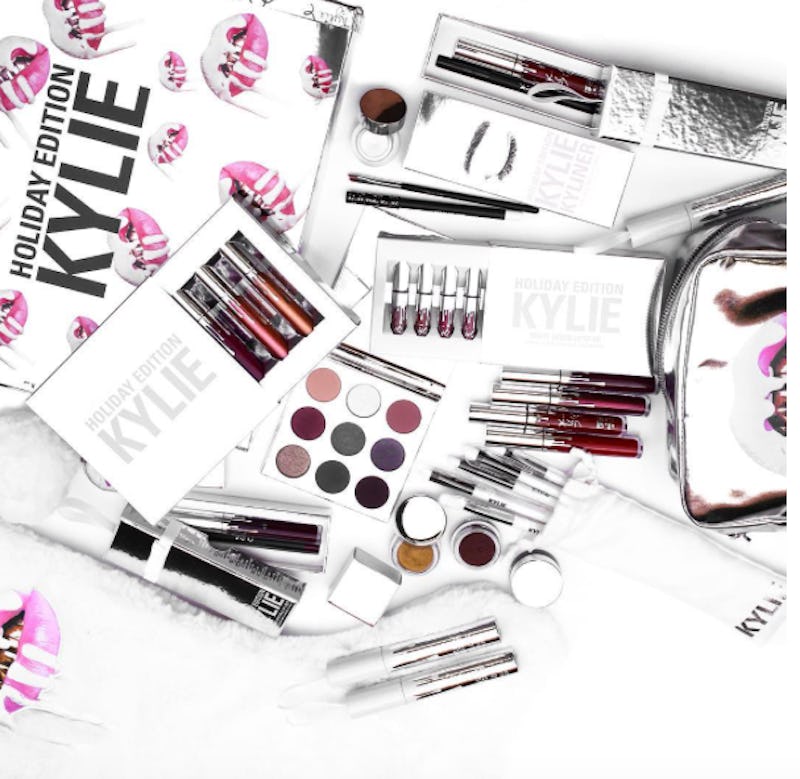 Can I get a drumroll please: Kylie Cosmetics Holiday Edition is finally here! After many product teases on Instagram and Snapchat of the mysterious Kylie Cosmetics stocking, you will soon be able to shop the holiday collection. If you haven't been tuning in, Kylie Jenner revealed the entire holiday line via Snapchat, and the products are going to be on sale on Monday, Nov. 21 at 1 p.m. PT. — just in time for any holiday shopping you have to do.
The collection is full of new products and lippie shades including a new metallic shade, two new gloss shades, three new creme shadow shades, a new Kyshadow palette, and so much more! You can shop two different lip kit sets, including one full-sized matte and glitter gloss set with four lippies and one mini matte set with six matte shades including two exclusive colors, Vixen and Angel.
So set your alarm for Monday, Nov. 21 before 1 p.m. because you won't want to miss all the new Holiday Edition products. In typical Kylie Cosmetics fashion, these silver-packaged products will most likely sell out quick just like the Birthday Collection and Koko Kollection, so act fast! And as announced on the Kylie Cosmetics Instagram, the company will be giving free domestic shipping on the first day of the Holiday Edition launch, so don't miss out!
Thanks to Jenner's Snapchat, you can get a preview of the holiday line so you know exactly what to buy come Nov. 21!
There will be a new silver metallic bag to match all of the products.
A new full-sized lipstick set with four exclusive shades is coming your way!
There's so many new jewel-toned exclusive shades coming out in the new Holiday Edition Palette — so don't miss the release date on Nov. 21.
And if you purchase any Holiday Edition products on Black Friday, you will be receiving a Kylie Cosmetics stocking!
*Fun fact* Since Jenner's Birthday Collection had all real gold in it, all of her Holiday Edition silver collection is made with real diamond powder. Fabulous!
Images: kyliecosmetics/Instagram (1); kylizzlemynizzl/Snapchat