'GG' Just Isn't The Same Without Edward Herrmann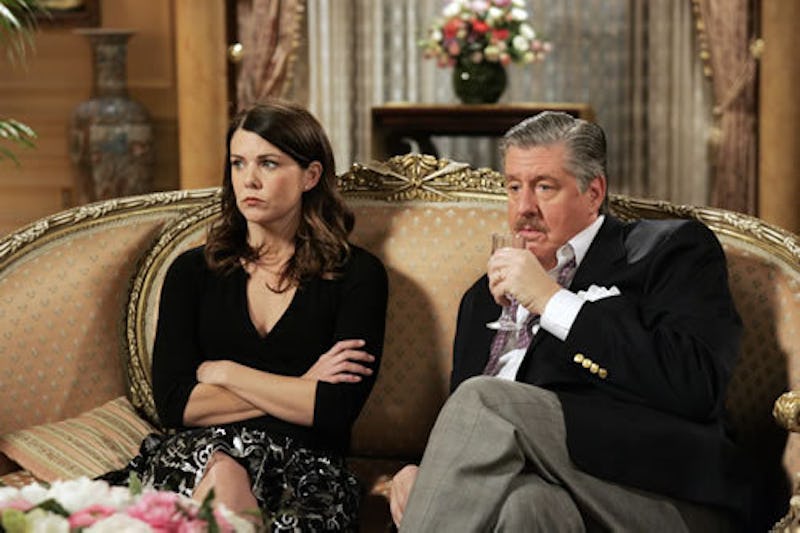 There are many reasons why the Gilmore Girls revival is going to be an emotional affair, but one of the main ones has to be the fact that Richard Gilmore won't be in it. Sadly, Edward Herrmann passed away in Dec. 2014, meaning that his character doesn't appear in Gilmore Girls: A Year In The Life, which premieres on Netflix on Nov. 25. As the show's trailers have already revealed, his wife Emily Gilmore has had a wall-sized portrait of the Gilmore patriarch painted and mounted in their residence. Now, creator Amy Sherman-Palladino has revealed that Edward Herrmann was missed on the Gilmore Girls set, especially as his presence in the show was always so large.
In an interview with Michael Ausiello at TVLine, Sherman-Palladino noted that changes in the set design for the show's move to Netflix made the cast and crew miss Herrmann more than ever. The Gilmore Girls creator said,
"He's such a tall man and the set was always so small. And every [season] we kept making the set a little bigger and the ceilings a little higher, because Ed would walk through an archway and it would look like a dollhouse. Every time we got a little bit [more] money, we made things a little bigger."
Herrmann's physical presence was always an important consideration for the Gilmore Girls team, along with his buoyant personality which will be totally missed when the series returns.
Sherman-Palladino clearly missed Herrmann on set a great deal, especially as the Gilmore house had changed so much. The creator said, "It was [finally] big enough for Ed. And he's [not here]." Excuse me while I sob profusely. The more I hear about Gilmore Girls: A Year In The Life, the more certain I am that I'm going to be crying for nine hours straight. And as executive producer Daniel Palladino said to TVLine, "We all just sat there thinking about him. It was an emotional thing." I have all the feels right now.
With just over a week to go until the Gilmore Girls revival hits our screens, it's time to finish marathoning the original series, and start investing in some strong tissues.
Images: Warner Bros. Television; Giphy