Kylie Cosmetics 2016 Holiday Edition Is #ByeMoney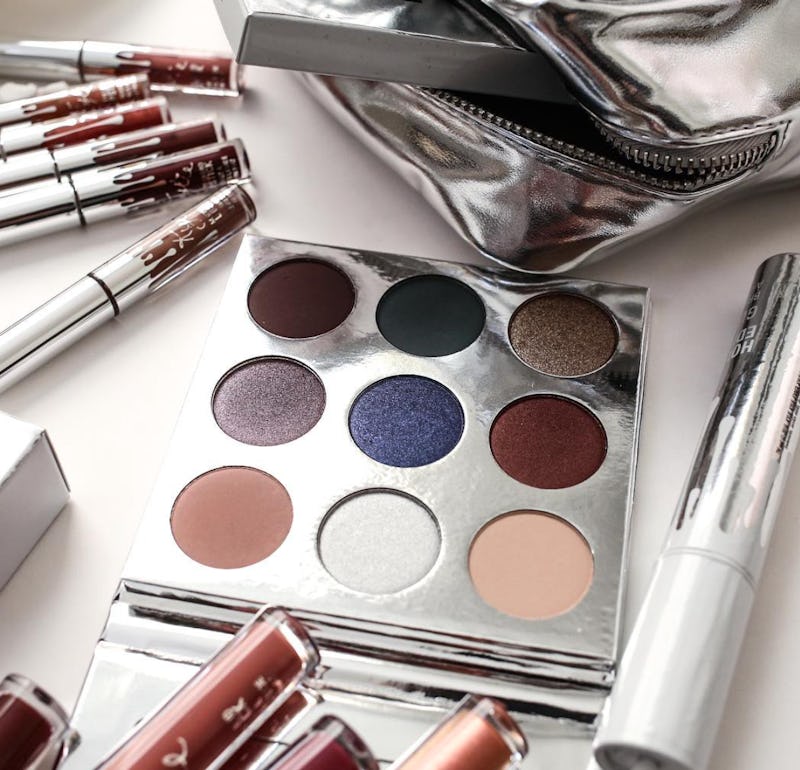 Forget moderation — bigger is better. The Kylie Cosmetics 2016 Holiday Edition Collection is the company's most beautiful and blockbuster launch to date. Dare I say that it trumps the limited edition Birthday Edition, which was gold-dipped and landed in August with brand new products and shades? In addition to festive and holiday-ready silver packaging, the range also features brand new colors for Lip Kits, a Kyshadow Palette, and creme shadows, which have only ever been featured in the company's limited edition collections. There's a new formula (and colors) for the Kylie Glosses, as revealed on Snapchat. There's a boxed bundle, gloss ornaments, and a fluffy white stocking that's free with Black Friday purchases. Jenner really went all out for these seasonal offerings. So, is the Kylie Cosmetics 2016 Holiday Edition Collection worth it?
Well, the brand posted most of the prices on its Instagram ahead of the official launch and there are really sweet deals, including one day of free shipping. Many of the Kylie Cosmetics Holiday Edition products and shades are likely limited edition — the brand hasn't confirmed which hold that status yet, but it's a highly likely scenario. That makes this makeup even more desirable.
The Kylie Cosmetics 2016 Holiday Edition products will go on sale for the first time on Monday, Nov. 21 at 4 p.m. ET/1 p.m. PT via the Kylie Cosmetics site, which is the brand's sales platform. The free shipping promotion will apply on that day.
The prices of these pieces, like the creme shadows, the minis, the gloss ornaments, and the "Big Box" bundle which includes all the lippies in full-sizes, a Kyliner, the creme shadows, and the powder shadow palette, are on par with most department store and prestige brands. That makes this collection worth it for makeup fiends.
Here is what we know and other reasons why the HE is worth it. With "the box of stuff" costing just under $300, it's a great value because it's such a treasure trove of stuff to beautify your face and lips. The Kyshadow Palette boasts nine shadows in new, smoky and wintry shades. The palette also boasts a mirror, which previous editions did not include. So that's an added value right there.
The Mini Mattes feature several shades and costs just $36. Since the liquid matte lippies are the brand's hero product and long-lasting, you can't go wrong with sampling several shades in totable tubes.
The Kylie Cosmetics Holiday Edition Collection is a complete and total #ByeMoney episode. Just have your credit card out and ready to shop on Monday and through the holiday season.
Free Gift Alert! Below is the price breakdown for some of the items so you can start going over your budget ahead of Monday's launch.
Lip Kit Ornament $30
Holiday Kyshadow Palette $42
4-piece Full Size Kit $45
Creme Shadows $20
Mini Matte Kit $36
Gloss Ornament $15
Metal Ornament $18
Kyliner $26
Makeup Bag $36
Big Box $290
Images: Kylie Cosmetics/Instagram (5)