Here's When 'PLL' Will Air Its Final Episodes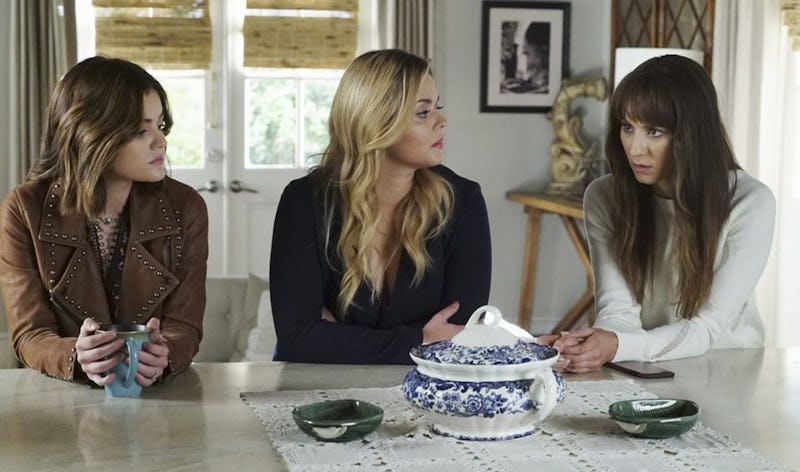 This just in: your favorite show, Pretty Little Liars, is set to resume in April. The Pretty Little Liars final season premiere date is Tuesday, April 18, which is so soon. That's wonderful news. This just in: this means that, after the 10 episodes that make up Season 7b are over, your favorite show is off the air. That's terrible news. Are you as thrilled/replete with despair about this news as I am? Are you punching the air/weeping into your pillow? If you're looking to regain your composure, there have been morsels of hope.
We have already been promised a one-hour Pretty Little Liars aftershow following the final episode where any remaining questions will be answered, which means it's already going to be far less painful a finale than the WTF-inducing Season 6, Episode 10. Besides which, showrunner I. Marlene King seems as reluctant to let go of the Pretty Little Liars gang as we are.
When asked about the possibility of a Pretty Little Liars movie, King stated:
"We're very open to finding ways to keep these characters alive and I hope that down the line we find a way to bring all the girls back together again. It's such a fun world to play in that we're always keeping those options open."
Sure, that's not a yes. But it's also not a no.
I know, it's an extremely confusing time for all of us. Still, if Freeform really are closing their Pretty Little Liars chapter forever, then it's the perfect opportunity for you to finally get really into that one Pretty Little Liars spin-off, Ravenswood. Sure, it's not the same, and, sure, it didn't have the same magic as Pretty Little Liars. And, you know, it got cancelled, so there are no more episodes beyond the ones you can find to watch. But it does have a ton of Caleb Rivers, a whole bunch of plot points that don't totally make sense and never got wrapped up, and a cast populated entirely by models with beautiful hair.
Hmm, wait. Maybe this could be your Pretty Little Liars withdrawal drug after all. You're welcome.
Images: Freeform; Giphy