Festive Food Quotes For Thanksgiving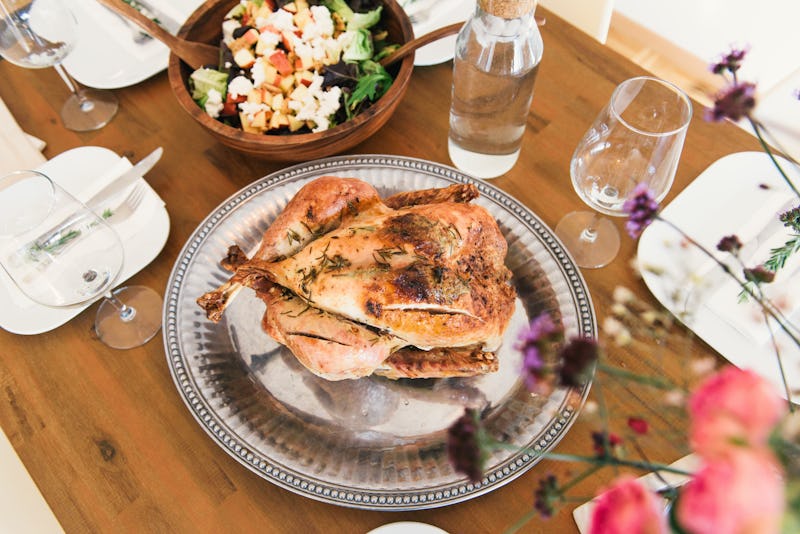 The turkeys are brining, the pie crusts are cooling, and the holiday centerpieces are being laid out. That's right, it's finally that time of year again: Thanksgiving. To help you celebrate the right way, I have perfectly festive food quotes for Thanksgiving 2016 that will get you in the spirit for this magical holiday.
Everyone has their favorite holidays. Some people prefer the fireworks and barbecues of July 4, while others would rather curl up by the Yule log and sing Christmas carols. But, for all the foodies out there, Thanksgiving is the end all, be all of holidays. An entire day devoted to fall's bountiful harvest, to getting your hands dirty in the kitchen, and to breaking bread and turkey legs with loved ones around the table — it doesn't get any better than that when it comes to food and the holidays.
Cultures all over the world are food-obsessed, but it's hard to top the love of eating that Americans have, around the holidays. Thanksgiving is the perfect time to embrace that part of our culture by spending all day in the kitchen, and all night around the dinner table sharing home cooked meals with the ones we love. Are you ready to celebrate?
Whether you're looking for words to work into your toast or something seasonally appropriate to display, these food quotes for Thanksgiving will get the job done.
1. "I don't know what it is about food your mother makes for you, especially when it's something that anyone can make — pancakes, meat loaf, tuna salad — but it carries a certain taste of memory." ― Mitch Albom
2. "I come from a family where gravy is considered a beverage." — Erma Bombeck
3. "I know the look of an apple that is roasting and sizzling on the hearth on a winter's evening, and I know the comfort that comes of eating it hot, along with some sugar and a drench of cream... I know how the nuts taken in conjunction with winter apples, cider, and doughnuts, make old people's tales and old jokes sound fresh and crisp and enchanting." ― Mark Twain
4. "To eat is a necessity, but to eat intelligently is an art." ― François de La Rochefoucauld
5. "No yoga exercise, no meditation in a chapel filled with music will rid you of your blues better than the humble task of making your own bread." ― M.F.K. Fisher, The Art of Eating
6. "A recipe has no soul, you as the cook must bring soul to the recipe." — Thomas Keller
7. "I have made a lot of mistakes falling in love, and regretted most of them, but never the potatoes that went with them." — Nora Ephron
8. "To be a good cook you have to have a love of the good, a love of hard work, and a love of creating." ― Julia Child, Particular Passions: Talks With Women Who Have Shaped Our Times
9. "There is no sincerer love than the love of food." — George Bernard Shaw
10. "Clean plates don't lie." — Dan Barber
11. "If you really want to make a friend, go to someone's house and eat with him… the people who give you their food give you their heart." — Cesar Chavez
12. "If more of us valued food and cheer and song above hoarded gold, it would be a merrier world." ― J.R.R. Tolkien
13. "One of the very nicest things about life is the way we must regularly stop whatever it is we are doing and devote our attention to eating." — Luciano Pavarotti
14. "To me, life without veal stock, pork fat, sausage, organ meat, demi-glace, or even stinky cheese is a life not worth living." — Anthony Bourdain
15. "Cooking is like love. It should be entered into with abandon or not at all." — Harriet van Horne
16. "Tita knew through her own flesh how fire transforms the elements, how a lump of corn flour is changed into a tortilla, how a soul that hasn't been warmed by the fire of love is lifeless, like a useless ball of corn flour." ― Laura Esquivel, Like Water For Chocolate
17. "One cannot think well, love well, sleep well, if one has not dined well." ― Virginia Woolf, A Room Of One's Own
Images: Giphy (6); Gabriel Garcia Marengo/Unsplash