'Gilmore Girls' Starts With Some Fond Memories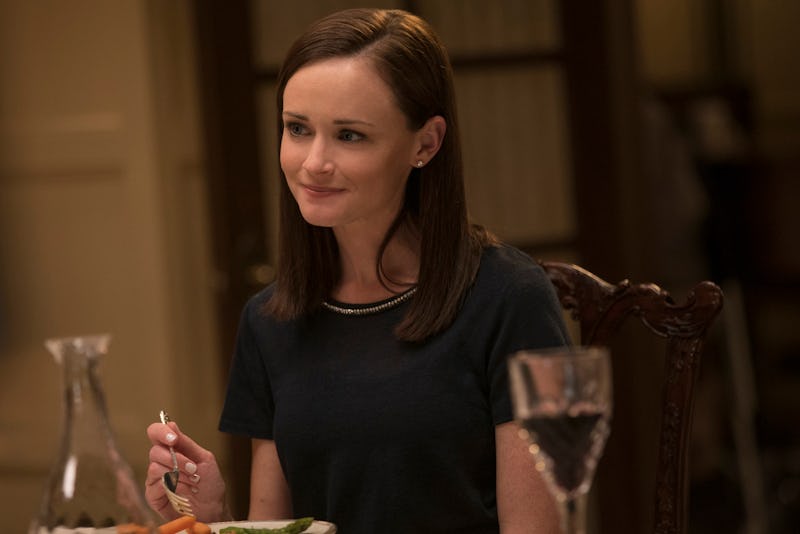 Make sure you have tissues next to your coffee and pop tarts. In lieu of the traditional opening credits, Gilmore Girls: A Year In The Life begins with a montage of quotes from the original episodes while title cards announce the cast. Like a more artistic "previously on Gilmore Girls," the revival's opening credits will jolt fans right back into Stars Hollow just in time for "Winter." Honestly, it's kind of magical.
Starting with Lorelai's "Please Luke, please please please" from the pilot, and going through several iconic Gilmore Girls moments from Rory, Paris, Emily, Luke, Michel, and Richard — the latter hits you like a ton of bricks. Two of Rory's lines are about Dean, if you want to interpret them in any way — but I didn't tell you to do that. Not me! The final line is "I smell snow," which leads right into the wintery first episode. However, "Spring" doesn't have any opening credits. These aren't typical episodes, they read more like chapters in an epic Gilmore novel.
While it would have been nice to see the old opening credits with Carole King singing "Where You Lead" and the old classic clips, this is a nice way to honor the original series while making sure that the Netflix revival stands out as its own thing. In theory, this is a new series, so there's nothing to pull clips from for a traditional opening credits without spoiling future events. A Year In The Life is still Gilmore Girls but not exactly traditional, so the nontraditional opening credits are a perfect fit.
Image: Saeed Adyani/Netflix