How To Prevent Tangled Hair From Scarves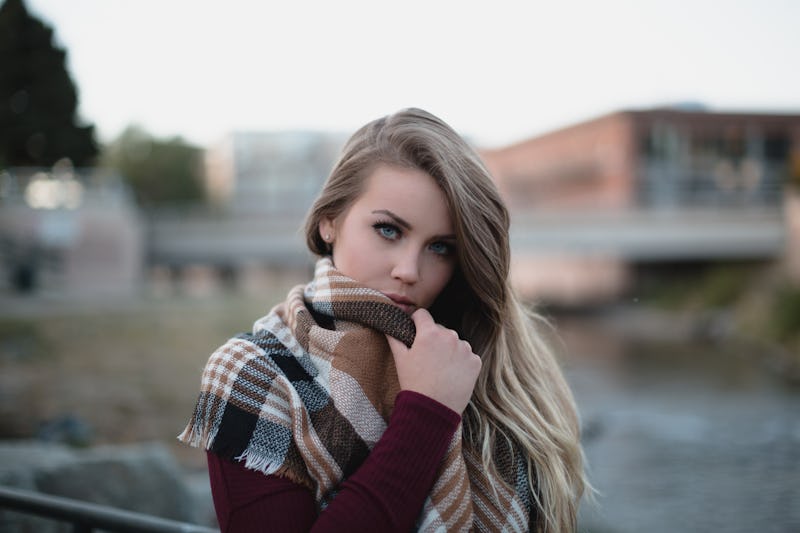 During the colder months, there's little more frustrating than picking out the perfect ensemble from your winter wardrobe, only for it to be ruined with knotted hair at the nape of your neck. If this sounds like your life, you'll likely be wondering how to prevent tangled hair with scarves, because getting all wrapped up shouldn't come at the price of a matted mane.
Removing your scarf to reveal entangled tresses is super frustrating. Not only is it unsightly and not the most professional of looks to rock when you turn up to work or a meeting, knotty hair can also be painful to remove. If you're caught unprepared without a comb to hand, the situation could go from bad to worse and you may have to attempt to finger comb the tangles out — which can hurt and take forever.
It's not just long haired lovelies that suffer with this issue, if your hair is long enough to be covered by your winter scarf, it can be at risk of ending up in a knotty mess. Although it would be awesome if, in reality, our strands could remain looking silky smooth and heal people à la Rapunzel in Disney's Tangled, but unfortunately we live in the real world.
So here are a bunch of solutions to prevent tangled hair while wearing scarves.
1. Wear Hair Up & Out Of The Way
The most obvious method to keep hair from getting matted in your scarf is of course, to whisk it up out of the way. Haven Spa hairstylist, Triana Francois, tells Bustle over email, "Keep your hair detangled in your scarf by rocking a bun. Buns are great for maintaining styles. Just twist your hair around."
R+Co Foil Frizz Plus Static Control Spray 5 Oz, $27, Amazon
Static and frizz can lead to tangling, so use a purpose made product to tame your tresses — R+Co Foil Frizz Plus Static Control Spray should work a treat!
3. Tuck Your Hair In Before Tying Your Scarf
According to Allure, tucking your hair away saves it from rubbing against your scarf. Hairstylist Nathaniel Hawkins tells Allure, "Tucking your hair into your sweater or shirt before you put on your coat is always a good idea," he later explains, "that friction causes your hair to knot," so tuck your hair inside your top before you put your scarf on.
4. Use Fabric Softening Sheets
Although it sounds unusual, fabric softening sheets could come to your rescue during the scarf-wearing season. While discussing cold weather hair tips, Corey Tuttle a Honey Artist Hairstylist, explained to me over email, "Fabric softening sheets are also great to rub on your hair to prevent unwanted static."
5. Use A Leave-In Conditioner
According to Style Caster, who spoke with Cutler/Redken Stylist, Emily Heser, "To prevent your hair from getting tangled underneath your scarf, Heser says to apply a bit of leave-in conditioner." Fingers crossed this will keep your hair moisturized and more under control.
6. Avoid Using Tons Of Product
A little product won't harm and, as previously mentioned, could aid your situation, but it's best to avoid too much. Style Caster reports that Heser, "...also says you should avoid over-using products like hairspray to keep your hair untangled and smooth."
Tangle Teezer Compact Styler Hair Brush Black And Pink, $14, Amazon
British hair and beauty salon chain Rush informs folks that Tangle Teezers are a nifty tool for knotted hair. According to the Rush website, "We are big fans of Tangle Teezers...They are a perfect handbag size to keep brushing on the go, they glide through the hair without pulling or breaking and are soft to massage the scalp."
In addition to this, Francois tells me over email, "The best way to prevent hair from tangling is making sure you brush your hair before you put your scarf on. Brushing your hair daily is great for detangling and removing dead ends that cause tangling." So make sure to brush your mane before putting on your scarf and take a Tangle Teezer with you for hair-mergencies.
Your hair needn't become the bane of your existence this winter, just follow these tips to tangle-free hair. Because your winter wardrobe should be your cozy friend, not your frenemy!
Images: Evan Batky (1), John Mark Arnold (1), Alessio Lin (1), William Hope (1), Rocksana Rocksana (1) /Unsplash; Courtesy Brands (2)