Paris' 'Gilmore Girls' Revival Job Is Intriguing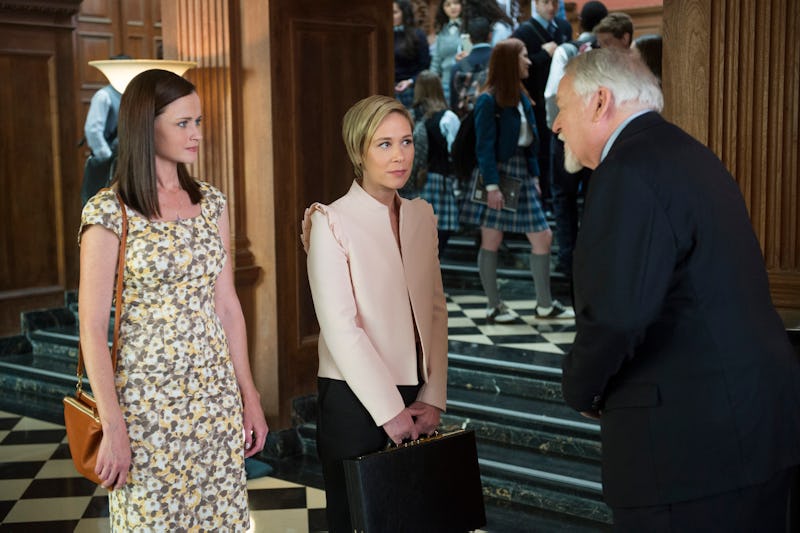 I can only imagine that one of the most enjoyable parts of watching Gilmore Girls: A Year in the Life will be finding out what happened to all of the characters after the end credits of the series finale rolled when the show ended in 2007. Of course, what's going on in Rory Gilmore's (Alexis Bledel) professional and personal life is of great interest to fans, but so is that of every character from the original series, really, especially her foe-turned-friend Paris Geller (Liza Weil). The first official trailer for Gilmore Girls: A Year in the Life shows Rory at somewhat of a crossroads in her career, but is her contemporary suffering the same fate? Actually, all signs point to Paris' job in the Gilmore Girls revival to being pretty impressive.
First of all, it sounds like Paris doesn't have a job but several jobs. "I was impressed. I was very impressed. She's doing more than just one thing, which I was very happy," Weil said of how she reacted when she found out what Paris was doing for a living, which is apparently "something of a spoiler," during an interview with TVLine at the revival's premiere last week. "I thought that [writers] Amy [Sherman-Palladino] and Dan [Palladino] really came up with the right way to go with Paris."
We got a major tease of what at least one of those professions might be when the official Gilmore Girls Instagram account published a post featuring a dark, wooden door with "Paris Geller" written on the nameplate in late October. The pic is captioned, "Face it. Her name was destined to be on a door."
Well, it looks like that's a hint about Paris' occupation, but what could it mean? Alone, perhaps not much, but when you pair it with glimpses of Rory and Paris visiting their alma mater, Chilton, in one of the previews of the Gilmore Girls revival, which you can also see in the above photo, that Instagram post could tell you a lot about the woman Paris has become. You can see that Chilton is decked out in a similar wood to the door in that photo, which could mean that Paris could have some sort of administrative role at the preparatory school. Headmistress Geller, anyone?
However, it does look like Headmaster Charleston is still hanging around Chilton, according to the above photo. The actor who played him in the original series, Dakin Matthews, is also confirmed to be returning for the revival, Entertainment Weekly reports. This could mean many things, including that he's still running the show at Chilton, he's just paying a visit, or he's about to retire and hand off the reins to someone like Paris.
Since it seemed like Paris was the only person who could match Rory in her drive and success on Gilmore Girls, the world was to be her oyster after she graduated Yale, and she could have gone on to do anything she set her mind to. When we last saw Paris, she was off to medical school to become a doctor, but there's always the chance that she became an esquire instead, having applied to both medical schools and law schools in the lead-up to graduation. I don't actually have a good reason for this, but that aforementioned door definitely gives off lawyer vibes to me.
I'm pretty sure Paris came out the womb ready to start her career, so of course, she pursued many professional passions in the original Gilmore Girls series as well. Like Rory, Paris also got her journalism on as the editor of Chilton's school newspaper, as well as the editor of the Yale Daily News. I wouldn't be surprised if she was running The New York Times or has racked up a Pulitzer Prize in the Gilmore Girls revival.
Paris also showed a zeal for politics as the president of the student council at Chilton and an attendee of a leadership camp for student government in Washington, D.C. You know, the one where she met boyfriend Jamie? Perhaps Paris is a lobbyist or a politician. With her efficiency and all-around excellence, she'd certainly be an exceptional candidate for President of the United States. Hey, I'd be with her.
All I can see is success for Paris in her life in the Gilmore Girls revival. However, there is a brief moment in one of the trailers for the new series that shows Paris aggressively closing the door to a bathroom stall with her foot, suggesting that there might be trouble in paradise. I don't know why she's angry in that instance, but it does show that no matter how much older, wiser, and successful Paris may have gotten, she's still got that passion inside of her after all these years.
Images: Neil Jacobs/Netflix; Giphy (2)