There's New 'Jerry Maguire' Footage & It's So Good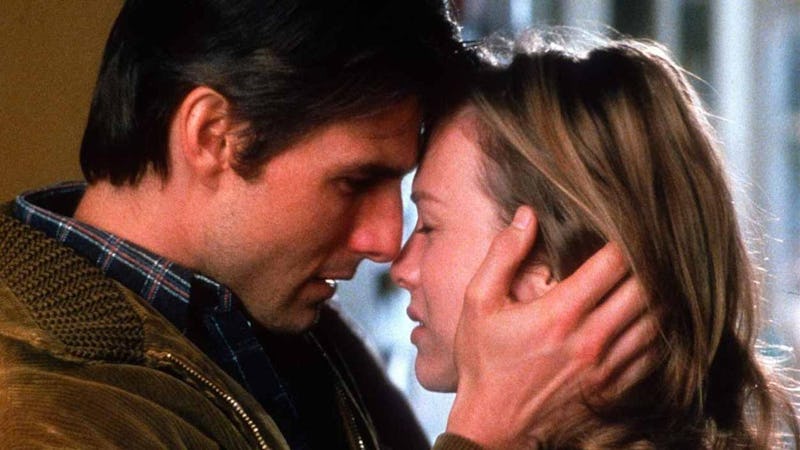 This December will mark 20 years since Jerry Maguire (Tom Cruise) and Dorothy Boyd (Renee Zellweger) first won America's heart in the iconic film Jerry Maguire . After all these years, they're returning to fans' lives in a way we could've never imagined. In celebration of the film's 20th anniversary, it will get a Blu-ray re-release that includes bonus, exclusive footage that's nearly an hour long. I repeat: almost a whole hour of Cruise and Zellweger's behind-the-scenes cuteness. Entertainment Weekly has a preview of some of the never-before-seen Jerry Maguire footage, where the young actors's chemistry totally shines. They'll have you at hello all over again.
In a total blast from the past, a sneak peek of the footage shows 34-year-old Cruise and 27-year-old Zellweger goofing off and laughing on set. It's clear that they were a dream team off script, too. In the 1996 film, Cruise plays a suave sports agent who's fired from his company when he's struck by his conscience, knowing he needs a change. Jumping ship to create his own company, single mom Dorothy takes a leap of faith to join him. They fall in love, birthing one of pop culture's favorite love stories and the epic line, "Show me the money!"
"They were both so different, Tom and Renee, coming from different sides of the world, professionally, I think," says director Cameron Crowe in the exclusive footage. "There they were, in one frame, and they looked so right together... They completed each other." And what he says is totally reflected on screen.
Christmas came early this year.
In EW's preview, young Zellweger also reflects on her character and what she loved so much about her. "You don't find a lot of young female characters who have been through as much as she has," she says. "She's inspired by the things that happen in her life." If only fans could get a peek of young Cuba Gooding Jr. (who plays Jerry's most famous and loyal client), then their lives will truly be complete.
The Blu-ray including the three-part bonus footage Jerry Maguire: We Meet Again, will be released Jan. 3. In the meantime, check out some of the behind-the-scenes video in the clip at Entertainment Weekly.
Images: TriStar Pictures; Entertainment Weekly (2)