'Anne Of Green Gables' Comes Back To TV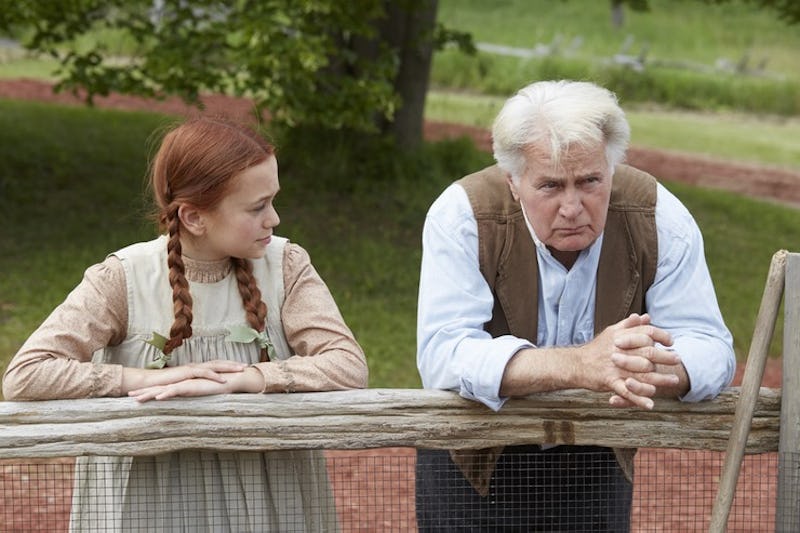 This Thanksgiving Day, viewers will have plenty of movies and TV shows to enjoy after parking themselves on the couch in a post-feast food-coma. Gilmore Girls: Revival doesn't air until midnight PST, but there's plenty to watch before then: PBS' Anne of Green Gables adaptation premieres in the United States at 8pm ET, and it's guaranteed to provide a perfectly sweet ending to a day filled with celebration.
Based on the beloved book series by L.M. Montgomery and created with the supervision of her granddaughter, Kate Macdonald Butler, Anne of Green Gables follows the adventures of a precocious redheaded orphan named Anne Shirley, who comes to Prince Edward Island in Canada to live with Matthew Cuthbert and his sister, Marilla Cuthbert. The only problem? Marilla and Matthew explicitly requested a boy — not a rambunctious, spirited preteen girl on a mission to steal their hearts and find a family.
As you recall, Anne Of Green Gables has been adapted for the screen before — most famously in 1985 in a miniseries starring Megan Follows as Anne Shirley and Jonathan Crombie as Gilbert Blythe. Though its been over 30 years since the beloved miniseries was released, comparisons will surely be made between the two TV adaptations.
Kate Macdonald Butler doesn't like to compare the two; she says she simply believed it was time for another Anne movie. "The miniseries was 33 years ago. It's time for a new interpretation," Butler tells Bustle. "Even though it's set in the [1870s], it's still more of a modern interpretation because of the technology that's developed in the last 33 years. I just think it's time."
Martin Sheen, who stars as Matthew Cuthbert in the PBS version, tells Bustle that star Ella Ballentine, who plays Anne, really steals the show: "The reason I'm inclined to embrace this interpretation is the energy," Sheen says. "This little girl is literally on fire, so that you cannot stop watching her. She just goes running through, and we can't keep up with her. It has a lot to do with Ella."
Ballentine, just 13-years-old when Anne of Green Gables was filmed, brings an incomparable vivacity to Anne's coming-of-age tale. While the 1985 version emphasized Anne's relationship with Gilbert, a classmate whom she eventually marries, this film focuses on Anne as a child with big dreams and an even bigger heart. Anne's story before she met and fell in love with Gilbert is equally moving, and this adaptation centers upon those early days and her relationship with Matthew and Marilla. (Don't worry, though, Gilbert *does* make an appearance!)
For Macdonald Butler, seeing Anne on-screen once again has been a dream come true and a culmination of her life's work. L.M. Montgomery's granddaughter takes her family legacy very seriously; in fact, she serves as President of Heirs of L.M. Montgomery Inc. and serves of the board of Anne of Green Gables licensing. Protecting her grandmother's stories is literally her life's work, and this adaptation bears the fruit of her lifelong labors.
"This [adaptation] is beautiful," Butler says. "This is very true to the novel, which does my heart good. I would say that this is the truest adaptation to the original novel I've seen yet."
Though many viewers best remember Anne of Green Gables from its various TV and movie interpretations, the books are pure magic that should be enjoyed by all. Both Butler and Sheen have fond memories of reading the novels — either as children or to their children.
"My dad read it to me when I was about six," Butler says. "It's a very touching thing to me, because I lost my dad when I was very young. I get a lump in my throat when I think about that."
Sheen has similarly touching memories. The veteran actor read the books as an adult, and he chose to share the experience with the most important people in his life. "I read one of the books to my kids when they were little," he says. "I just knew that it was a classic that needed to be shared."
Though the novel was released in 1908, the story of Anne's adventure on the pristine Prince Edward Island remains so beloved for a reason: it provide readers with an escape to a time and a place less complicated and less ugly than today.
Sheen, who famously played President Josiah Bartlet on The West Wing, adds that PBS' Anne of Green Gables is the perfect escape from an election cycle dominated by hate, fear, and animosity.
"What an inspiration... how necessary [Anne Shirley] is," Sheen says. "What a light in this darkness she is."
Cozy up with your family and friends and a slice of pie to watch Anne Of Green Gables, which airs on Thursday at 8pm ET.
Images: PBS