The Best Karaoke Songs To Nail This Party Season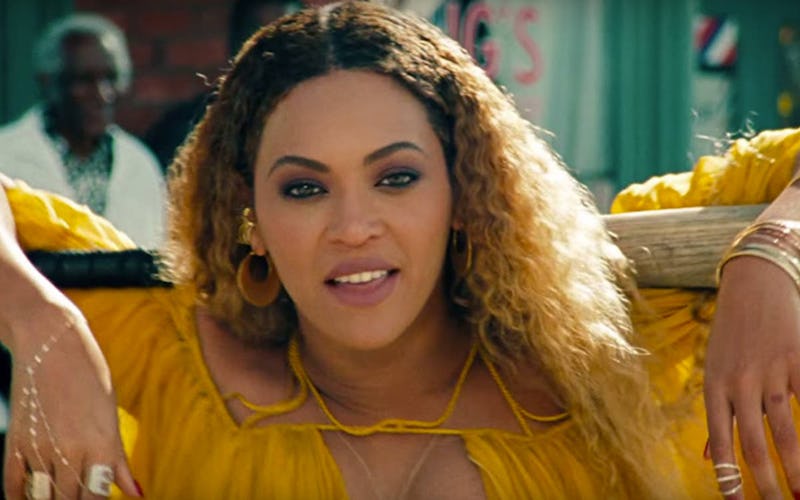 It's party season, you guys. Aside from having to make a start on organizing schedules, messaging friends, and coordinating entire nights out, it's time to make an effort to re-familiarize yourself with the best songs of 2016. You won't just need to know them for your party playlists. You'll need them in order to totally own every dance floor you meet. You'll need them in order to be the official Queen of karaoke this year. You'll need them in order to be the envy of all your friends and some drunken strangers. But I probably don't need to convince you. If you're reading this, you're probably already aware that you need to know the very best karaoke songs of 2016 so that you can truly wow friends, family, co-workers and strangers with your numerous musical charms.
If there's one thing that I've learned from the party boot camps of Christmas, New Year's, and work shindigs of times past, it's that you should always anticipate that karaoke will be part of it at some point. Even if you and the rest of your party pals have expressly made a decision to avoid it at all costs, within just a few glasses of wine, karaoke will be put firmly back on the proverbial table as a palatable party option.
So you need to be prepared. Here are 16 of the best tracks from 2016 that are sure to make for karaoke big hitters.
1. Little Mix — "Shout Out To My Ex"
Every single ounce of this upbeat, feelgood song screams, "Take it to the stage, sister..." And honestly, who am I to argue? Own that heartbreak, lady.
Perfect For: Expressing some truly positive closure on a breakup that you're totally over.
2. Megan Trainor — "NO"
Not only is this song so big and catchy that it'll bring the entire house down when you unleash it on karaoke, but it's also completely easy and so much fun to sing.
Perfect For: Well and truly announcing your position on whether you care to hear a multitude of eye-rolling pick up lines that night.
3. The 1975 — "Somebody Else"
Look, sometimes a heavy heart can choose the most inappropriate moments to make itself heard. And should that happen while karaoke is going down, then "Somebody Else" will give you that gentle reprieve to acknowledge and express it (before moving swiftly on with your night).
Perfect For: Channelling your inner Courtney Cox at a Bruce Springsteen concert and busting some slow, '80s inspired moves to this slow, '80s inspired tune.
4. Animal Collective — "FloriDada"
If your night is consisting of a painfully cool crowd, a few too many caffeinated vodka cocktails, and just absolute, pure happiness, then this is definitely the track you want to make your own at karaoke.
Perfect For: Bouncing around the stage, spilling your drink everywhere and laughing manically.
5. Beyoncé — "Hold Up"
Look, we all want to nail "Formation" at karaoke, but wow is that a big song to be tackling. "Hold Up" on the other hand? It's got the sort of grin-inducing melody and empowering lyrics that make it a truly effortless karaoke power anthem. Own it, ladies.
Perfect For: Pretending that your mic stand is a baseball bat and swinging it at some imaginary cars.
6. Fifth Harmony Feat. Ty Dolla $ign — "That's My Girl"
Whether you want to tackle this song as an ensemble piece with your best pals, or attempt to tackle it solo (and good luck to you), it's an absolute blast to sing along to.
Perfect For: Giving your bestie the ultimate karaoke call out.
7. Courtney Barnett — "Three Packs A Day"
Got a bad ramen habit that all your friends shame you for? Me too, girl. We're all in this together. Truly own your instant noodle love story by singing about it at karaoke. There's no shame here.
Perfect For: People who love ramen and also can't sing a single note. You can totally talk your way through this song and get away with it.
8. Ariana Grande — "Dangerous Woman"
Good grief, I hope you either have some spectacular pipes or some steely confidence to you, because you'll need it to attempt "Dangerous Woman." But it barely even matters whether you can hit even a fifth of Grande's ludicrously vast vocal range. It's one helluva song, regardless.
Perfect For: Switching up your femme fatale side on stage or simply showing off your amazing vocal prowess.
9. Rihanna Feat. Drake — "Work"
It's duet time, you guys, and this is the perfect 2016 song to be the soundtrack to you grabbing your favorite pal, getting your body grind on, and sharing that karaoke microphone together.
Perfect For: An impromptu, and likely regrettable, performance with your work bestie at the Christmas office party.
10. Solange — "Cranes In The Sky"
There comes a time in every night out when everyone needs to slow their stride down, kick back a little, and start getting real familiar with all of their many feelings. "Cranes In The Sky" is the song to fulfill the legacy of that part of the night.
Perfect For: Singing while hugging one, or all, of your friends super tightly.
11. Britney Spears Feat. G-Eazy — "Make Me"
Listen, every karaoke song has to have a real sexy jam happen at some point in the night, and "Make Me" was one of 2016's dirtiest and sultriest, making it completely ideal.
Perfect For: Providing an excuse to order yet another glass of wine before professing your undying love for that dream babe you've been seeing around town lately.
12. Sia Feat. Sean Paul — "Cheap Thrills"
For those of us who truly know how to party on a budget, then "Cheap Thrills" is a 2016 must to bust out at karaoke. Hold your bargain bottles of whatever high in the air and celebrate big fun for little cost.
Perfect For: Singing as a group effort, because the more the merrier, people. Seriously — that chorus, and Sean Paul's contributions to the song, demand it.
13. Sad13 — "Less Than 2"
Keep your feminist flag flying at full mast while enjoying all the fun of karaoke by delivering the dainty, yet powerful, lines of "Less Than Two" to an audience.
Perfect For: Venting some of the endless frustrations that were part of 2016.
14. Lil Wayne, Wiz Khalifa & Imagine Dragons — "Sucker For Pain"
From the Suicide Squad soundtrack, this ear worm takes a little of every genre and blows it out into a gigantic, musical blast of fun.
Perfect For: Playing a game of "Pass The Baton," wherein the karaoke microphone gets passed from person to person to deliver the ultimate ensemble performance.
15. The Pretty Reckless — "Take Me Down"
Show off your rock star credentials by evoking the snarl and power of Taylor Momsen's riff-heavy power ballad.
Perfect For: Showing off your jaw dropping air guitar technique.
16. Lady Gaga — "Perfect Illusion"
OK, I'm going to level here. As much as I adore Gaga, I'm particularly excited about the prospect of singing "Perfect Illusion" at karaoke for imitating the way she sings "love" in the chorus. I live for that bizarre inflection that she puts on that word.
Perfect For: Bringing out that ace Gaga impression that you've been practicing in front of your pet cat for the past couple of years.
To all my karaoke stars waiting to happen, remember to hold your head high, let those broken notes ring out with pride, and own whatever song you nail on stage. Just be sure to beg your friends not to film and upload it to Facebook this year, OK? Nobody needs that kind of footage out in the world.
Images: BeyonceVEVO/YouTube