Where Is 'Scream's Sidney Prescott Now?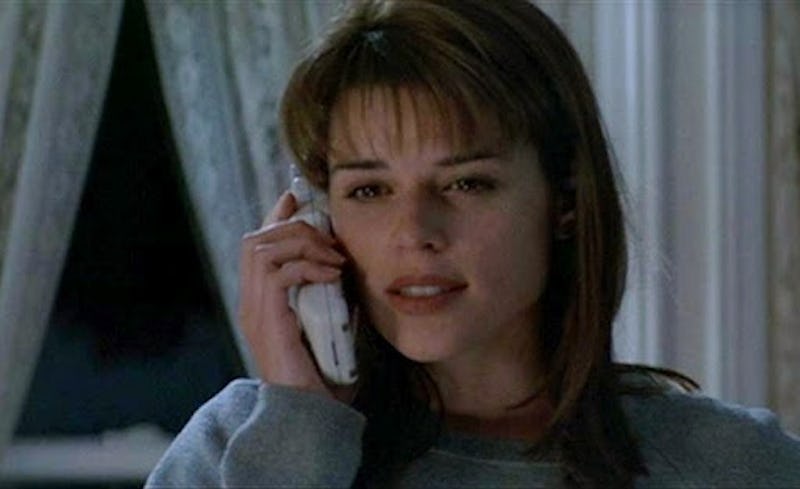 The 20th anniversary of the release of Scream is making me feel incredibly old. The iconic horror movie has so far spawned three sequels, an MTV series, and one of the most recognizable Halloween costumes of all time. When it comes to the Scream movie series, lead character Sidney Prescott is a complete queen, and it's hard to imagine the movies without her. So where is Scream 's Sidney Prescott now? Actor Neve Campbell continues to play strong and exciting roles.
The Kevin Williamson creation might be the role that she's most known for, but the Party Of Five actor is far from typecast, and continues to surprise fans by making eclectic films and TV shows. It's been five years since Scream 4 came out, in which Campbell reprised the role of Sidney Prescott, and while there are no current plans to make a fifth instalment in the series, Campbell has remained open to the possibility. In March 2016, Campbell spoke to Entertainment Weekly about whether she'd sign on for Scream 5 , and said, "It would have to be something really special and really different. They'd have to be really convincing about who they decided to bring on as director, and I'd still have to do a bit of soul-searching on that one." Following the death of director Wes Craven in Aug. 2015, a sequel doesn't seem likely at the moment, but if the right team were behind the film, Campbell could step into Sidney's shoes once more.
With the inception of MTV's Scream: The TV Series , Campbell was inundated with questions as to whether she'd make a return to the franchise. At a horror movie convention in April 2015, the actor said, "You know, there was talk of it at the moment. I'd probably want to see how it is first." Campbell hasn't made a cameo or appearance as yet, but the show has been renewed for a third season, so there's still a chance that Sidney Prescott could appear, which would be fun to see.
Campbell's most visible part since Scream 4 is as Leann Harvey in House of Cards, a role which she'll continue to play in the fifth season of the show in 2017. As Claire Underwood's political aide and strategist, Leann was integral to the plot of Season 4, and it'll be exciting to see how her role develops in Netflix's forthcoming season.
With arcs on hit shows like Grey's Anatomy (she played Derek Shepherd's sister!), Campbell has more than proven herself since Scream. Refusing to be put into a box, the actor is incredibly selective about the roles she accepts, making her body of work to date intriguing and extremely watchable. Whatever Campbell chooses to do next, she's sure to surprise us all. And I definitely have my fingers crossed that Scream 5 will happen in the not too distant future.
Images: Miramax; Giphy