9 Pumpkin Flavored Beauty Products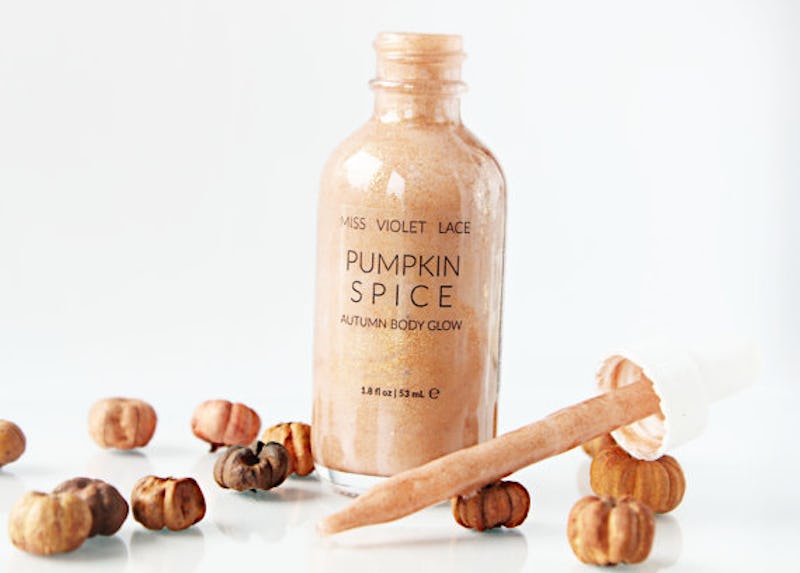 Thanksgiving technically marks the end of pumpkin spice season, and pretty soon everything will start smelling like peppermint, which means you need to get your hands on as many pumpkin spice beauty products, STAT. But just because the rest of the world moves on from the delicious fall scent doesn't mean you have to — IMHO, we should all agree to let ourselves ride out the PS trend all year round.
I know, I know — the whole Pumpkin Spice thing has gotten a little out of control in recent years (there were pumpkin spice manicures this year, for pete's sake) but I think it's time we embrace our collective obsession and make it a "thing" for all seasons. Since Starbucks will stop serving PSL's soon (FYI: stores keep them on the menu until they run out of inventory), you'll need to get your pumpkin fix elsewhere. And what better way than with beauty products?
Pumpkin actually has a ton of beauty benefits, and is rich in Vitamin A, Vitamin C, and other antioxidants that help skin cell turnover. You can even save some of the leftover pumpkin from your pie for a DIY mask, which will give you a nice (and probably necessary) day after Thanksgiving glow. If rubbing a straight-up can of pumpkin pie filling on your face isn't your thing, here are nine pumpkin spice flavored beauty products to try instead.
1. Pumpkin Spice Mask
Peter Thomas Roth Pumpkin Spice Enzyme Mask, $58, Sephora.com
A nice alternative to that can of pie filling.
2. Pumpkin Spice Shower Gel
Fall Limited Edition Pumpkin Spice Rejuvenating Bath & Shower Gel, $9.50, Ulta.com
A PUMPKIN SPICE FILLED BUBBLE BATH!!! That is all.
3. Pumpkin Spice Lip Balm
Burt's Bees Pumpkin Spice Moisturizing Lip Balm, $3.69, Target.com
This way you can taste and smell pumpkin all year round.
4. Pumpkin Spice Enzyme Peel
Eminence Yam & Pumpkin 2-ounce Enzyme Peel, $33.99, Overstock.com
Two thanksgiving ingredients in one beauty product. Just please, please don't eat it.
5. Pumpkin Spice Hand Cream
Desert Essence Pumpkin Spice Hand Repair Cream, $3.99, VitaminWorld.com
You definitely aren't moisturizing your hands enough. This is a great way to start!
6. Pumpkin Spice Lotion
Bath & Body Works Shea & Vitamin E Lotion Marshmallow Pumpkin Latte, $10.49, Walmart.com
No, this is not a holiday-inspired drink. Yes, it would be very difficult for me not to taste it just to double check.
7. Pumpkin Spice Lipstick
Kylie Lip Kit in Pumpkin, $29, KylieCosmetics.com
If you're going to smell like a pumpkin, you may as well look like one too.
8. Pumpkin Spice Body Glitter
Pumpkin Spice Shimmer, $22, Etsy.com
It smells like pumpkin, vanilla and cinnamon, and will legit make your skin glow. Oh yeah, and it's vegan. Is this the best beauty product ever?!
9. Pumpkin Spice Conditioner
Fall Ginger Pumpkin Cleansing Conditioner, $44, Chazdean.com
Rinse and repeating has never smelled so good.
Images: Courtesy of Brands