Kylie Cosmetics' Next Holiday Restock Is Soon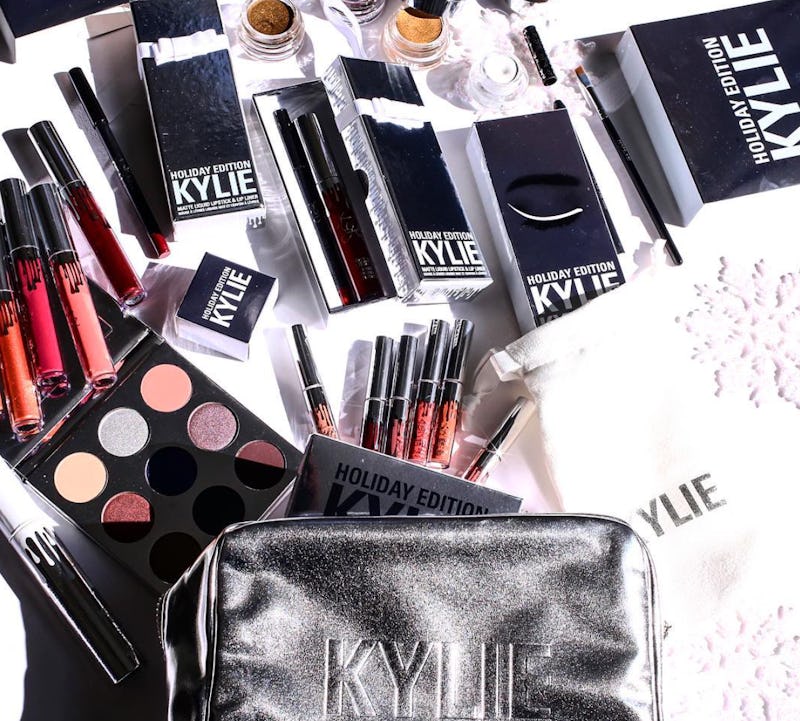 Did you miss out? Many of the Kylie Cosmetics 2016 Holiday Edition items sold out again during the Black Friday restock. The Kylie Cosmetics Black Friday deal featured a free, plush white stocking as a gift with purchase of $100 or more, as well as a matching Kylie Gloss for those who purchased the Candy, Exposed, Koko, and Posie Lip Kits. The Mini Matte set, the white Kyliner, the makeup bag, and several of the Lip Kits are wiped out, in terms of holiday inventory. So, when will the Kylie Cosmetics 2016 Holiday Edition Collection, which is limited edition, restock?
Well, the brand has not officially confirmed the exact date and time of the next replenishment or if the currently sold out items from the Kylie Cosmetics 2016 Holiday Edition will restock on Monday, Nov. 28 aka Cyber Monday, which is a monster online shopping day. However, Cyber Monday marks the first time that the Kylie Cosmetics Brush Set, featuring five tools, will go on sale. It would make total sense for the brand to replenish the rest of the collection on Cyber Monday. However, we're still waiting for the team or for Jenner herself to 100 percent confirm further details.
The brushes make their debut on Nov. 28. With that price tag, their limited edition status, and those gorgeous handles, I expect these to fly off the digital shelves.
The Kylie Cosmetics 2016 Holiday Edition has so many items to shop! Since the holidays are fast approaching, it would make sense for the brand to move fast with another full restock of the collection. That said, there are plenty of products that are still shoppable, including some of the bundles.
I recommend hitting the Kylie Cosmetics site right away to stock up on what's still available because the items could be cleaned out again sooner than later.
So many pretty shades! What did ya get or what are you planning to get?!
Images: Kylie Cosmetics/Instagram (4)