See Swatches Of The All Nighter & Love Line Sets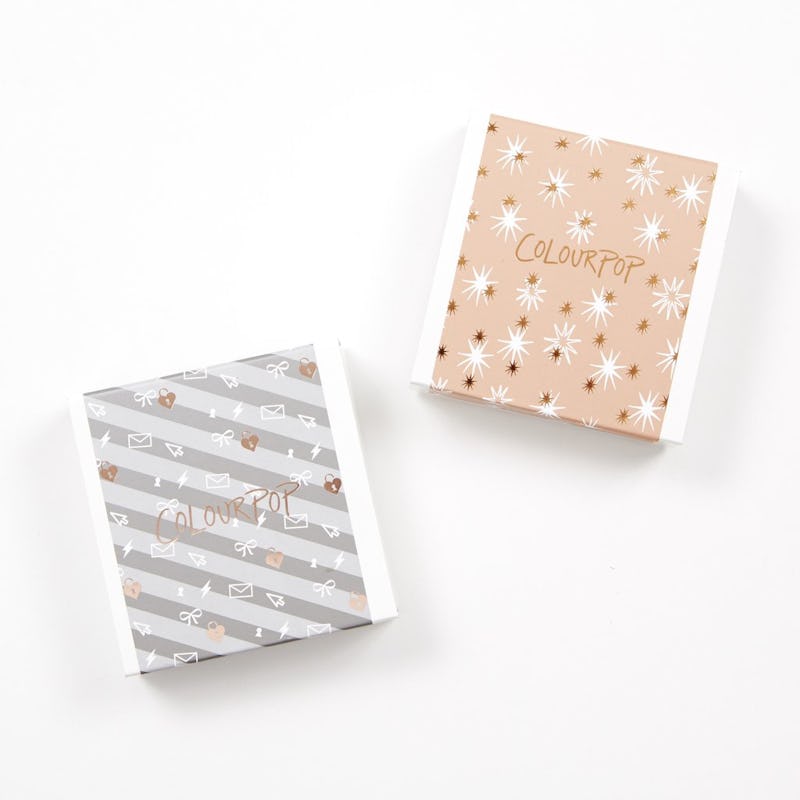 There's no better way to say happy holidays than with new eyeshadows, and ColourPop knows it. On top of their Black Friday and Cyber Monday sales, they found a way to sneak in the launch of two shadow quads as well. They eight shades are absolutely gorgeous too. Believe me when I say that swatches of ColourPop's All Nighter and Love Line Sets will have you ready to do some more holiday shopping.
ColourPop never ceases to amaze me. They are constantly creating brand new shades and rolling out deals almost daily. Each one is just as stunning as the next, and these two new shadow quads are no different. The first is Love Line, which features four already existing colors sold together. Truth, Sequin, Brady, and Static range from subtle neutrals to a pop of purple. You could easily use any of the shades alone or all together.
All Nighter Eyeshadow, $18, Colour Pop
The next is All Nighter. It's got four shadows in the set as well, but one that you've never seen before. Smash, Vega, and Mooning are all currently sold on the site, but To-a-T is brand new. It's a mid-tone warm brown color that looks gorgeous on every single skin tone. Here's the swatch to prove it.
All Nighter Eyeshadow, $18, Colour Pop
Ready for the best part? Each of these quads are only $15 from now until Nov. 27 at 7pm EST. The new sets are both a part of ColourPop's Stocking Stuffer sale. The two, as well as the new Peachy Keen and Just Peachy Sets, are all on sale for the same price. Honestly, it doesn't even surprise me that they're having a Stocking Stuffer sale in between the biggest shopping holidays of the year.
Love Line Eyeshadow, $18, Colour Pop
Love Line is available for the same awesome price, but is a bit more rosy than the previous set. I love that they stuck to neutrals that everyone can look great in. This way you can't go wrong when it comes to your holiday shopping.
All Nighter Eyeshadow, $18, Colour Pop
Not to mention how adorable the packing is. You don't even need to wrap these adorable gifts. Just stick a bow on and call it a day. It doesn't get much better than that!
Images: ColourPop (3)