Lauren Graham Forgot About This 'GG' Moment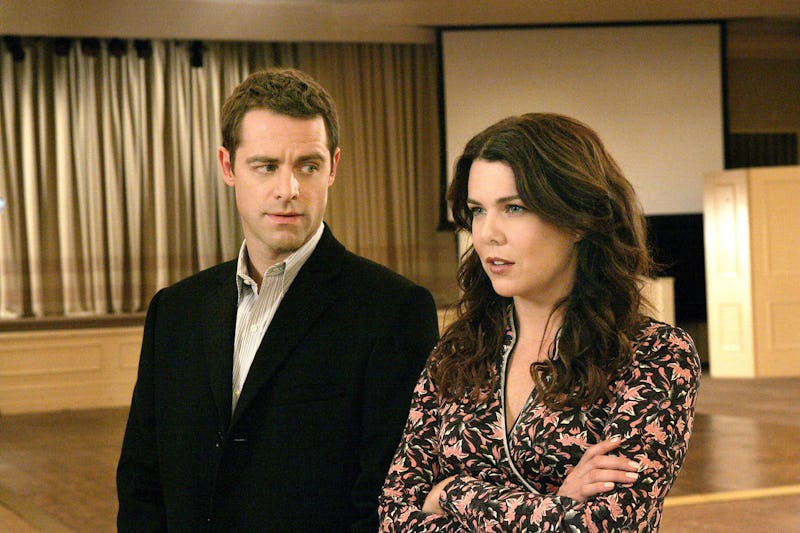 Gilmore Girls creator Amy Sherman-Palladino knew how she wanted to end the series a whole decade ago. Before that, she must have known that Lorelai Gilmore would marry Christopher, her high school sweetheart. Right? Maybe not. Considering Palladino left before the seventh — and what was supposed to be final — season of Gilmore Girls, the subplot might not have been on her agenda at all. Unfortunately, fans don't have the ability to directly ask her. However, they do have Lauren Graham's new book, Talking As Fast As I Can, a tell-all about the actresses life, in and out of the show. Much to the delight of Christopher and Lorelai naysayers, Graham didn't want Lorelai to marry Christopher either.
Let's back up a second to remember how the marriage even happened in the first place. After Luke and Lorelai break up at the end of Season 6, Lorelai seeks comfort in Christopher. In Season 7, the Lorelai and Christopher relationship (though not with out its ups and downs) builds. Ultimately, it culminates in the seventh episode, when Lorelai and Christopher get married in Paris.
It doesn't take long for Lorelai to realize that Christopher might not be right for her. A few episodes later, Lorelai tells him, "You're the man I want to want." Unfortunately for Christopher, the man she actually wants is Luke. Now, looking back at the whirlwind romance, Graham remembers all of it seeming "so odd" to her at the time.
While discussing the seventh season of Gilmore Girls, Graham writes:
Well, in many ways, this was a tough year and sort of a jumble for me, memory-wise. For example, apparently during this season Christopher and Lorelai get married in Paris. OK. I have to admit, this seemed so odd to me back then (especially after all that time apart; I just didn't think Lorelai would get married without Rory present), that I somehow managed to completely forget it ever happened.
After it happened — the marriage — fans were also quick to scratch their heads too. It appeared to have come out of nowhere. Why marriage? And why then? Having Rory absent didn't help anyone fill in the missing puzzle pieces. Graham then explains that because the Christopher marriage was so off putting (and therefore absent from her memory), she needed someone to come in and explain the episode, detail by detail, before they filmed the Netflix revival. She notes:
While we were filming the reboot, Dan Palladino had to call one of the superfan assistants in the office to have her explain the whole episode to me in detail. Even then, I wasn't sure she was telling me the truth: "No. Really? Are you sure? No. Paris?" I kept saying to her.
Yes. Really. Paris. He even bought out a restaurant for Lorelai beforehand because she was hungry in the middle of the night. Much to the delight of fans who were anxious about his hold over Lorelai, Christopher and Lorelai didn't have a scene together in the revival. To appease everyone who has always been on Team Luke, Lorelai finally, finally tied the knot with the grumpy but lovable Diner owner. The ending scene where they married at night under the lit up gazebo with Rory present and smiling was the kind of ending Luke and Lorelai always deserved.
Graham won't be forgetting about this marriage anytime soon.
Talking As Fast As I Can : From Gilmore Girls to Gilmore Girls (And Everything In Between) by Lauren Graham, $16.66, Amazon
Images: Warner Bros. Television; Netflix