How My Hair Changed When I Cut Out Dry Shampoo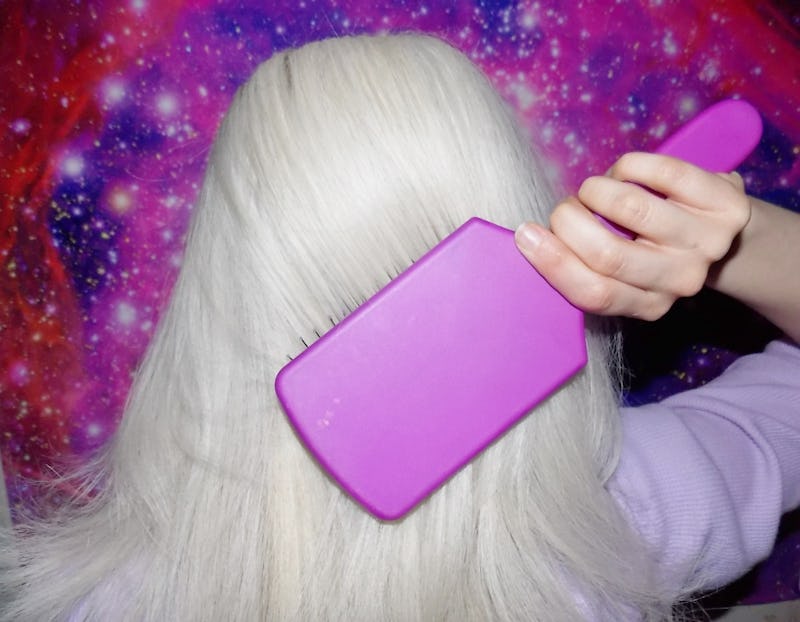 When you're a bottled blonde fighting insanely dark roots, dry shampoo has been a lifesaver when you're trying to scale back on daily shampooing. However, frequent use dry shampoo products has left my hair duller and drier in the process, making me wonder if scaling back on my dry shampoo use is something worth considering. Even dermatologists are in agreeance that too much dry shampoo can strip your hair from it's natural essential oils, leading to irritation, and potential hair loss.
"Dry shampoo can be great to add volume and texture, but they can potentially cause scalp issues like irritation, breakouts, and hair loss," says New York dermatologist and RealSelf contributor Dr. Sejal Shah in an email to Bustle. "Dry shampoo ingredients like Diethanolamine and Triethanolamine can cause scalp irritation and destroy the hair's natural keratin, while preservatives like propylene glycol can lead to hair loss."
Now, cutting back on dry shampoo may seem worse than nails on a chalkboard, but natural oils are essential in keeping your hair healthy and strong. To see what would happen if I scaled back on my dry shampoo use, I stopped using my go-to sprays for a week straight to see what kind of effect it would have on my scalp.
Was ditching my arsenal of dry shampoo a major step away from my comfort zone? Heck yes! But did my hair feel much healthier in the process? Read on to find out.
Day 1
Feel free to cringe in horror, but I will admit to shampooing only once a week in order to keep my blonde color from turning into a dry and brassy nightmare. That means I normally go hard on dry shampoo, especially days after a good blowout, when my oiliness and buildup start to get out of control. However, pounds upon pounds of dry shampoo can leave my hair feeling a bit dry and weighed down, so I was more eager to cut back on the dry shampoo, and treat my hair to the natural oils it deserves.
Being that I shampooed yesterday, today was the first day sans dry shampoo. I heat styled the crap out of my hair the day before, so my roots, shaft, and ends were still pretty dry. I was certain that this would change as the days go on, especially since my scalp tends to produce oil pretty darn fast.
Day 2
While my hair was still on the dry side, I started to feel some oil come through into my roots. This could have been a result of all the greasy oils and serums I put in my hair before blow drying, but oiliness is something I have struggled with for as long as I can remember.
However, oil can also be a very good thing, especially when you're a deep-fried double process blonde. Not only are oils imperative to overall hair health, but they also protect both the hair and the scalp from unwanted breakage and damage.
"Natural oils keep scalp and hair healthy," says Brianna Colette, expert stylist at Nine Zero One Salon via email."Stripping hair of natural oils can lead to dry itchy scalp, or in the worst case, scalp conditions that can result in hair loss."
While oils usually are produced from the scalp, it's is important to use a good brush to evenly distribute the oil from my roots to the ends. This helps keep your scalp healthy, while also preventing your shaft and ends from becoming a dry and brittle mess.
Day 3
As more oil coming started to come in from my roots, I'll admit that my hair (roots and shaft) started to get greasier than yesterday, and the day before. But to deal with the alarming amount of greasy buildup, I have been trying some dirty 'do hairstyles (like mini top knots!) in the meantime.
Being that dry shampoo usually is supposed to help your hair smell good too, it's also important to note is that your hair will start to pick up odors you may not be a fan of. Trust me, the mixed aroma of baked chocolate cookies and rack of lamb found in my tresses definitely grossed me out. However, keeping my hair off my face totally kept these unwanted smells from making me want to gag.
Day 4
While my ends still felt a bit fried, regularly brushing from the scalp downwards has nicely distributed the oils throughout the hair. This, of course, made my hair feel more slippery than usual, but it's way better than the straw-like mess I normally deal with post blow-drying and straightening.
Day 5
While I have been tempted to grab the can of dry shampoo perched on my nightstand, resisting the temptation of using such products has made my hair smoother and softer than before. Perhaps, it's actually the result of natural oils doing their thing, but whatever the case, my ends have enjoyed the break from the dry breakage they are normally prone to.
Day 6
While my hair was still fairly greasy, I will say that my hair felt softer than ever before. Yes, my roots felt weighed down, but day old hair was great for styles like braids, top knots, and side twists. Unfortunately, my hair still smelt weird, but it's worth the silky-smooth feeling I've experienced for the past few days.
Day 7
My hair still absorbed odors (even the bad ones!) pretty fast, but overall my hair has felt smoother and healthier than before. OK, so maybe my hair was a little greasier than normal, but I couldn't help but be amazed by how soft my hair felt, even after using a straightener days before.
Here's How You Should Use Dry Shampoo Going Forward
Sticking to one weekly shampoo may be the key to upkeeping my icy blonde color, but I will admit to overindulging in too much shampoo from time to time, making it important for me to scale back going forward. Natural oils are extremely important, so it's important to let them condition and nourish your scalp. With that said, will I stop using dry shampoo? Probably not. However, it's important to note that there are better ways to use it. Instead of overindulging and weighing your hair down with lots of products, it's best to spritz your product at your root, while using less on the first couple days after shampooing, and then build up to having more product.
"Section the hair horizontally, be sure to keep the spray about ten inches from the scalp," says Heidi Lowry, stylist at Salon Three. "Spray while focusing on getting even distribution. Let it dry, for just a few minutes and then shake it from the roots with your fingers."
When using dry shampoo, selecting the right formula is also key. Some products contain talc and aluminum ingredients which can be detrimental to scalp health. Look for products with nourishing omegas and vitamins, as they won't dry out the hair, or lead to breakage.
"If you are a dry shampoo junkie your best bet is to use an organic product that is free of talc and aluminum," says Lauren E. Hack, stylist at LAUREN + VANESSA. "I love Amika Perk Up dry shampoo because it is enhanced with natural rice starch and Sea Buckthorn Berry which has a high content of Vitamin C, Vitamin E, and omegas."
Images: Courtney Leiva