13 Alternative Ways To Use Your Makeup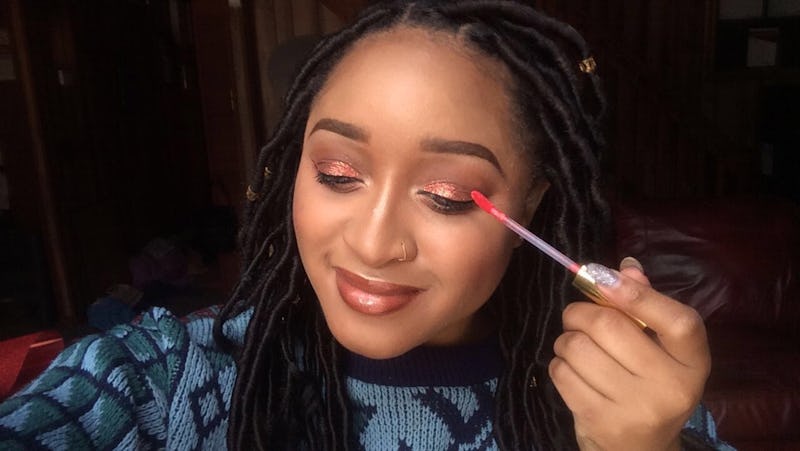 Sure, lipstick is for painting onto your lips and eyeshadows are meant to be swiped across your lids. But where's the fun in having boatloads of amazing products if you can't find unexpected ways to use your makeup?
The beauty of makeup is that there are no limits to the ways you can use shadows, liners, concealers, and more. It's all about getting creative with your regimen, especially when you're in a rush and your favorite product has dwindled down to its last drop. Thinking outside of the box by repurposing the products in your stash will save you from doing a half-assed makeup job or hurrying out to the nearest drugstore to replenish your inventory in a panic.
Of course, not all makeup products are created equal. Cosmetics that are safe for your lips may not necessarily be simpatico with your eyes, and vice versa. Checking the ingredients before smearing creams and shadows in places they don't belong is your best bet to maintaining a blemish free facade. But rest assured that most of your makeup is probably A-ok for going to town on your face. Take it from me, a makeup lover who had no problems turning shadows into cream blush or liquid lipstick into brow filler.
If you're feeling a sudden creative surge or you just want to get more bang for your buck, check out these 13 ways to make your makeup super multifunctional.
1. Lip Liner As An Eyebrow Pencil
Lip liner may not be specifically formulated for your brows but it totally works as a last minute filler. With tons of neutral shades available, you probably have a lip liner already suitable to match your brow hairs. I used the OCC Cosmetic Colour Pencil in "Sybil" to mimic my usual brow pomade and it worked like a charm! The same goes for eyeshadows and eyeliners that are similar to hair colors. It's just a matter of what you have on hand to get the job done.
2. Concealer As Eyeshadow Primer
If you're out of eyeshadow primer, don't fret. Concealer works just as well, providing a smooth, even base for applying your shadows. Just be to sure to apply it lightly. If you're concealer is full coverage or prone to creasing, you don't want to use so much of it that your shadow looks cakey. My Lorac POREfection concealer was just tacky enough to hold my shadows into place perfectly.
3. Contour Powder For Eyeshadow
You won't be able to get wild with color by using contour powders in place of eyeshadows, but they're perfect for creating natural looks. Luckily, I had two contour palettes on hand to work with, Anastasia Beverly Hills' Tan to Deep Contour Kit and the Smashbox Medium/Dark Step-by-Step Contour Kit. Both products featured red and orange shades that gave my neutral eyeshadow look an extra oomph.
4. Lipstick As Eyeshadow
Lipsticks also make great cream eyeshadows. Using Urban Decay Vice Lipstick in "714", I once created a rich eyeshadow look with the true red shade. As creamy as some formulas are, lipsticks easily blend into other colors for seamless glam looks.
5. Eyelash Glue As Glitter Primer
If you have clear glue like Ardell's Duo Lash Adhesive at your disposal, you can still add sparkle to your lids even when you don't have glitter primer in your stash. Lash glue is strong enough to hold loose glitter into place, whether you want to use it on your lids, lips, or elsewhere. Be cautious, however. Lash glue tends to dry quickly so you'll have to work fast or in sections to get your glitter placed just right.
6. Mascara As Liquid Liner
Mascara won't apply as smoothly as a liquid liner, but it can do the trick when you're in a pinch. Use a small angled liner brush to get the sharpest lines possible. And tape never hurts, of course, allowing you to achieve a flawless wing with minimal effort. I used the Lancome Grandiose Extreme Mascara to complete my eyes because it's one of the blackest formulas I've tried with waterproof properties that I knew wouldn't smudge on my lids.
7. Liquid Lipstick As Liner
Mascara for eyeliner may not always be your cup of tea if you want a festive eye look. Using liquid lipstick is perfect for fun liner work because it comes in every shade imaginable. Plus, you won't have to spend a fortune collecting unusual liner shades you'll probably use sparingly if you opt for lipstick to line your lids every now and then. One of my favorite liquid lippies to use is Milani's Amore Matte Metallic Lip Creme in "Matte About You". It smells like vanilla and finding a liner as vibrant as this shade is probably nearly impossible.
8. Highlighter As Eyeshadow
If you haven't used highlighters on your lids, you're missing out! Dabbing a sparkly highlighter on your inner corner and brow bone takes eye looks to another glitzy level. The Anastasia Beverly Hills Sun Dipped Glow Kit is my go to for spicing up my eyeshadow, especially when it comes to creating halo eye makeup looks.
9. Lipstick For Color Correcting
Red lipstick can go a long way in your makeup bag. Add color correcting to the long list of ways to use red lipstick beyond its intended purpose. Using Urban Decay's "714" once again, I prepped my under-eye by canceling out my dreadful dark circles.
10. Concealer For Contouring
Using concealers that are a couple of shades lighter and darker than your skin tone will help you sculpt your face like a pro. I turn to the L.A. Girl Pro Concealers on the regular to highlight and contour my face. So think twice before returning a shade of foundation or concealer that isn't your exact shade. You can always put colors that are a little off to good use.
11. Lipstick As Blush
Back at it again with the "714" lipstick! Cream lipsticks function as great blush shades too. Just tap your favorite lipstick onto the apple of your cheeks and blend it in using your fingers for the perfect cream blush that almost seems like the real thing.
12. Eyeshadow As Highlighter
If highlighter can be on the lids, then glimmering shadows can definitely take the place of an illuminator. The more sparkly, the better when it comes to using eyeshadows for your powder highlight. Using a mix of Anastasia Beverly Hill's Single Shadow in "Pink Champagne" and Urban Decay's Single Shadow in "Blunt", I added a glow to my cheekbones, cupid's bow, and the bridge of my nose.
13. Eyeshadow As Lipstick
You'll definitely want to use a primer or balm as a base, but eyeshadow on your lips can be a thing. If you opt for a metallic or shimmer shade like Anastasia Beverly Hills Eyeshadow Single in "Henna", adding a tap of water to your finger before sweeping it onto your pout will enhance the sheen of the color.
You can always add a clear gloss on top of the eyeshadow to transform it into a true lip shade. I used BareMineral's Marvelous Moxie Iridescent Topcoat in "Hypnotist" to make my "Henna" eyeshadow pop against my lips.
With just a handful of products in your beauty stash, you can create dozens of looks. All it takes it a little innovation to really get the most out of your makeup, down to the very last ounce.
Images: Summer Arlexis (15)