13 Odd Beauty Tools You Never Knew You Needed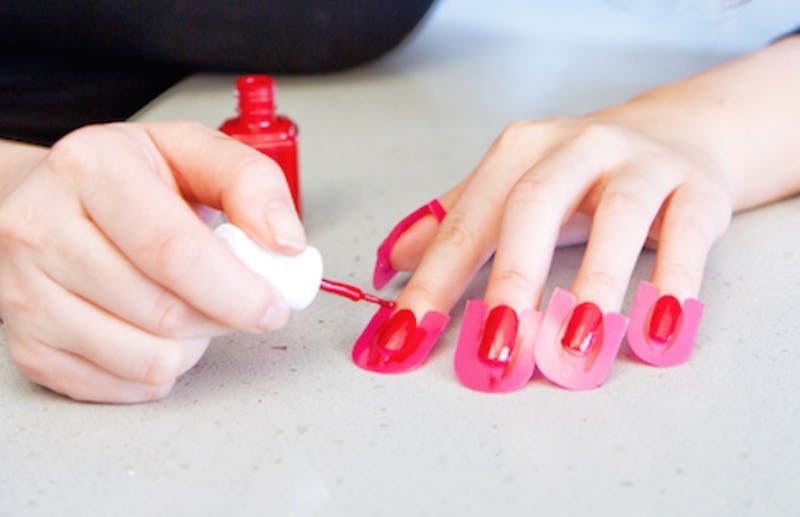 Thanks to all of the hair, skin, and nail advice floating around the web, mimicking the pros can be a piece of cake with just a few simple beauty hacks. Even when your DIY abilities fall short, a slew of effective, but slightly strange beauty tools can give you a next level look with minimal effort.
Accidentally smudging mascara across the eyes or mutilating perfectly good brows happens to the best of us. So there's nothing quite like the high that comes from successfully painting inside the lines on a mani or crafting identical wings on both eyelids. It certainly takes more than just quality cosmetics to nail a look. Having the right tools in your arsenal can make a world of difference when getting through your beauty routine isn't exactly easy peasy, lemon squeezy.
Your average brushes and applicators will do, of course, but there are a host of other odd contraptions— no matter how bizarre— that can up your beauty skills like never before. Whether you're on the hunt for a lazy girl friendly beauty regimen or simply want to save time in the morning, these 13 weird beauty tools are the game changers you never knew you needed.
1. Brow Buddy
The Brow Buddy Kit, $20, billiondollarbrows.com
Brow shaping may not be rocket science, but it's definitely no walk in the park for a non professional. With a little assistance from the Brow Buddy tool, it's possible to carve out beautiful arches without going insane. Taking your unique facial shape into account, this little miracle worker helps you measure the plot points needed to create symmetrical—key word, symmetrical— brows.
2. Mascara Shield
e.l.f. Studio Mascara & Shadow Shield, $1.99, target.com
Your days of smearing mascara in places it clearly doesn't belong are over! Offering protection for your lids as you apply mascara, this baby is the key to mess-free makeup application. And when you don't have to constantly stop to clean up your mistakes, that means you'll be heading out of the door faster.
3. Nail Polish Stencils
CreaNails Stencils, $24.99, creaproducts.com
Keeping polish strictly on your nails as you paint them is easier said than done. That's where nail polish guards come in handy. They're not the most attractive little gizmos and things may get messy as you use them, but they make applying polish painless. You'll definitely want these stencils around when it comes time to paint your non-dominant hand.
4. Paw Palette
Mermaid Teal Glitter Smooches Paw Palette, $28, morphebrushes.com
It seems a little silly, but a Paw Palette comes in handy when it comes time to put on your face. With this mixing palette strapped to your wrist, you won't ever have to waste product on the back of your hand before applying it to your face. There's no way you won't feel like a true artist as you go to town with your foundation, concealer, and more.
5. Lilumia Brush Cleaner
Lilumia 2 New York Makeup Brush Cleaning Device, $149, lilumia.com
Cleaning your makeup brushes can be a real chore, but the process got a whole lot faster when the Lilumia was introduced to makeup enthusiasts. This high-tech device does all of the work so you don't have to slave away at the sink. Cleaning your dirty brushes couldn't be easier!
6. Heated Eyelash Curler
Japonesque Heated Mini Eyelash Curler, $15.99, ulta.com
No matter how strange it sounds, a heated eyelash curler can transform your lashes. It takes away the pinching and pressure used with traditional curlers to enhance your natural curl with heat. Think of it as a mini hair curling iron for your lashes!
7. Eyeliner Stamp
Wings Cosmetics Classic Wing Stamp, $12.99, wingedeyes.com
Lining your lid with the oh so coveted cat eye wing is no easy feat. But lo and behold the genius tool that makes the process less of a struggle. Simply apply your liquid liner to the stamp, place the wing at the corner of your eye and press on a cat eye. Easy as pie!
8. Beauty Spoon
Beauty Spoon 2-Pk Set, $9.99, beautyspoon.com
Gone are the days of throwing out product because you can't get down to the last ounce. The Beauty Spoon makes it possible to scoop out every drop of foundation, serum, moisturizer, you name it.
9. Brow Stencils
Anastasia Beverly Hills Brow Stencils, $20, ulta.com
Giving your brows an instant makeover is a breeze when you have stencils on hand. Choose your desired shape, line it against your face, and channel your inner child as you color inside the stencil. It may feel a tad juvenile but your brows will look flawless.
10. Lip Stamp
Alcone Lip Stamp Kit, $24.95, alconeco.com
If you work yourself into a frenzy every time you try to apply lipstick precisely, a lip stamp may save you the trouble. It's uncertain how accurate this is, but it would at least be fun to try it out and see the results you get.
11. False Eyelash Glue Applicator
Beauty Fake Eyelash Glue Applicator & Clip, $3.92, amazon.com
Applying falsies has to be one of the trickiest things to master. A fake eyelash glue applicator and clip is the dynamic duo that helps you get the job done lickety split. You'll not only be able to adhere glue to your lashes mess free, but also place them on your lash line effortlessly.
12. Spill-Proof Nail Polish Holder
LadyBug Spill-Proof Nail Polish Pod, $11.99, amazon.com
Doing your nails is already hard enough without accidentally knocking over your polish. Enter the LadyBug Spill-Proof Nail Polish Pod, a gizmo that guarantees you won't waste your product. It holds any size bottle into place so you have one less thing to worry about while painting your pretties.
13. Eyeliner Stencils
Cat Eyeliner & Smokey Eye Makeup Stencil, $18.99, bethbenderbeauty.com
For the eyeliner challenged, stencils save the day once again! With Beth Bender Beauty stencils, you can achieve any look, from precise wings to smokey eyes to your basic liner work. And you won't even have to break a sweat while creating your best looks yet.
Chances are you may have never heard of some of these unique and gimmicky beauty tools — but that doesn't mean your makeup bag couldn't benefit from the awesomeness they have to offer.
Images: Courtesy of Brands (15)