Unicorn Lashes Makeup Brushes Are Stunning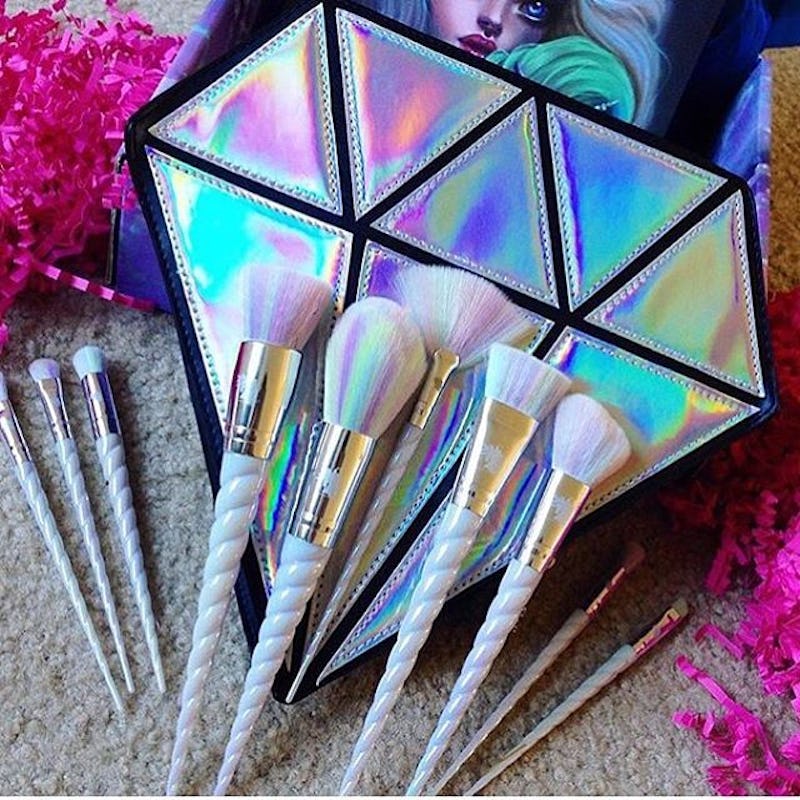 The world's most magical beauty applicators, those Unicorn Lashes Unicorn Makeup Brushes, sold out in less than 12 hours when they first launched in October 2016. Nobody was surprised. After all, who wouldn't want to apply their makeup with those rainbow bristles and that unicorn handle? Everyone wants them. I'm pretty sure even just owning them makes you more beautiful. After that first lightening-fast offering, they blessed us with their first restock in November, and guess what? They sold out in less than twelve hours again. The disappointment. The frustration. The heartbreaking sadness.
Is there any hope that you'll ever own these illusive, mystical brushes, or will they forever be the literal unicorn of your beauty collection? There may be hope. If you head to their website and sign up for their mailing list, you'll get a notification in your inbox the second these bad boys drop again. There's little chance that they'll be available in time for the holidays, especially since they ship from the UK, but if the rumbles from their website are true, there's still an inkling of precious hope. They have hinted that there will be another Unicorn Makeup Brushes restock some time in December.
See? Hope exists in the form of a mailing list. In case you're new to the unicorn brush phenomenon, (or if you just want to see all that glorious unicorn magic again) here are the goods, in picture form.
Is it too late to write to Santa? I've been mostly good. Well, I tried to be.
Unicorn Brushes, $60, Unicornlashes.co.uk
They come in that holo jewel case.
They're about $60 USD. Here's what you get for the price:
If you're in love with these brushes, sign up for the mailing list, stalk your inbox, and when you get word that they're restocked, pounce! History shows that if you wait even a few hours, you'll probably miss out. That's about the saddest thing I can think of at the moment.
Images: Courtesy Brand