The Real Westeros & Essos of 'Game of Thrones'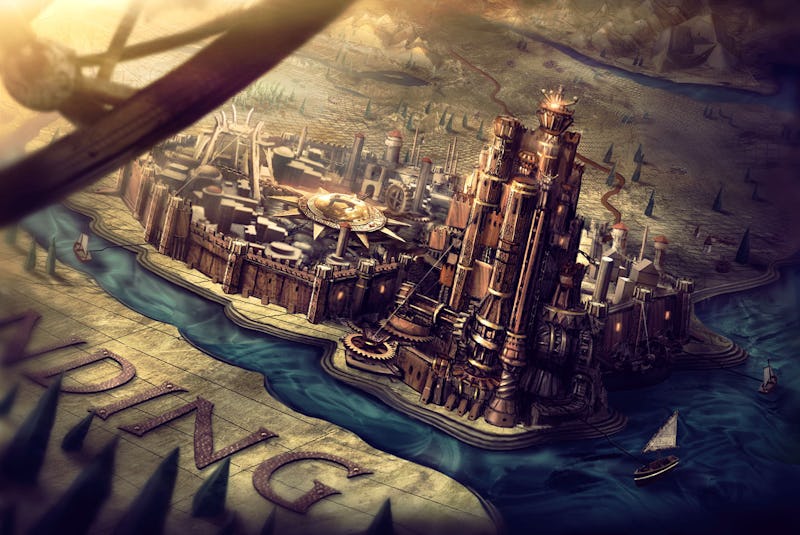 Get ready to plan your next super-fan vacation because, guess what — Game of Thrones' Seven Kingdoms of Westeros and Essos actually exist. Well, at least, their elaborate and detailed filming locations exist and a lot of them are now offering special Game of Thrones -themed tours for all of you Khaleesi wannabes. So there's finally a place for you to wear that ridiculously priced, brand new GoT -inspired jewelry — if you can afford the trip after dropping $25,000 on a necklace.
So how real is George R.R. Martin's world? Pretty damn real. For every scene that's shot on a soundstage in Paint Hall Studios in Belfast, Northern Ireland, there are twice as many shot on actual locations. So, yes, King's Landing and the frozen tundra beyond The Wall actually exist in our world. And yes, you can visit them and experience the wonder for yourself. The world is so real, in fact, that Emilia Clarke (who plays Daenerys Targaryen — as if you didn't know) revealed that she went almost an entire season without interacting with any of her GoT cast members because she was shooting in a completely different country. Talk about life imitating art.
Game of Thrones' shooting locations are spread over two continents and include at least six different countries. So get ready to have your minds blown and your dreams of visiting Westeros come true, GoT fans, because your favorite places actually exist and some are tourist-friendly.
King's Landing
During Season 1, Malta's former capital Mdina served as the location for King's Landing, but since then, the walled city of Dubrovnik, Croatia has become the home of the capital of the Seven Kingdoms. The reason for the location swap was the producers' desire to show more exterior shots of the walled city by the sea. Also in Dubrovnik are the filming locations for the Red Keep (at Fort Lovrijenac) and beautiful King's Landing gardens (at the Trsteno Arboretum).
Winterfell/Westeros
Northern Ireland has served as the backdrop for GoT's Westeros since Season 1 and they're really into it. Pictured above is Winterfell (as if you didn't know), The House of Stark — the real life location of which is Castle Ward, an 18th century mansion located in County Down. The tourism Bureau of Northern Ireland has an entire section of the Causeway Coast and Glens site devoted to GoT 's filming locations that includes a road trip itinerary that will lead you through some of the series' most recognizable Westeros spots. And if you'd rather chart your own course, Budget Rental Car Ireland offers a detailed and easy to use map of the same locations in Belfast and Northern Ireland.
The Wall
The Wall itself was actually constructed by GoT production in abandoned quarry. Also located in Northern Ireland, the Castle Black set was built in Magheramorne Quarry. But the home of the Night's Watch is the extent of what you'll find there (not to say that that isn't impressive in its own rite) because there's not so much at the actual top of The Wall. All of the scenes shot atop the impressive structure were shot at the nearby Paint Hall studios and what's beyond The Wall is in an entire different county.
Beyond The Wall
Remember all of those terrifyingly beautiful landscape shots of Jon Snow's adventures beyond The Wall in Season 2? Those scenes were filmed at a handful of locations in Iceland, which included the haunting Lake Myvaten and Svinafellsjokull calving glacier in Skaftafell. According to this Icelandic tourism site that offers a four-night tour of the GoT filming locations that serve as North of The Wall, production returned to shoot scenes for Season 4 at the "Parliament Plain" of ancient Iceland.
Astapor & Yunkai
Two cities that played a large part in Daenerys' journey through Essos — filming locations for Astapor (pictured) and Yunkai were both in Morocco, in historic Essaouira and Aït Benhaddu respectively. Essaouira, which dates back to Orson Welles' Othello and has served as an out-of-this-world location for Hollywood producers, was one of Daenerys' Season 3 stops during her quest to build an army of "Unsullied" warriors. While Aït Benhaddu, which has also served as a location for Gladiator and The Mummy in recent history, was the slaving city that Daenerys takes over with her new army from Astapor.
Images: HBO (6)