Here's When You Can Get Sbux's New Holiday Drink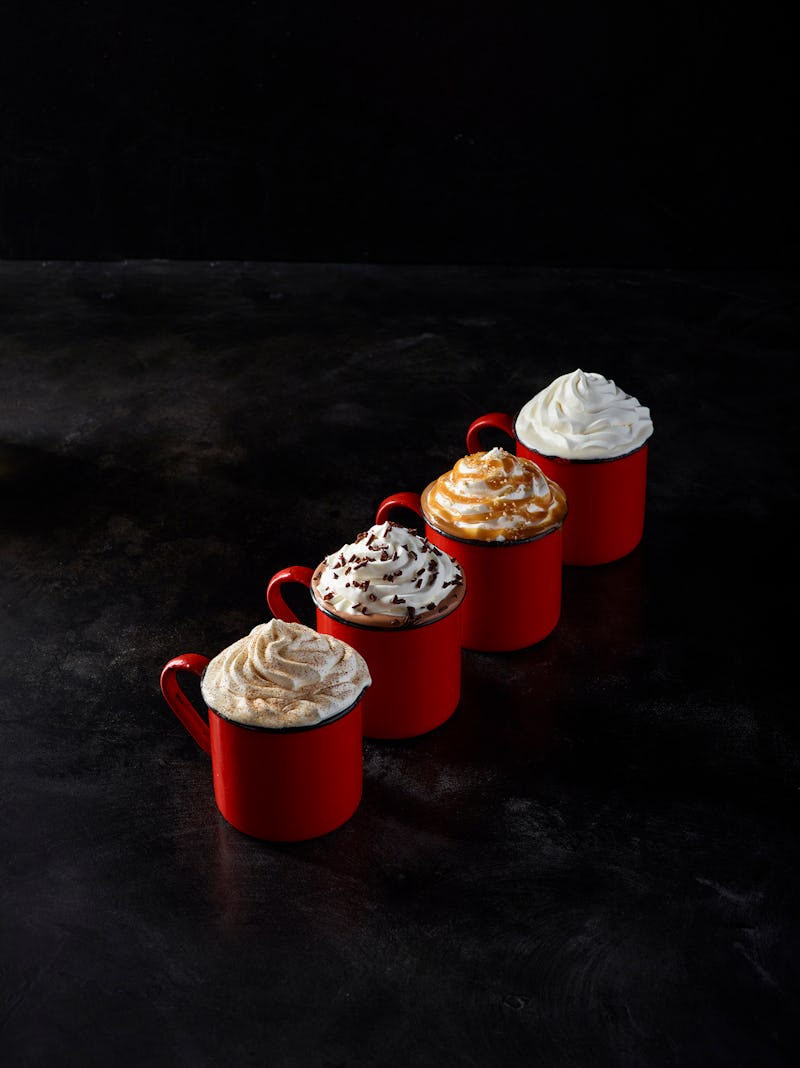 If there's anything I love about the holidays, it's a good cookie — which is exactly why the new Snickerdoodle Hot Cocoa from Starbucks is particularly enticing to me. And if you, like myself, are currently wondering when the Starbucks Snickerdoodle Hot Cocoa is available, the answer is basically a holiday gift: You can get it right now. Nothing will ever stop me from actually eating many a snickerdoodle, but it's an extra nice treat to be able to have my favorite holiday cookie in drink form, too — and I'm willing to bet that I'm not the only one who feels that way.
Starbucks released their new holiday drink on Dec. 2 — today! — so you can run out and try one out for yourself at participating locations in the United States at this very moment. They'll be available throughout the holiday season while supplies last. What is in a Starbucks Snickerdoodle Hot Cocoa, exactly? If you love Snickerdoodles, you know the balance of sugar cookie and cinnamon is key, and from the description of ingredients, this bakery-inspired treat does not disappoint. According to a press release, the Snickerdoodle Hot Cocoa is made from steamed milk, white chocolate sauce, and cinnamon dolce syrup; it's also topped with whipped cream and a dusting of cinnamon sugar.
If you're not a snickerdoodle fan, though, you're definitely not out of luck; Starbucks' menu features a wide variety of other holiday hot chocolate drinks, including their Hot Chocolate Chile Mocha, Peppermint Hot Chocolate, Peppermint White Hot Chocolate, and Salted Caramel Hot Chocolate. You can also, of course, opt for any the other Starbucks holiday drinks, such as the Peppermint Mocha Latte, Gingerbread Latte, or Chestnut Praline Latte. Heck, you can even just get a piping hot regular coffee to jumpstart your senses — whatever works.
As an extra holiday perk, however, if you do opt for any holiday hot cocoa (including but not limited to the Snickerdoodle variety), you are eligible for an actual sweet treat for only one dollar more. That's right: Beginning Dec. 2 and running through Dec. 5, when you purchase a Starbucks Snickerdoodle Hot Cocoa, a cake pop can be yours for the price of only a buck. So, yes to all of the sugar and yes to all of the goodness. It is the holidays, after all.
It's worth pointing out that we don't know yet when precisely the Starbucks Snickerdoodle Hot Cocoa will go off the market; according to the press release, though, it will be available "through the holidays." Additionally, it's probably a good bet to assume the drink will stay on the menu at least through the New Year, as seems to be the trend with Starbucks holiday drinks of the past. However, as in life, there are no guarantees! So if you need a warm, cinnamon-spiced drink to warm your soul and hype up your holiday spirit, get thee to a Starbucks and enjoy!
Images: Starbucks; Giphy (2)