This All-Female Biker Club Delivers Breast Milk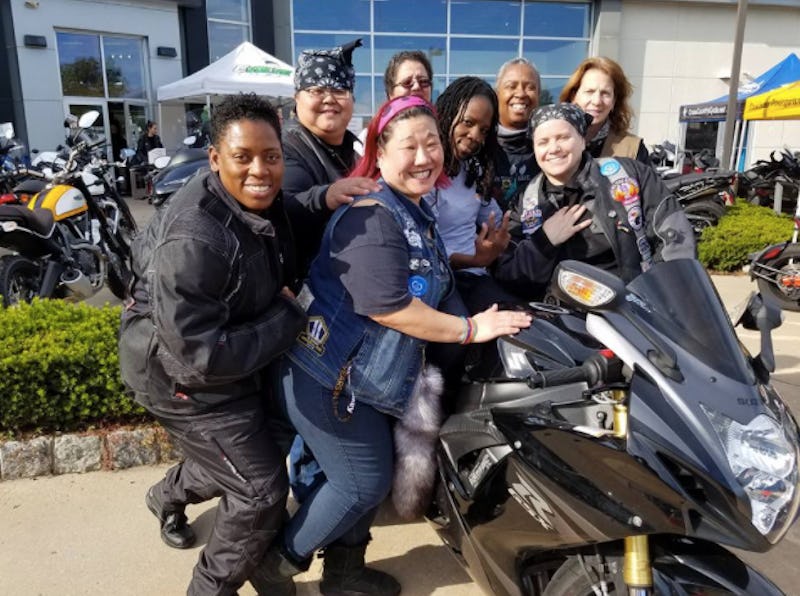 Psst, Hollywood. I found your next big box office success, and it's based on this all-female biker club that delivers breast milk to babies in need in the New York City area. The Sirens Women's Motorcycle Club, aka the oldest, largest women's motorcycle club in New York, teamed up with the the New York Milk Bank in Hastings-on-Hudson, New York, and it is 100 percent more badass than any superhero story you've ever seen on the big screen.
"Julie Bouchet-Horwitz, the director of NYMB, contacted me early in the year and presented the idea about motorcycle transportation for breast milk," writes Sirens President Jen Baquiel to Bustle via e-mail. "I lit up after learning about NYMB and what they do and I just knew that the Sirens would jump at the opportunity to help them out. We brainstormed a bit on how we could make it happen, and when I presented it to the club at large, it was unanimous that we would volunteer our time to them."
Their help is especially necessary because the bank fills a very specific need: to provide breast milk to babies who are born prematurely. Oftentimes, when babies are premature, the mother's breast milk hasn't had a chance to come in — breast milk that may be vital to these babies to help ward off disease and encourage growth. And while the bank had enough screened mothers to provide breast milk to the babies in need, the one thing they didn't have was a speedy, safe way to transport it from the bank and into the jam-packed grid of New York City's streets.
Enter the Sirens Women's Motorcycle Club, whose bikes can weave in and out of traffic and get the breast milk to the recipients in the nick of time.
A recent video in the New York Post profiled the group's amazing work and the pivotal role it is playing in the community. "We're uniquely positioned to do the job," said Cheryl Stewart, a founding member of the group, in the New York Post video. "We're on our nimble bikes that can get there faster."
The group was founded in 1986 with five members, and now is 50 women strong. In the video, the women shared that the group was especially important to them because men's bikers groups don't typically allow women to join — and if they do, their jackets say "Property Of" on them, implying they are the property of a male member in the group. As shockingly archaic as it sounds, it's the very reason why it's so important that the Sirens Women's Motorcycle Club exists; it is all the more fitting that they are even further united in helping women.
"Carving out a space for women in a male dominated culture of motorcycling was the goal. We organize and lead the motorcycle contingent in the NYC LGBT Pride March in June every year to preserve a strong female presence at the front of the pack. While this is definitely one of our pinnacle moments each year, we are not completely defined by it," writes Baquiel to Bustle. "We are women motorcyclists first. Any woman, any bike. Our membership of about 50 right now is beautifully diverse in age, race, profession, sexual orientation, and personal style but we all share the love of motorcycling in common and that is what bonds our sisterhood. Our mission is to present a strong, proud, and honorable image of women both in the motorcycling community and the community at large. Our Sirens colors/patch on the back of our vests and jackets is earned, not bought."
"Little girls, when they see us on the road, their light up, like 'Wow, we can ride motorcycles like that," said Baquiel in the New York Post video. "So I think when we deliver breast milk it's going to be even that much cooler."
Images: Courtesy of Sirens Facebook