Twitter's Excited For The Kylie Cosmetics Giveaway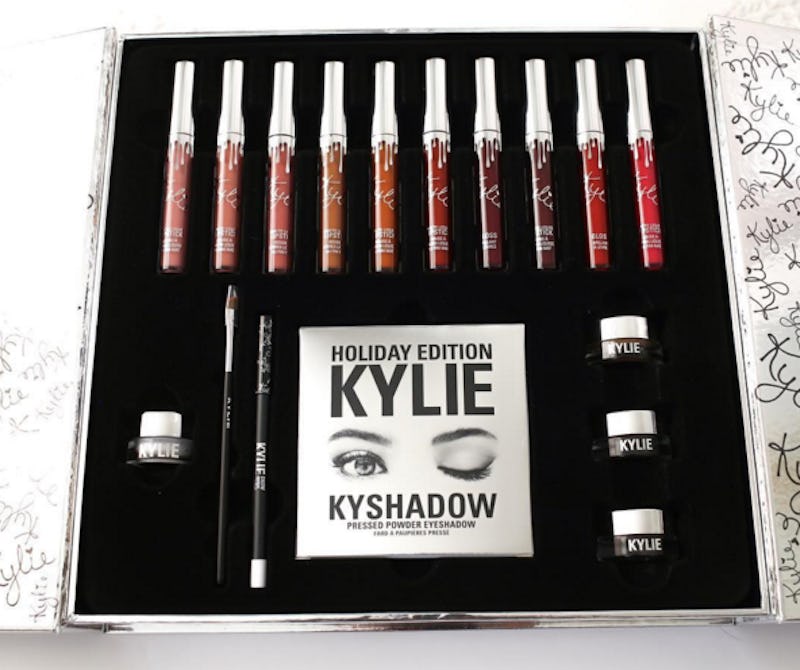 Kylie Jenner's ready to give away gifts this season, and I'm more than ready to scoop up whatever she offers, so this really is going to be a magical partnership. Now that her makeup brand is giving away the entire Holiday Edition Collection, people are more than ready to take the free hand-out, and who could blame them? Twitter reactions to the Kylie Cosmetics Holiday Collection Giveaway prove just how big of a deal it is.
You can enter the giveaway until 10:59 a.m. ET/7:59 a.m. PT on Dec. 4, but the sweepstakes is only available to U.S. residents. So, there are some people who are ecstatic over the chance to win these goods, but many international customers are not so pleased. Thankfully, though, Jenner's signed up to have specials going on for 12 days, and this is the promotion for Day Three, which means there are eight more opportunities for an international giveaway. Fingers crossed one will be coming soon!
I have a feeling that Jenner won't forget about her overseas fans, especially since she's feeling so generous. But, in the meantime, those of you in the U.S. should definitely be taking advantage of this incredible opportunity!
Day Three's surprise is amazing. I can't wait to see what else the brand has in store! This will turn out well for five lucky winners. And the anticipation is almost too much to handle.
You can cop all of this and more, so no wonder the Internet's going crazy!
1. Too Excited
Whoever wins will surely be overjoyed.
2. Best Gifts
Sharing is caring, after all.
3. International Giveaway
Don't leave these people hanging, Jenner!
4. Thanks, Nate!
When you enter everyone you know to up your chances of winning.
5. Spread The Love
Jenner's got to find a way to make this up to all of the international folks.
6. Please, Oh Please!
How truly miraculous would it be to win this entire collection?
7. Huge Deal
This is certainly worth freaking out over!
8. Hoping & Praying
Everyone's dying to see who the winners will be!
9. Relocation
Some people are even considering re-locating to be eligible to enter.
10. Giving Spirit
We owe Jenner a huge thank you for this opportunity!
11. Lucky Five
Only five people will win. And those five will be the luckiest people in the world!
12. Never Too Much
You can never have too many Kylie Cosmetics products in your life.
13. Entered & Waiting
Fans of the brand have already tossed their hat in the ring, so all that's left to do now is wait. Winners will be notified on Dec. 5, according to the Kylie Cosmetics Instagram account. Good luck!
Image: kyliecosmetics/Instagram (1)