The Perfect 'Friends' Holiday Gift Guide For Fans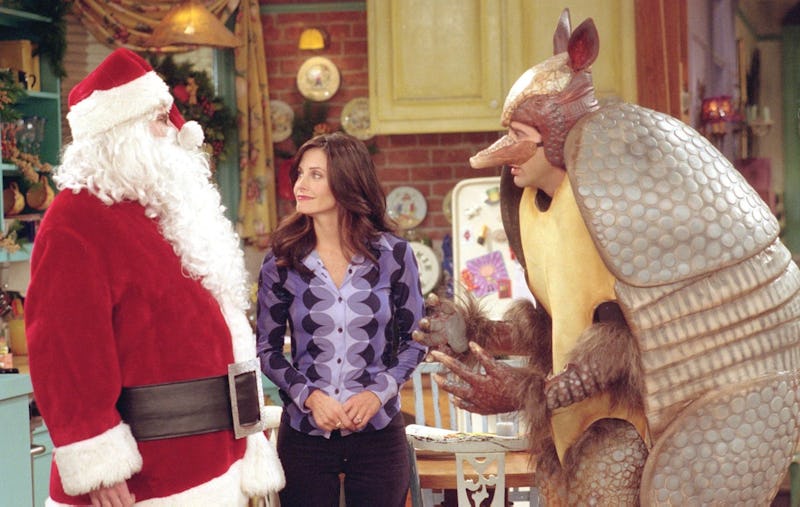 Do you have that person in your life driving you crazy around the holiday season? No, not a significant other. I'm talking about that one picky loved one who is impossible to buy gifts for. Yep, you know the one. But fear not. Well, fear not if the person in question is a fan of the timeless masterpiece Friends. Fans of the timeless show are easy to shop for, I promise. (Insert a sarcastic, self-deprecating joke about you needing a Friends gift guide for your friends in the first place here.)
I know what you're thinking: why haven't I thought of this sooner? Friends is legendary and every fan probably watches at least one rerun and/or makes at least one reference on a daily basis. Monica, Chandler, Joey, Rachel, Ross, and Phoebe feel like actual friends to fans, and, although the show aired its finale nearly 12 years ago, the crew never left devotees' hearts. Naturally, any gift that make these fans feel as if their best-friends-in-their-heads are present IRL is going to make their days.
And, although nostalgic pieces like couches to pivot and smelly cats aren't quite gift material, these 13 options are a little easier to manage and will surely do the trick. How you doin', you gift-giver, you?
1. The One With The Iconic Peephole Frame
Frame, $21, Etsy
For 10 years, this masterpiece truly never left our sights. The frame saw it all in Monica's apartment, and, as a Friends fan, this piece gives me comfort. It can be used as an actual photo frame, could be put on the door like Monica's, or could be slept with at night, TBH.
2. The One Where You Stay Hydrated
Water Bottle, $13+, Etsy
Whether at the gym, the office, or home, your friends are there for you. With this water bottle. It says: "Dress like Rachel, Flirt like Joey, Clean like Monica, Sing like Phoebe, Joke like Chandler, Love like Ross." Plus, you can customize with different color water bottles to make for a truly perfect gift.
3. The One With Squad Goals
T-Shirt, $9, Etsy
Who doesn't love a cozy t-shirt? Let me rephrase: Who doesn't love a cozy t-shirt that epitomizes squad goals? The shirt (in the color of your choice) will make any fan feel like they're rolling deep with the crew at all times.
4. The One With The Central Perk-Worthy Mug
Without actually getting a couch up a stairwell and hearing Ross's "Pivot!" cry, fans can relive the iconic moment every morning with their coffee. If only Gunther would be there to pour it.
5. The One For The Parent
Parents need presents, too. This bib quoting Joey at Thanksgiving will make any mom or dad who's a Friends lover flush with joy. The print can also be made in infant bodysuits as well as for kids, men, women, and maternity fit.
6. The One With A The Lesson For Non-Friends Fans
Ross gave his unagi lesson to Rachel and Phoebe thanks to his self-proclaimed expertise in "kar-a-tay." Now, it's fans' turn to spread the word about achieving a state of total awareness (or freshwater eel, which is the actual meaning of the word "unagi," but don't tell Ross that). Before falling asleep on this pillow, obviously.
7. The One Where Everyone Is As Competitive As Monica
Trivia Game, $51, Amazon
This ultimate trivia game is for any fan dying to show off their Friends knowledge. According to customer reviews, it asks questions like, "What happened that made Chandler not like Thanksgiving?" and "What was the name of the second person Ross married?" Apparently, it can get physical, too. It's so on.
8. The One With The Central Perk Experience
Oversized Mug, $18, NBC Universal Store
This 24-ounce, oversized mug can be used for coffee, tea, soup, or perhaps a serving of Rachel's famous trifle. Recommended uses include delightfully picture yourself holed up in Central Perk with the squad.
9. The One So The Friends Are Always There
Poster, $8, AllPosters
With this poster, the friends are literally looking over everyone and all is well in the world.
10. The One With The Bag Everyone Needs In Their Lives
This tote is perfect for commuters, gym-goers, moms, or anyone who wants to channel Phoebe.
11. The One For The Chandler In Your Life
Sarcastic Comment T-Shirt , $20, CafePress
This one is for the shameless Friends fan who's also a dude. Like Chandler's sarcasm, the shirt comes in many colors and styles. Plus, only fellow Friends fans will appreciate the reference, making anyone wearing it feel extra cool.
12. The One With That Thing Missing From Marathon Viewing Sessions
Fleece Blanket , $50, NBC Universal Store
Cuddling with the friends while watching the series is peak fandom (not to be confused with creepy fandom — in the Friends-verse, there is no such thing).
13. The One Where You Carry The Friends Whereever You Go
Samsung/Apple Cell Phone Case , $12, eBay
True fans can never get enough Friends, and no one can get enough of their phones. Win-win.
My unagi senses are telling me that these gifts will surely thrill any Friends fan this holiday season. Unlike Ross and Rachel, when it comes to being a devoted fan, there is no such thing as taking a break. Get shopping, my friends.
Images: NBC (3); Etsy (4); CafePress (3); Redbubble; eBay (2); AllPosters