These Gifts Will Make 'Chuck' Fans So Happy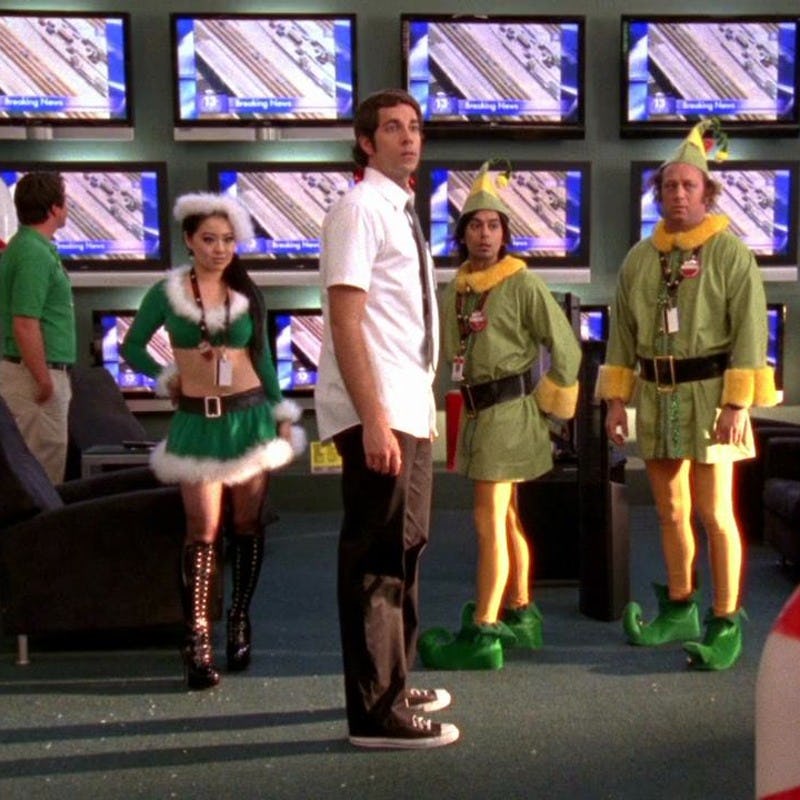 The number of holiday gift buying days are dwindling, but if you have a diehard Chuck fan's name still waiting to be crossed off your list, I am here to help. NBC's Chuck aired its final episode in 2012, but the show about a geek turned accidental spy has stayed with fans long after Chuck and Sarah's final kiss on the beach ended. Thankfully, intrepid fans have put a lot of time and effort into crafting Chuck -themed products your friend who still dreams about becoming Mrs. Chuck Bartowski will love. Get the Morgan to your Chuck a meaningful gift this season to let them know you really did love that five day Netflix marathon of Chuck episodes you two shared.
If your bestie is obsessed with Chuck, you are going to have to skip the boxsets in favor of items from the show that are a little more personal. Yes, it is a more work than picking out a gift card, but it will be worth it when you see just how psyched your friend is when they receive a totally unexpected, Nerd Herder approved gift in their stocking. The best part — I've gotten all the searching out of the way for you. All you have to do is choose from one of the amazing Chuck inspired gifts below and reap the benefits of being the best friend ever.
1. The Most Adorable Magnet Ever
Chuck DIY Magnet, $4.99, Etsy
Do you know someone who loves Chuck and crafts? Then they need this too cute for words magnet. They get to paint their very own Chuck and then stick him on the fridge so they can admire his adorableness every single day.
2. The T-Shirt They Always Wanted
Nerd Herd Shirt, $18, Amazon
There is not a single fan out there who did not want to be part of the Nerd Herd. While this shirt is no substitute for a job at the Buy More, it is the next best thing, and it comes in sizes S-XXL.
3. The Best Way To Show Love For Their Ship
Chuck/Sarah Print, $13.50, Society6
Pixelated Chuck and Sarah are not only super sweet, they look arty enough to adorn any wall in need of some high quality pop culture inspired art.
4. The Book They Don't Have On Their Shelves
Unpacking Chuck: The TV Series Interpreted, $16.49, Amazon
With essays exploring everything from character motivation to song choice, this book of essays on Chuck is a must read for anyone who ever obsessed over the spy series.
5. The Felt Chuck Friends They Didn't Know They Needed
Chuck Inspired Felt Plush Figures, $19.56, Etsy
Give the gift of Team Chuck with these little felt versions of Chuck, Sarah, Casey, and Morgan. All that's missing is a mini Castle to serve as their HQ.
6. The Fannish Mug They Can Use To Start Their Day With Chuck
Chuck Mug, $13.50, Society6
The entire gang from Awesome to Big Mike is spotlighted on this gorgeous, stylized mug.
7. The Phone Case Touting Their Fave Fictional Band
Jeffster! Phone Case, $23.95, Redbubble
Jeffster is only the best band on the planet. Why not give the gift of a Jeffster phone case? It will go great with your pal's Jeffster ringtone.
8. The Christmas Ornament They Will Cherish
Chuck Converse Ornament, $10, Etsy
"Aces, Charles!" is one of the most sentimental quotes from the show, making it ideal to put on a Christmas ornament that will be meaningful to Chuck devotees.
9. The Best Way To Show Their Chuck Love Everyday
Chuck License Plate Frame, $9.94, Etsy
Anyone who suffers from major The Herder envy will be instantly obsessed with this license plate frame.
10. The Tote That's As Cool As They Are
Trust Me, Chuck Tote, $18, Etsy
Sarah Walker is everyone's favorite, and this tote sums up why without you having to say a word.
11. The Perfect Sticker For Their Laptop
Quote Sticker, $2.40, Redbubble
If you are on a super tight budget, sliding this hilarious Chuck sticker inside a card is an excellent alternative to a big gift.
12. The PJs They Need For Their Next Marathon
Chuck Pajama Set, $29.95, CafePress
"I'd rather be watching Chuck" says it all really.
13. The Necklace That Will Declare Their Relationship Status For Them
Mrs. Chuck Bartowski Necklace, $19.99, CafePress
Because no one should ever give up on their dreams.
These Chuck gifts will make your BFF love you even more than they did before. Now get to shopping.
Images: Warner Bros. TV; Amazon (2); Etsy (5); Redbubble (2), Society6 (2), CafePress (2)