This 'Hairspray Live!' Star New To The Spotlight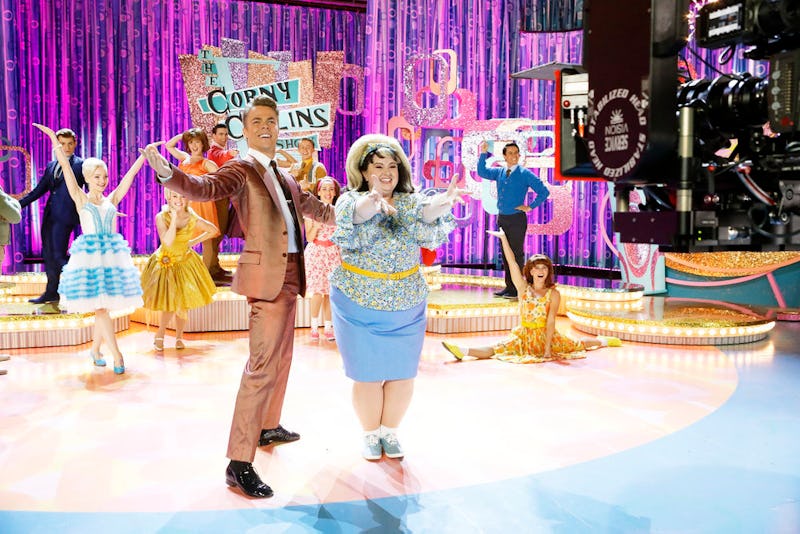 Good morning, Baltimore! It's the most wonderful time of the year and I'm not talking about Christmas, I'm talking about NBC's yearly musical. Hairspray Live! airs on Wednesday, and I'm ready for the magic. Maddie Baillio was cast as Tracy Turnblad earlier this year, but viewers don't know too much about her yet, considering this is her first role ever. That's right, before Hairspray Live!, Baillio was just a regular theater student in Manhattan.
According to E!, the actor went up against 1,000 others at an open casting call and got the part. "This was my first audition in New York, and I woke up at like 3 a.m. — no alarm clock or anything," Baillio told Playbill in June.
"I just woke up, and I said, 'I am going to do this. I am going to this audition. There's no reason why I shouldn't.' So I got up and went ... I was walking around the block, and I saw so many girls who looked like me and who sounded like me, so it was nerve-wracking, but I was so excited."
Baillio follows actors like Ricki Lake and Nikki Blonsky who held the role in the past. Here's what you need to know about the new star before her big night.
Wizard Of Oz Was Her First Performance
"I was first bit by the theater bug when I was about 10 years old," She told Playbill. "My mom enrolled me in children's theatre, and we did The Wizard of Oz, and I wanted so badly to be Dorothy, but … they ended up casting me as Miss Gulch, who is [the woman in Kansas] before she [becomes] the Wicked Witch. But that's when I first fell in love with theater."
She's In College
In the same interview with Playbill, she revealed that she'd finished her sophomore year of college at Marymount Manhattan College in New York City and she was taking classes online until Hairspray rehearsals began earlier this year. "I'm planning to take a leave of absence, but I definitely want to finish school," she said.
She Got A Weird Superlative
In eighth grade, Baillio was voted "Most Potential" in her middle school yearbook. I'm not sure what that means. Feels like a participation award to me, but, to be fair, she proved that she's got a ton of potential landing the Hairspray Live! leading role.
She's A Game Of Thrones Fan
No one rocks this shirt without being a super Game of Thrones fan. Aw, Hodor.
She's Got An Adorable Sister
Earlier this year she wished her sister a happy 12th birthday, even though it seems the pair couldn't celebrate the special day together. The actress posted a FaceTime, watching her sister blow out the candles. She also has a brother.
She Got Caught Up In Pokemon Go
Stars, they're just like us.
She's Got Cats
Her Instagram is sprinkled with photos of her beloved cats. She recently adopted a Calico cat in California and fittingly named her Cali.
She's A Texas Native
Baillio was born in League City, Texas and often shows off her support for her home state.
I'm excited to see what else she's got in her big NBC debut.
Images: Trae Patton/NBC