There Was A Mini 'Dawson's Creek' Reunion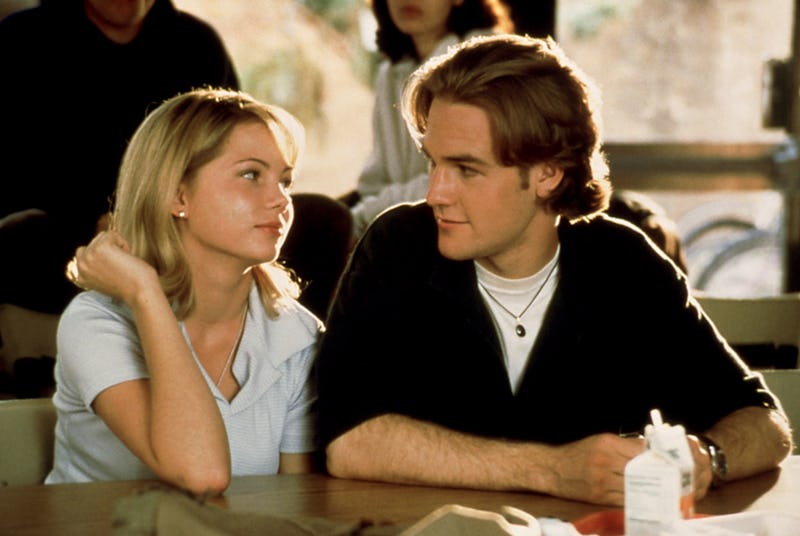 Whichever of you guys have been putting Dawson's Creek vibes out there, trying to make two of its stars accidentally collide, I'm here to tell you that you did a great job. There was a Dawson's Creek reunion just the other day, and I couldn't be more excited. Michelle Williams and James Van Der Beek ran into each other recently, and surely that's all I need to say to get your heart pounding. Williams played Jen Lindley on the hit show, and Van Der Beek, of course, played the titular Dawson Leery. I've waited about as long as I care to for their paths to cross again, so I'm relieved that the combined effort of all our mental exercises willing this to happen finally paid off.
The mini reunion went down at a holiday party hosted by Amazon founder Jeff Bezos and Matt Damon, for Williams' film Manchester by the Sea, which came out last month. And, in fact, the former costars took several photos together. While Williams is getting Oscar buzz for her role in Manchester by the Sea, and that's very exciting, I hope you'll excuse me if all I want to talk about is this impromptu Capeside High School reunion.
I'm sure the two have hung out since filming wrapped on the hit show, but this is the first time Williams and Van Der Beek have been seen together publicly since 2003. That's 16 years, guys. Unfortunately, since it wasn't a red carpet event, there were no reporters nearby to channel my voracious curiosity into questions about what the rest of the Dawson's Creek cast is up to these days, or whether they're all still as emotionally affected by Jen's death in the finale as I am. (I'm not crying, Dawson's crying.)
But luckily, both these actors have expressed interest in a reunion before, so there's honestly a really solid chance that the chance meeting will bring the idea of a potential reunion back into focus. Van Der Beek has always been vocal about his interest in getting the gang back together, even trying to make it happen while he was still on The B---- in Apartment 23 for that show's finale. And, even though her character is dead, that hasn't damped Williams' spirit for a reboot in the slightest. She's joked that she'd be delighted to bring Jen back as a ghost, and, in 2012, she was even more enthusiastic about a Dawson's Creek reunion in a conversation with Vulture :
"[James Van Der Beek] has my email! He has my home phone and my cell phone, so we talk. He could totally ask! I've always said, I'm totally up for reunion tours, reunion shows, so we can do that.
Those sound like pretty strong words to me. Hopefully, Williams echoed them while greeting her old friend at the holiday party this past weekend. Maybe once the excitement of award season dies down, these two can sit down together and bang out a full Dawson's Creek reunion, once and for all.
Images: Sony Pictures Television; Giphy