These Holiday Cookie Recipes Are Surprisingly Easy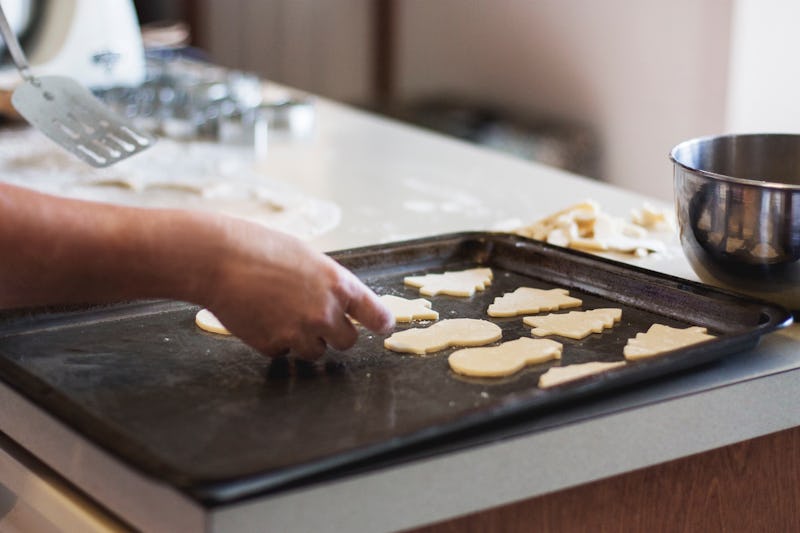 It doesn't seem particularly right to go an entire holiday season without having one ginormous cookie baking session. It's an essential part of the holidays: baking dozens of cookies, eating about a quarter of them while baking, then waiting for some to cool before decorating. Nevertheless, this tradition requires money as well as baking skills to execute. If you are new to baking, and even live on a tight budget, having a few easy holiday cookie recipes to turn to will seriously help in keeping this fundamental holiday tradition alive.
In my home, baking cookies was and still is a day-long affair. My mother and I would mix at least 10 different types of cookies, and set a baking schedule from morning 'till evening. We had festive platters to display our cookies, and we'd wrap them up in a colorful plastic with a sparkly bow to deliver them to the neighbors the following day. After baking all of the cookies, another quirky holiday tradition of ours was hosting cookie swaps. If you're not familiar, a cookie swap requires guests to put out a tray of their favorite holiday cookies, and then everyone creates their own platter of holiday cookies by snagging cookies from every tray. All you have to do is put out a few bottles of wine and it's the perfect holiday bash. This, however, would all require baking cookies to start.
Before you dive in, make sure to stock up on components of the recipe. For simplicity, these recipes all have the same core ingredients for your cookie extravaganza. Make sure to pick up all-purpose flour, granulated sugar, brown sugar, eggs, vanilla extract, butter, milk, and baking soda. As for specific flavors, you'll have to refer to the recipes.
Chocolate Chip Mint Cookies
Instead of having to buy a peppermint or mint extract, this recipe by My Baking Addiction calls for a simple minty kiss placed on top. Perfect for those chocolate lovers who would rather their cookies not be overpowered by peppermint.
Peanut Butter Kiss Cookies
These Peanut Butter Kiss Cookies are a holiday classic. Some recipe makers get pretty extravagant with their dough, but this recipe by Savory Sweet Life has a simple six ingredients: sugar, brown sugar, egg, flour, chocolate kisses, and creamy peanut butter.
Cranberry And White Chocolate Chip Cookies
This recipe from Averie Cooks actually calls for bread flour to give the cookies a chewier consistency. However, all-purpose flour can still be substituted, and the cookies will still taste great if you don't feel like purchasing an entire bag of bread flour for this recipe.
Snickerdoodles
In my opinion, you can't go the holiday season without enjoying a large chai latte and a plate of snickerdoodle cookies. They're pretty much a match made in heaven, and these fluffy guys from How Sweet Eats are incredibly easy to make.
Chocolate And Maraschino Cherry Shortbread Cookies
I am not a fan of cherries in the slightest, but I can't help but want to make these for some reason. Maybe it's because that red cherry color makes the cookie look festive or something. Either way, these shortbread cookies by Closet Cooking require no extra crazy ingredients past the cherries and chocolate chips — aka a win for my wallet!
Gingerbread Men Cookies
So if you want these cute gingerbread men by Brown Eyed Baker decorating your cookie platter this holiday season, you're going to have to make a purchasing sacrifice: Basically every gingerbread cookie recipe calls for molasses, ground cloves, and ground ginger. But let's get real — after the fun of decorating these little guys, you'll find that the purchase was worth every cent.
Vanilla Bean Christmas Sugar Cookies
If you are looking to prep cookie dough for a baking/decorating party, this recipe by Half Baked Harvest is exactly what you need! It calls for you to form the prepared dough into a 10-inch log and can refrigerate for up to three days. Plus, prepping has never been more easy! Simply slice the log and place the cookies on a pan to bake. This recipe does call for a vanilla bean as well as almond extract, but luckily both are optional.
Oreo Cheesecake Cookies
Love the taste of cheesecake, but not feeling like making a whole pie? This simple Oreo cheesecake cookie recipe by Brown Eyed Baker only calls for seven ingredients: butter, cream cheese, sugar, vanilla extract, flour, mini chocolate chips, and Oreo cookie crumbs. So easy!
Buckeye Brownie Cookies
Instead of preparing the cookies and frosting from scratch, this recipe by Cookies and Cups actually calls for brownie mix and pre made chocolate frosting! Oh, and with that peanut butter surprise in the middle, these may or may not have just been crowned number one on my favorite holiday cookie list.
Coffee Cake Cookies
Last, but certainly not least: coffee cake cookies. I'm pretty sure I go completely nuts every time I see a recipe with "coffee" in the title. Especially if it's coffee and cookies, all in one. So thank you, Pass The Sushi, for giving in to my coffee addiction.
Images: Kari Shea/Unsplash; My Baking Addiction; Savory Sweet Life, Averie Cooks, Home Sweet Eats, Closet Cooking, Brown Eyed Baker, Half Baked Harvest, Brown Eyed Baker, Cookies and Cups, Pass The Sushi