The Sexiest Gifts To Give Your Partner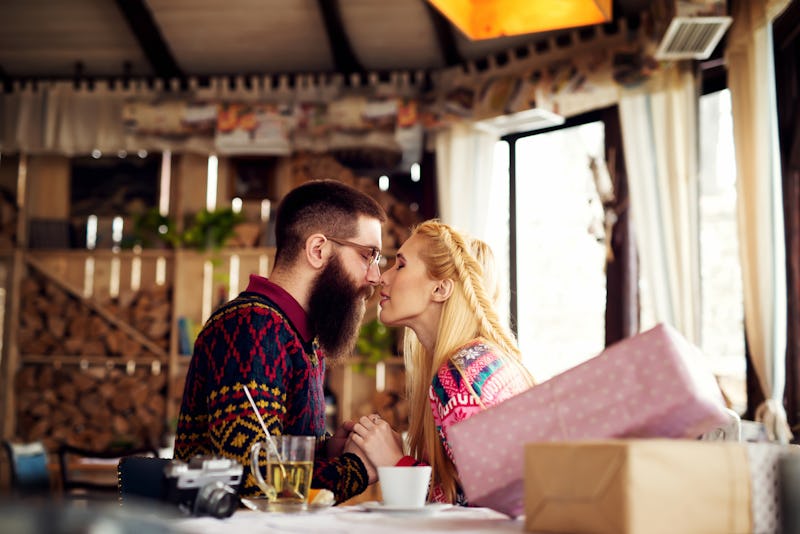 With the holidays just a few weeks away, 'tis the season for shopping. You may be facing the age-old question: What do I get my significant other? And you probably don't just mean cute-and-innocent gifts — you mean sexy gifts to give your partner. After all, sometimes things get routine in the bedroom, right, and you could use a sexy gift pick-me-up, so to speak. There are many ways to keep the romance alive, especially when you live together, from dressing up and going out (or staying in) to introducing new products (read: sex toys) into the bedroom. Not only can these things help boost your relationship, but also save it.
"Orgasms and creating intimacy help reduce stress, enhance feelings of connection with our significant other, and boost self-confidence — all things that make a relationship stronger and healthier," Clarissa Silva, behavioral scientist and author of the relationship blog, You're Just A Dumbass, tells Bustle. "But, it also helps increase self-esteem, trust, and has been linked to increased feelings of generosity. New oxytocin (the chemical released during sex) studies have shown that partners want to please their SO more than just sexually. Add to your gift list whatever else you may want — chances are you'll get it, and more!"
Here are some of the sexiest gifts to give your partner this holiday season (or anytime really).
Dirty Dice, $7, Amazon
These dice are perfect if you want to bring some fun to your sex life in an easy way. After all, you just have to roll the dice and voilà — sexual variety in a matter of seconds.
Pocket Toyfriend, $22, Babeland
You may want to start small when it comes to vibrators, and these mini ones are perfect. Plus, they're great on the go.
Uimi SM Blindfold Fetish Eye Mask Love Eye Mask for Couple Flirting , $11, Amazon
A blindfold is one of the easiest — and most economical — sexy gifts to get someone. This one by UTIMI is not just sleek, but lightweight and adjustable, too.
Sex Questions, $16, Babeland
Sometimes it's hard to ask the tough questions, right? Well, let these cards do the work for you and then you'll see the "satisfying" results.
Candy Cane Glass Dildo , $20, Amazon
This is not only festive, but also will get the job done, so to speak. Aside from the obvious, you can also heat up the 7-inch device or cool it down. We're getting chills already.
Candy Apple Wrist Restraints , $74, Babeland
Handcuffs are so yesterday once you try out these adjustable wrist restraints.
Under The Bed Restraints , $25, Amazon
Of course, 50 Shades of Grey opened up the discussion more on bondage and other forms of sexual excitement and fulfillment. These "Under The Bed Restraints" could be just the thing to increase the heat between you and your SO.
ID Juicy Lube Flavored Lubricant, $9, Amazon
If you're in a sweet and flavorful mood, you may want to try these lubricants from Juicy Lube. They're not only sugar-free, but also water-based.
Orgasm in a Box, $25, Babeland
Whether you're in town with your partner or out, you want to make sure they're all set. With this box set, they will be. It includes a Silver Bullet vibrator (with an adjustable dial and a Bunny Tickler attachment), BabeLube lubettes, and batteries (of course).
Honeymoon in a Box, $35, Babeland
Talk about one-stop shopping — this "Honeymoon in a Box" is it. From the Baeland Buzz and Sonic Ring and two Babelube Lubettes to a Babeland Candle and Dirty Dice, it makes an ideal gift for you and your partner or as a gift.
Little Black (Vibrating) Thong , $38, Amazon
This remote-controlled vibrating thong brings a whole new meaning to multi-tasking and having an orgasm on the go, amirite?! Plus, it has 10 different vibration patterns — and even works in water.
Liberator Heart Wedge , $79, Amazon
If you want to work on new sex positions with your bae, this heart wedge can def help, from various G-spot angles to deeper penetration.
13. Ooh San Francisco Nights Pleasure Pack by Je Joue
Ooh San Francisco Nights Pleasure Pack by Je Joue, $80, Good Vibrations
This kit should fulfill all your needs. The Ooh Mini Motor has two attachments, the Mini Butt Plug (purple) and the Mini Cock Ring (black). There are other themed packs available, too, like "Ooh What Happens In Vegas Pack by Je Joue" and "Ooh Her Name Is Rio Pack by Je Joue."
'Tis the season to be sexy!
Images: Fotolia; Babeland, UTIMI, Adam & Eve; Sex Shop USA Online; Good Vibrations; Target; CandyMan