These 'Gilmore Girls' Quotes Are Already Legendary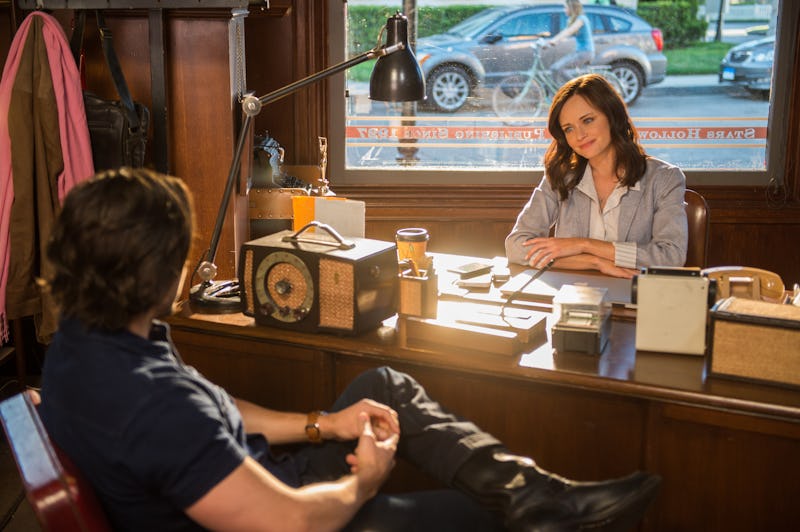 By now, you've had time to dissect every element of the Gilmore Girls revival. Along with there being specific moments that you keep remembering since it premiered on Nov. 25, there are also quotes that you'll never forget from Gilmore Girls: A Year in the Life. Whether the revival left you completely satisfied or wanting more, there's no denying that these memorable quotes made an impact.
Lorelai, Rory, and Emily Gilmore have always been known for their banter and A Year in the Life was no exception. All of the witty repartee and pop culture references you expect from the Gilmore Girls were still there even nine years after the original series went off the air. Certain circumstances had changed, but the core elements of the characters and the town of Stars Hollow had stayed the same. And thankfully, that was delightfully reflected in the dialogue.
While there are some quotes that you probably wish weren't so memorable due to their repetition — Oober and Kinky Boots, anyone? — others have the potential to become the next, "Oy with the poodles already!" So here are 21 memorable quotes from Gilmore Girls: A Year in the Life that will stick with you long after you watch — and rewatch — the revival. Warning: Major spoilers ahead.
1. "I smell snow."
Even if there was already snow on the ground, this beginning throwback was a magical opening moment.
2. "Who's Paul?"
Unlike the person himself, you'll remember all of the lines about not remembering Rory's boyfriend Paul.
3. "I'm pretty good at visually sussing out the situation down there."
Is it acceptable to include every line that Paris Geller said? Especially the ones that made Luke super uncomfortable?
4. "Guys, please. I have been successfully eating by myself for five or six years now."
Actually, Gilmore Girls fans know that Lorelai has been a competent eater for far longer than that.
5. "God, I hate England. I'm voting for Brexit. It's just a protest vote. It will never win."
The world thanks you for that one, Naomi.
6. "So that's it? Trombone Stan and you're out?"
One of the rare times that Emily and Lorelai bonded in therapy was over Trombone Stan (and Timpani Tom).
7. "Now, I'm not in the habit of quoting Joseph Stalin ..."
Something makes me doubt that, Paris.
8. "I slept with a Wookiee!"
There are far worse things than cosplay, Rory.
9. "That puts you in binge-watching jail, Luke."
Rory and Lorelai's rules about watching TV are the only rules to live by.
10. "Fatherhood is just going to be a lot of pretending for me."
Was it just me or was Michel's commentary more hilarious than ever?
11. "We're working on building, working on building, Stars Hollow!"
No matter your feelings toward Stars Hollow: The Musical, you probably had that first song (sung by the fabulous Christian Borle and Sutton Foster no less!) stuck in your head.
12. "You're still a contender."
Rory was quoting On the Waterfront, but Jess was there to give her a pep talk.
13. "It's never or now."
I don't necessarily understand this logic, but I will always remember this was the song lyric that inspired Lorelai to go on her Wild trip.
14. "Oh, you never really needed rescuing, Ace. You know that."
Logan's goodbye to Rory was packed with meaning.
15. "Everything in my life has something to do with coffee. I believe in a former life, I was coffee."
A list of Gilmore Girls quotes is worth nothing if it doesn't include one from Lorelai about coffee.
16. "But there is no one who will be more here for you than me. I will never leave. I will never think about leaving."
Luke's entire kitchen speech was epic, but the passion that Scott Patterson infused into this particular line made it outrageously touching.
17. "And now we don't have to write our vows."
Lorelai acknowledged how romantic Luke talking about body bags during their engagement was.
18. "It's all just a big pile of bullsh*t!"
Emily Gilmore told those DAR snobs what was up.
19. "That you taught me what safe feels like."
Rory gave a little something to the Team Dean people of the world.
20. "Drop the 'The.' Just 'Gilmore Girls.' It's cleaner."
Was your mind blown when Lorelai referenced The Social Network and named the title of show?
21. "Mom?" "Yeah?" "I'm pregnant."
Viewers had been waiting to discover what those final fours words would be and even though they have polarized the fan base, you'll never forget them.
Images: Neil Jacobs, Saeed Adyani (4)/Netflix, Netflix (17)