'Eleanor & Park' Movie Rights Sold to DreamWorks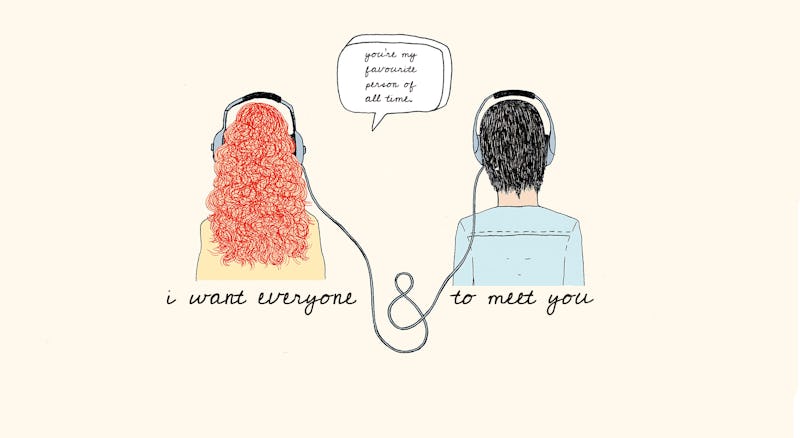 Huge news, everyone: Entertainment Weekly learned exclusively this afternoon that DreamWorks bought the movie rights to Eleanor & Park, Rainbow Rowell's critically acclaimed and internationally beloved YA novel. While it's no guarantee, the news means the book is a major step forward into heading to the big screen.
Even better? Rowell has signed on to write the screenplay.
Rowell's 1980s-set, altera-love story has achieved massive success, including a 2014 Printz Honor for excellence in young adult literature, an Odyssey Honor for outstanding YA/children's audiobooks, a Boston Globe-Horn Book Award, a YALSA Best Fiction for Young Adults award and Best Fiction award, and so many starred and rave reviews that it would be difficult to count. So it comes as no surprise that all this buzz piqued the interest of movie studios.
DreamWorks, perhaps best known for its animated features such as Shrek, Madagascar, and most recently, Mr. Peabody & Sherman, the movie studio is no stranger to live action success, including the recent Oscar contenders The Help and Lincoln. For its part, DreamWorks is hoping to stay true to Rainbow's aesthetic and point of view. Holly Bario, DreamWorks president of production, told EW:
"It's not the typical story where the ugly duckling is in love with the hot guy ... They're both trying to find their way. They're both outcasts."
As for their ideas for the vision of the movie:
"The book is uniquely structured in that one chapter is told by Eleanor and one chapter is told from Park's perspective, and they alternate," Bario points out. "So we're trying to figure out how to do that in a movie. There are all storts of groovy stylistic things you could do with voice over, or words on the screen, but we want something that's real Rainbow."
But what does Rowell herself think? She took to Twitter to express her excitement.
Fans of the novel followed suit, and let's just say no one's Caps Lock key was broken.
But, just as soon as the news was announced, concerns also arose. Rowell also has some casting decisions she wants to note.
Unlike some recent casting disappointments, here's hoping that DreamWorks will stay true to the novel and cast a Korean or Korean-American actor for Park.
When the script is finalized, there will be a search for a director and cast to attach to the project. DreamWorks told EW that it hopes to start shooting in 2015. But with Rowell currently writing another book, there's no telling if that timeline will come to fruition.
And, remember, this isn't the first good news in 2014 for Rainbow Rowell. In February she announced that she would be writing a graphic novel with First Second. So, lots of awesome things are in the pipe.
Image: Rainbow Rowell/St. Martin's Press