16 Holiday Nail Art Ideas That Go Beyond Santa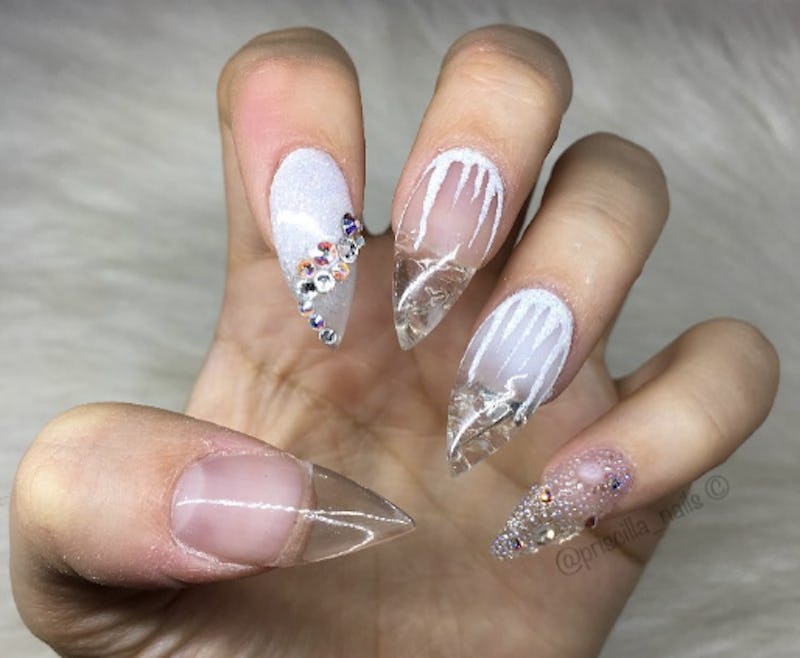 By the time holiday season hits full force, we're bombarded with red and green everything. For DIY nail pros, that probably means claws decked in little reindeer, jolly Santas, and colorful Christmas trees. But your holiday nail art ideas don't have to include Christmas clichés to be festive. Yes, non-denominational nail art can spread a little cheer without being geared towards one specific celebration.
Designs featuring rich holiday polishes are ideal if you want to stay away from being too on-theme. Deep burgundies, moss greens, and ethereal whites are popular choices heading into the season — and of course, there's no better time than now to break out loads of glitter. Sparkle is what the holidays are made of, making any traces of shimmer perfect for a fist of nondenominational nails. You can't go wrong with frosty, matte, or metallic finishes either.
Your best bet for coming up with neutral nails is to capture the essence of the season on a broader level. Think along the lines of festive fashion prints, winter weather, and holiday sweets. Get creative with adornments of all kinds, from giant crystals to tiny rhinestones. And if all else fails, use these 16 bold holiday manicures as inspiration for your next set of winter nails.
1. Snowflakes
Topping your nails with snowflakes pays homage to the holiday season without getting too Christmas-y.
2. Sweater Print
There's no better way to showcase your love for sweater weather than with claws adorned with a classic knitwear pattern.
3. Sequined Tips
This time of year calls for an extra dose of sparkle. With tips loaded in sequins, your nails will practically scream happy holidays.
4. Plaid
Take plaid nails for a spin for a cold weather approved design. And add gold accents to really up the wow factor on these pretties.
5. Peppermint Swirls
There's nothing like minty treats to get you feeling the winter vibes. Peppermint swirls for nails look oh so yummy.
6. Icicle Claws
Clear acrylic creates the most spot-on icicle effect. Topped with a few specs of glitter, these are hands down the coolest winter nails.
7. Penguin Accent
Coming up with nail art more adorable than a penguin in the snow is nearly impossible.
8. Gift Wrapped
Gift giving isn't just associated with one specific holiday or religious denomination so nails adorned with ribbon and a bow keep things pretty neutral.
9. Candy Cane Stripes
Yes to all nail art that gives you a sugar rush just by looking at it!
10. Glitter Galore
A glittery ombré is more than festive enough for the holidays. Opt for silver glitter to achieve the frostiest look.
11. Powdery Forest
What's the holiday season without a little white powder? Snow covered forest scenery brings a winter wonderland to your nails.
12. Frostbitten Cuticles
Icy drips and frosty sparkle will make your nails a winter spectacle.
13. Snowman Family
A gang of snowman bodies brightens up your nails with the holly jolly spirit that this season is all about.
14. Gingerbread Details
You just can't go wrong with nail art inspired by holiday treats. Chocolate brown polish and white gingerbread man details make for nails that almost look good enough to eat.
15. Fresh Snowfall
Dotting on specs in varying shades of blue mimics snowfall so perfectly. Paint on a few icicles too for nails that are beyond chilly.
16. Gingerbread Houses
Nails inspired by decorated gingerbread houses can feature some of the best, intricate details that'll impress anyone who takes a gander at your pointers.
It doesn't take twinkling Christmas trees and smiling Santas to celebrate the holidays with your nail art. The right mani can spread all inclusive cheer for the entire winter season.
Images: priscilla_nails/Instagram