50 Vegan Christmas Recipes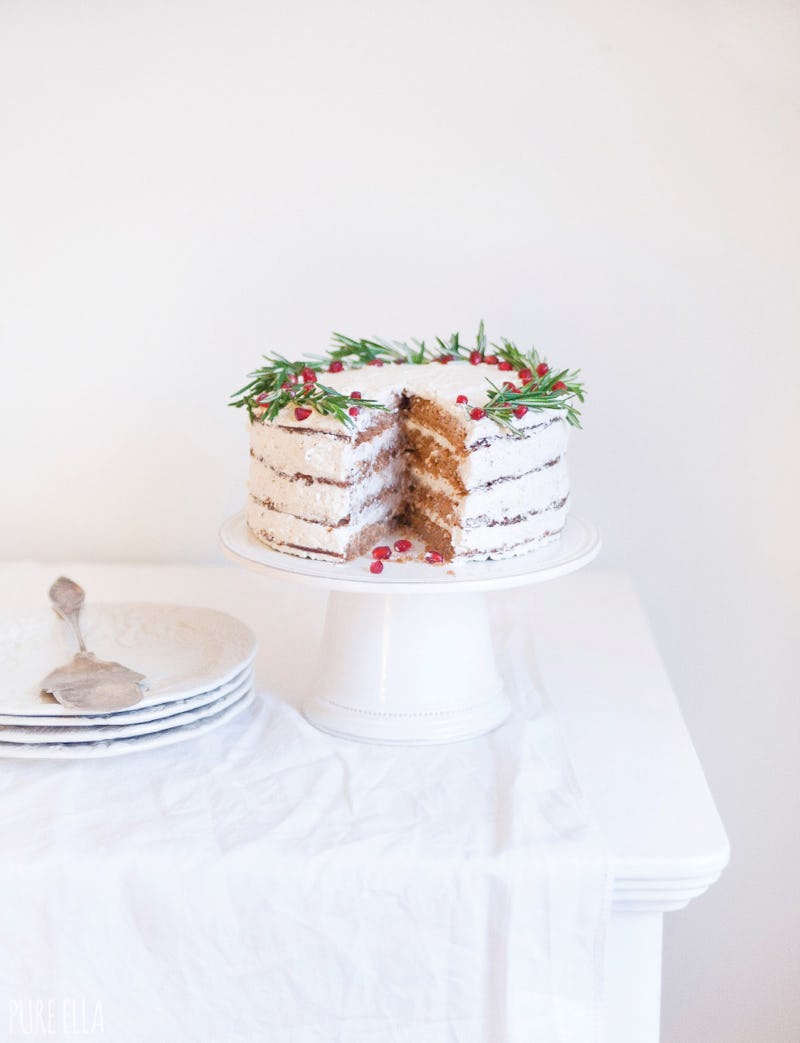 Whether you're Christian and religious or not, I think we can all agree that Jesus was a pretty cool dude. He believed in helping the less fortunate among us, and was one of history's greatest pacifists. All signs point to the idea that, were he around for the movement today, Jesus would totally understand vegans and their desire not to harm any of God's creatures. So, on his birthday, what better way to celebrate what he lived and died for than to make your very own vegan Christmas recipes this 2016?
There are so many vegan Christmas recipes to choose from that it's hard to create just one article rounding them up — so I didn't. You can also check out my guides to easy vegan holiday cookies, vegan eggnog recipes, and vegan Christmas cookies. Obviously, I'm partial to dessert, and have included plenty more vegan Christmas dessert options below — but you can also find ideas for main dishes, sides, condiments, and drinks in this vegan Christmas recipe roundup, in the rough order of when you might consume them.
Happy cooking, and happy holidays! And if any of your family gives you grief for eating what you believe in, check out my guide of how to respond to the most common comments vegans hear over the holidays.
Gingerbread Waffles
First, you're going to need some recipes for Christmas morning, and these gingerbread waffles from Minimalist Baker are as spirited as can be.
Eggnog French Toast With Cranberry Maple Syrup
Another option for your Christmas morning breakfast, this vegan eggnog french toast by Veganosity with cranberry maple syrup really brings the holiday spirit/sugar rush.
Cinnamon Eggnog Rolls
These eggnog cinnamon rolls by The Misfit Baker will definitely make you the hero of Christmas morning.
Gingerbread Granola
An option for a lighter Christmas breakfast, this gingerbread granola by Minimalist Baker is nutty and good to keep year-round.
Healthy Eggnog Protein Shake
If you want to go even healthier and still have your eggnog for breakfast, this eggnog protein shake by Chocolate Covered Katie uses soft tofu mixed with non-dairy milk (it's good, promise!) for added protein and creaminess.
Popcorn Muddy Buddies
Christmas is all about those popcorn tins, but if you really want to impress your family, why not make your own muddy buddies? This Earth Balance recipe is simple and yummy as a Christmas pre-dinner snack.
Cashew Cheese Log
This beautiful cheese log by Pure Ella has Christmas written all over it. Serve it as an app to your guests as they sip on their pre-dinner drinks. Which brings me to...
Boozy Rum Horchata
Alright, onto pre-dinner drinks. Horchata can easily be made vegan, and this Minimalist Baker recipe is a great variation on the classic eggnog.
Chili Cinnamon Bourbon Hot Toddy
If you want a lighter drink to serve than eggnog or horchata, try this Minimalist Baker hot toddy for cocktail hour.
Classic Eggnog
This Oh She Glows recipe can be made with or without booze, and incorporates avocado, coconut, and banana for peak-creaminess. You could even also have this for breakfast, if you ask me.
Kale & Potato Soup
This kale and potato soup from Kellie's Food To Glow is a delicious way to warm up dinner. Put some dried cranberries on top for that red-and-green color combo.
Herb & Cheese Drop Biscuits
These beautiful biscuits by Oh She Glows using vegan cheese prove you don't have to give up that cheesy flavor in order to give up on cruelty.
Garlic Pumpkin Mashed Potatoes With Spinach
Well, these Oh She Glows mashed potatoes look damn beautiful. We made these for Thanksgiving, and everyone couldn't stop talking about them.
Roasted Green Beans With Romesco
These string beans from Naturally Ella stand out for being particularly beautiful. Make them as a beautiful veggie side for dinner.
Butternut Sweet Potato Pecan Casserole
This sweet, delicious side by Minimalist Baker is a simple vegan take on a classic Christmas side.
Garlic Smashed Potatoes
Half baked potato, half mashed potato, these Oh She Glows beauties are topped with an avocado garlic aioli. Yum!
Coconut Curried Greens
Collard greens are a classic holiday side, and this Minimalist Baker recipe adds a unique coconut curry flavor to them. Serve as a side to ensure you eat your veggies.
White Bean Kale Salad With Tahini Dressing
If you're anything like me, no dinner feels quite complete without some crunchy salad on the side. This rich and creamy tahini salad screams special occasion.
Apple Chestnut Cornbread Stuffing
Apples and chestnuts add a real Christmas flavor to this stuffing by May I Have That Recipe.
Apple, Ginger, Cardamom Compote
Your going to need some condiments to go with all these sides. A more original take on classic applesauce, this compote by Green Kitchen Stories is very seasonal, and makes for a delicious condiment.
Spicy Cranberry Sauce
If you also like to have some cranberry sauce on the table, this Fo Reals Life recipe stands out for being easy and packing some heat.
Vegan Biscuits & Gravy
You need some biscuits and gravy to make a classic Christmas dinner complete, and this recipe by Minimalist Baker is the perfect one for mushroom-lovers who like it rich.
Squash Kale Stuffing With Sour Cherries & Pecans
Kellie's Food To Glow is a blog that specializes in healthier comfort food — and this squash stuffing appears to be just that. Just think how pretty it will look on the table, too! It's practically a centerpiece.
White Bean Gravy
If you like some gravy on the side, this Earth Balance recipe uses white beans for a healthier gravy you can feel good about pouring all over everything.
Pumpkin Maple Cornbread Bean Casserole
Combining pumpkin and cornbread into one sweet and savory casserole, this recipe by Oh She Glows makes a great side or main.
Plant-Based Chick'n Pot Pies
As mains go, there's something so cozy about a pot pie on a winter night. This Earth Balance recipe captures that classic chicken pot pie flavor — minus the cruelty.
Garlic & White Wine Pasta With Brussels Sprouts
Winter is all about brussels sprouts and comfort food, and this Minimalist Baker recipe manages to make a creamy vegan Alfredo that scratches all those itches.
Zesty Fennel Tart
This beautiful recipe by Earth Balance incorporates the Christmas colors into one yummy and fancy-looking tart.
Naughty & Nice Enchilada Casserole
Lots of families make a big enchilada on Christmas, and this Naughty and Nice Enchilada by Oh She Glows even packs the perfect holiday name.
Lasagna With Basil Cashew Cheez
Another main classic for Christmas dinner, this Oh She Glows recipe uses cashew cheese (which is deliciously rich) to make one mean lasagna.
Sweet Potato Lasagna
If you want to be even more adventurous in your lasagna, try this recipe by Minimalist Baker instead. With pesto and tofu cheese, this will have all the sweetness and creaminess you could ask for in a Christmas main dish.
Mushroom Tamales
Tamales are another classic Christmas dish, and this vegan mushroom recipe by Veganosity looks delicious.
Spicy Mac And Yeez
If you're more partial to mac n' cheese, this recipe by Vegan Richa is spicy, rich, and unique.
Lentil Mushroom Walnut Balls With Cranberry-Pear Sauce
I'm not a huge fan of alternative meatloaf, but this Oh She Glows recipe actually looks appetizing and particularly festive, using Christmas colors and sprigs, no less.
French Lentil & Buckwheat Stuffed Acorn Squash
This beautiful dish by Pure Ella is much more beautiful to cut into than any animal ever could be.
1-Hour Shepherd's Pie
Another beautiful and hearty main, this shepherd's pie by Minimalist Baker only takes an hour to make (and I'm guessing much less to disappear).
5-Minute Vegan Hot Coco
By the time dessert rolls around, you're probably going to be too full and happy to want to do much work. Enter the Minimalist Baker's easy vegan hot chocolate recipe.
Gingerbread Bundt Cake With Spiced Eggnog Glaze
For dessert, you might as well make two Christmas staples in one. My Darling Vegan's cake combines gingerbread and eggnog for a delicious cake that will go perfectly with your vegan nog.
Peppermint Brownies
These brownies by My Darling Vegan provide the classic Christmas flavor of peppermint and chocolate in one chewy brownie.
Gluten-Free Gingerbread Men
You need gingerbread men/women/gendernoncomforming people to make any holiday cookie roundup complete. This Minimalist Baker recipe is simple and gluten-free, ensuring most everyone will be able to eat them.
Gingerbread Stained Glass Cookies
How pretty are these? These Wallflower Kitchen cookies are truly unique and beautiful as far as vegan Christmas cookies go.
Gluten-Free Sugar Cookies
If you're more of a holiday cookie classicist, this recipe from Minimalist Baker will please the gluten-free and the vegans in your group, and is relatively easy to make.
Coconut Oil Chocolate Bark
No Christmas would be complete without some chocolate bark. This Oh She Glows recipe uses plenty of nuts, just the way we vegans like it.
Healthy Gluten-Free Fig Newtons
Look, I love fig newtons. Christmas is all about those figs, so why not make these homemade newtons by Minimalist Baker for your great aunt who swears that all desserts are garbage for you?
Eggnog Cheesecake Thumbprints
These thumbprint cookies by My Darling Vegan make a perfect Christmas cookie. Because sometimes you just need your nog in bite-sized form.
Holiday Cranberry Nut Loaf Cake
Much tastier than a dry fruitcake, this loaf by Pure Ella is festive and healthier than it looks (like most of her recipes).
Lemon Rosemary Olive Oil Shortbread
This shortbread from Cookie And Kate is a unique and tasty take on the classic Christmas dessert.
Gluten-Free Christmas Wreath Cake
This beautiful cake by Pure Ella is vegan, gluten-free, and even works for those in your family with nut and soy allergies. If you want a Christmas cake that will blow everyone away and exclude the minimum amount of people, go for this show-stopper.
Virgin Chocolate Eggnog Martini
This recipe by Veganosity says it's virgin, but I also see no reason why it has to be. Super easy, she just suggests using Silk's seasonal eggnog, and adding chocolate and peppermint extract. Looks fancy, but it takes hardly any effort. Just my kind of recipe.
Peppermint Drinking Chocolate
If you want a richer hot chocolate for dessert, try the Minimalist Baker's peppermint drinking chocolate — and booze it up if you please. Merry sugar coma!
Images: Pure Ella; Minimalist Baker; The Misfit Baker; Veganosity; My Darling Vegan; May I Have That Recipe; Oh She Glows; Earth Balance; Kellie's Food To Glow; Wallflower Kitchen;