Tracy Wins Big On 'Hairspray Live!'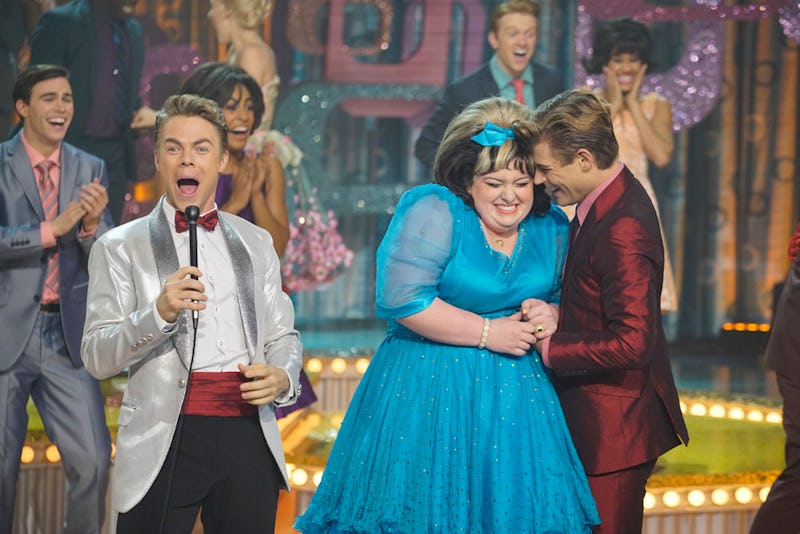 It's hard to deny the infectious positivity was out in full force during Wednesday night's Hairspray Live! performance. Hairspray Live! 's focus on female empowerment, body confidence, and racial equality was wrapped in seriously catchy numbers like "Mama, I'm A Big Girl Now" and "You Can't Stop The Beat." But the most memorable moment in the show was not during a musical number. Instead, the best moment came during an interlude in "You Can't Stop The Beat," when Corny Collins stops to interview Tracy after she wins a scholarship and the boy instead of just the boy.
After Tracy broke into the television studio and on to the stage of The Corny Collins Show, she and Link sang their hearts out on the first verse of "You Can't Stop The Beat," effectively sealing the win for Tracy. As the music died down, Corny ran over to Tracy and Link. When he asked what was next for Tracy. Link made a joke about effectively being the only thing in Tracy's future but Tracy had another response ready for him. "I want to get my graduate degree in musicology with a minor in ethnic studies!" she told Corny, beaming ear to ear. After a moment, she turned to Link and assured him there was room for him in her life.
It was a moment that solidified that Tracy could have anything she set her sights on: Higher education and love aren't mutually exclusive to Tracy who has been made to feel at times that she wasn't pretty or smart enough to be worthy of love or praise. This moment was a blink-and-you-miss-it moment of profound importance if only because it adds to the important themes of Hairspray.
It was exciting to see a woman win love and the future she wanted, rather than letting just the boy be her prize in life. And, hopefully young women tuning in saw that message too.
Image: Paul Drinkwater/NBC