Rihann's Velvet Puma Creepers Have Landed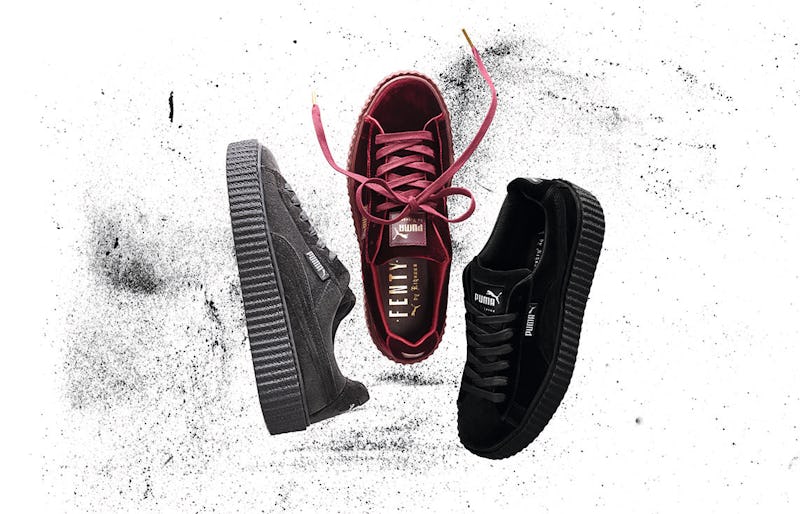 It's time to Creep! Rihanna's velvet Puma Creepers have finally landed on Thursday, Dec. 8 via the Puma site and Puma retailers. The luxe kicks come in cement, burgundy, and black colorways and will offer an instant upgrade to any ensemble with which they are worn, thanks to that plush texture. Since the Creeper has been named Shoe of the Year by Footwear News and because every drop of the Rihanna Puma Creeper sells out on the quick, your most logical next question has to be this one: Are the Rihanna velvet Puma Creepers sold out?
Update: As of 11:20 a.m. ET, the Rihanna Puma Creepers in velvet appear to be sold out. The site lists the shoes as unavailable when trying to put them into the cart.
Here's the scoop. The Rihanna Puma Creepers are not sold out... yet. But don't expect that status to last. Because the texture and the rich colors elevate these shoes a notch from fashion-forward sneaker to straight up dressy, and because this a brand new fabric, excitement and interest is higher than usual.
These velvet Rihanna Puma Creepers, which are $150 a pair, are easily the snazziest sneaks on the block. Getting on the site was difficult when the shoes went on sale at 10 a.m. ET.
There's no confirmed news about whether or not the velvet Creepers will be restocked, either. The brand usually drops new colorways once and BOOM! That's it... although the original colorways enjoyed an encore this past September. Bustle reached out to Puma PR reps about future drops.
For the velvet version, the thick sole matches the color of the shoe itself because #monochromatic. You can wear any of these kicks with any all-black or all-white ensemble for a pop of color.
Take a closer look at the gray version.
Or the red!
Back in black!
Rihanna and Puma are closing out their incredibly and fashionable year with a killer shoe. Hopefully, you scored a pair.
This tweet says it all.
Images: Puma/Instagram (1); Puma SportStyle/Instagram (3)