13 Brilliant Gifts For 'Hamilton' Fans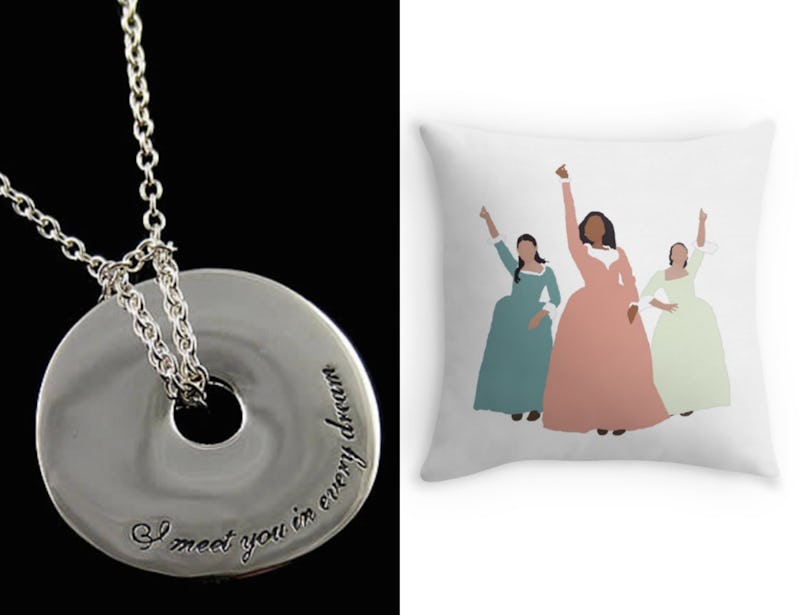 We hold these truths to be self-evident, that not all gifts for Hamilton fans are created equal. But if you're past patiently waitin' and passionately smashin' every expectation, you want to make sure that you are getting your fellow Ham fans (or as we occasionally refer to ourselves, Ham trash) the ultimate Hamilton-themed gift — the kind that will not only knock their socks off, but will make them look around, look around at how lucky they are to be alive right now. And trust me, there are a million things you haven't bought; just you wait, just you wait.
Now that I've gotten literally every song from this musical stuck in your head for the rest of the day (enjoy the awkward looks from your coworkers when you start singing under your breath!), in all seriousness, there is some top notch Hamilton merchandise — and thanks to the majesty of this internet, you no longer have to muscle your way into the theater to buy it. So what are you waiting for? What do you stall for? Peruse these awesome Hamilton gift ideas for the musical theater enthusiast in your life. And if you slip up and just end up buying it all for yourself, I'm not here to judge; just remember that history has its eyes on you!
Hamilton Baseball Cap , $35, Bloomingdale's
For the friend you have the honor to be the obedient servant of, this is the perfect gift. Signed, A. Burr.
Hamilton Adult Coloring Book , $10, Amazon
A friendly reminder that while coloring will help ease your friend's stress away, it will never quite ease their despair after listening to Burn.
Elizabeth Schuyler is the indisputable MVP of Hamilton, and this book tells the whole sweeping tale of her romance with Alexander Hamilton. Who could Say No To This?
4. This Lovely "I Meet You In Every Dream" Necklace
"I Meet You In Every Dream" Necklace, $72, The Giving Tree Gallery
Hold onto your #feels, because this is a direct quote from a letter that Alexander Hamilton wrote Elizabeth Schuyler in 1780, two months before they were wed.
5. A Legacy Phone Case In Chic Mint Green
Legacy Phone Case , $25, Red Bubble
Give this gift at your own risk, because they will get this song stuck in their head every time they get a text.
6. This Amazing Schuyler Sisters Throw Pillow
Schuyler Sisters Throw Pillow , $25, Red Bubble
Now your friend can enjoy this view on their couch while they work, work, work on the weekends.
Wait For It Clock , $30, Red Bubble
Get this for your friend who's always "5 min away!!" — because life doesn't discriminate between the sinners and the saints (or, as it turns out, people who are perpetually running late).
Hamilton Graphic Tee , $40, Bloomingdale's
Now your friend can ~rise up~ in style.
9. A Mug That Acknowledges Your Ability To Lin Manuel Mirandize
Mirandize Mug , $13, Cafe Press
Nothing pairs as well with strong coffee as a reminder that your fandom is strong enough to change the entire definition of a word in the course of one year. #Bless, Lin-Manuel Miranda.
10. Fill Up Your Very Own Hamilton Trash Notebook
Hamilton Trash Notebook , $13, Red Bubble
To quote our hero Lin-Manuel Miranda, "The kids, when they like something on the internet, they call themselves the trash of the thing." Now the trash of the thing can start their own marvelous things, and write like they're running out of time.
11. Show Off Your Love With A #Hamilholic Tote Bag
#Hamilholic Tote Bag , $15, Cafe Press
For the kind of Hamilton fan who is constantly lurking on Twitter, retweeting Lin-Manuel Miranda, and following all the best Ham memes on Instagram, this is the perfect gift.
"Alex & John Letter" Dress (Sizes XS - 2XL) , $65, Red Bubble
Nobody could craft a letter quite as beautifully as Alexander Hamilton, and now his moving letter to John Laurens sent in 1779 is immortalized on this dress.
Ham 4 Ham Tee , $40, Bloomingdale's
Whether they're standing on the edge of the sidewalk outside the theater to watch the daily #Ham4Ham performances or live-streaming them online, now they'll be properly dressed for the occasion.
Bustle may receive a portion of sales from products purchased from this article, which was created independently from Bustle's editorial and sales departments.
Images: Courtesy of Brands