What's In A Starbucks "Pokemon Go" Frappuccino?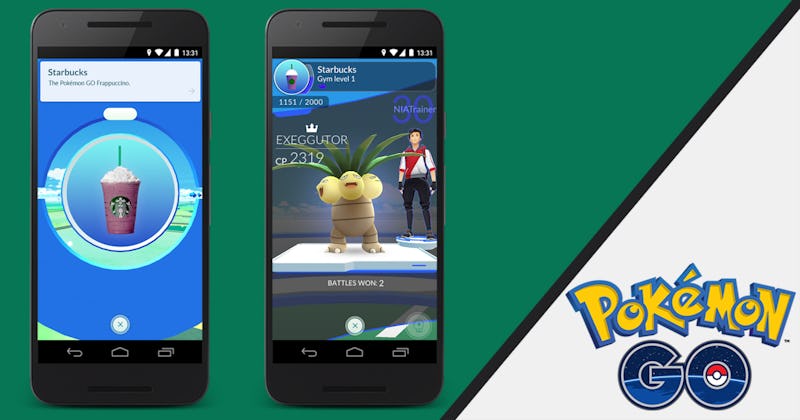 It's paying off to be a "Pokemon Go" player this holiday season. Not only are rumors circulating that new Pokemon are about to be released into the augmented reality world, but Starbucks is partnering with the game to offer players their own special drink! So what's in a Starbucks "Pokemon Go" Frappuccino? In order to reward those braving the cold weather to fill out their Pokedex and hold down local Pokegyms, Starbucks has concocted a tasty new beverage sure to give "Pokemon Go" players the pick-me-up they need to catch that last Snorlax. True, 'tis the season for Peppermint Mochas and Eggnog Lattes — but this new icy beverage has nothing to do with holiday flavors. Instead, vanilla creme and bright tangy berries (you guessed it — Razz Berries are one of the ingredients) are blended together to create a concoction Pikachu would surely enjoy.
According to a press release, this special beverage hit stores on Dec. 8 and will only be available while supplies lasts, so next time you're on the hunt for a Rhyhorn, you might want to check it out. The "Pokemon Go" Frapp is available at approximately 7,800 Starbucks stores across the United States that have been turned into PokeStops or Gyms. You won't see this drink on any menus, but an image of the drink will appear when you tap on the Starbucks in the AR game world. When you ask your barista for the drink, be sure to pick up some Great Balls while you're at it!
So what's in this limited-edition beverage especially tailored to Pokemon fans' needs? Four simple ingredients make for a colorful drink well worth the trip:
A Vanilla Bean Frappuccino Base
The smooth vanilla base ties the entire drink together; however, for those looking for a boost, it does not contain any caffeine. Could it be that this chilly vanilla Frapp be inspired by Vanillish, the ice-type Pokemon? We may never know, but either way, it's super tasty.
Raspberry Syrup
Razz Berries are a key "ingredient" (so to speak) in "Pokemon Go," so was there ever any doubt that a Pokemon drink would contain this all-important red fruit? The sweet syrup marries with the vanilla perfectly — if only you could feed it to high level Pokemon to make them easier to catch!
Freeze-Dried Whole Blackberries
A tart and tangy element makes this drink a brilliant purple when blended with the raspberries. Remember those colorful, instagramable drinks off the Starbucks secret menu last summer? They might have met their official Frappuccino match.
Whipped Cream (Optional)
The barista will top off your decadent drink with a dollop of fluffy whipped cream, so go ahead and indulge while you hit up some more Pokestops. You deserve it!
Prices for the drink will vary by market, but when I went to my local Starbucks today to check it out, a Tall "Pokemon Go" Frappuccino cost $4.84; a Grande, $5.72; and a Venti, $6.15. Bustle has reached out to Starbucks and will update if/when we hear back.
Update: Although the cost will vary by market, a Tall 12-ounce "Pokemon Go" Frappuccino ranges in price from $4.80 to $4.95.
Earlier: Happy hunting!
Images: Starbucks; Lily Feinn/Bustle; Giphy (4)