NKOTB On 'Fuller House' Was Pitch Perfect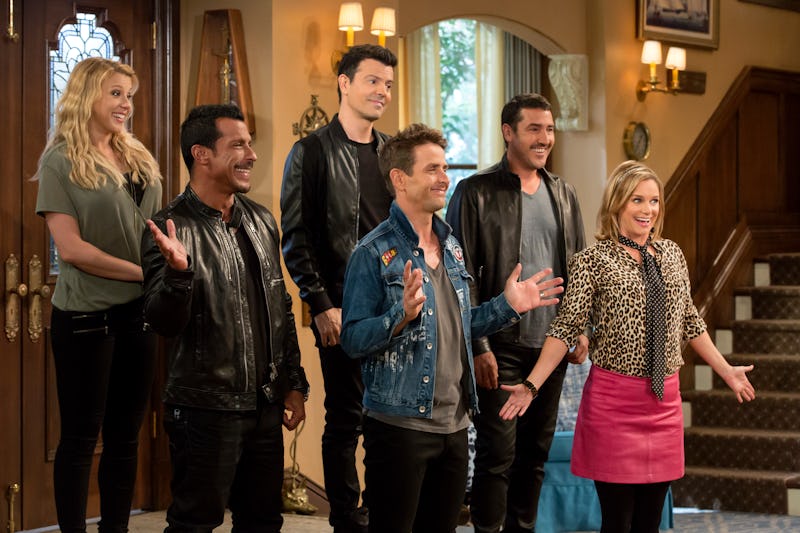 Kimmy Gibbler is so infamous that even New Kids on the Block knows who she is and it made for the most epic guest star appearance yet on Fuller House. SPOILERS ahead. After accidentally getting D.J. counterfeit tickets to their concert for her 39th birthday, Kimmy convinced the New Kids on the Block to show up on Fuller House to serenade D.J. for her big day since they were going to miss the concert. While most of the cameos on Fuller House are usually too short, the New Kids on the Block received an appropriate amount of screen time in Season 2, Episode 10, "New Kids in the House."
Although Donnie Wahlberg couldn't be there in person because he was busy filming his TV show Blue Bloods (don't worry, his fellow NKOTB members plugged the CBS show for him), Joey McIntyre, Danny Wood, and Jordan and Jonathan Knight were all there. They showed up to the Fuller-Tanner-Gibbler house to sing "Happy Birthday" to D.J. so they could avoid ever having to interact with Kimmy (who had stolen their laundry before) again. Yet, when they showed up, D.J. had left for the dentist. So she showed back up hopped up on pain meds and inappropriately stroked Joey's chest. She passed out on the couch and even missed NKOTB singing to her with Donnie via Ramona's iPad.
Don't worry though because Steve landed D.J., Stephanie, and Kimmy front-row seats to the concert at the last minute. Of course, the three women ended up stage with the New Kids to perform "You Got It (The Right Stuff)."
That, plus Joey singing "Please Don't Go Girl" and references to "Hangin' Tough," "Step By Step," and "I'll Be Loving You (Forever)," made this episode of Fuller House a New Kids on the Block fan's dream come true — even if having to interact with Kimmy was a nightmare for the New Kids.
The band was down for all of the hokey glory that Fuller House is about and seeing the guys in the Tanner house was the perfect blend of late '80s and early '90s nostalgia.
And another bonus of the New Kids showing up? If you ever wondered who D.J.'s favorite New Kid is, at least now you know it's most likely Joey.
Images: Michael Yarish/Netflix, Netflix (3)