'GoT' Has Tough Golden Globes Competition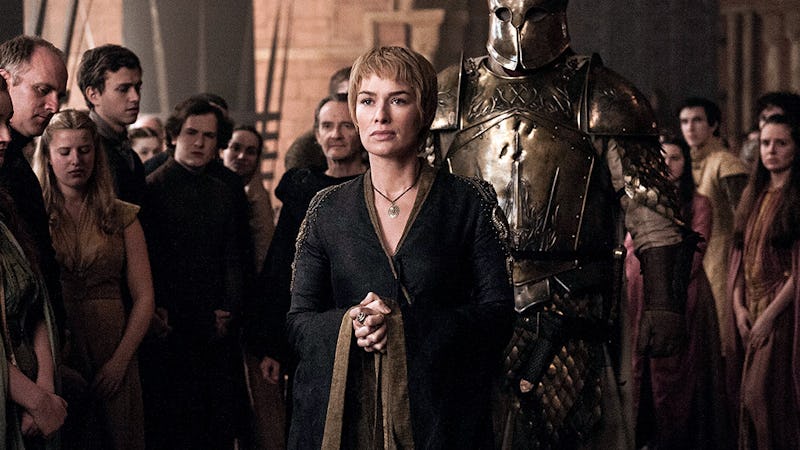 If you thought that this would be the year that Game of Thrones would finally make its mark and enter a period of nomination domination — I'm trademarking that, don't even think about touching it — of the Golden Globes, then I hate to be the bearer of bad news, but you should probably not pursue a career as a fortune teller, because Game of Thrones got just two 2017 Golden Globe nominations. Sigh. Slightly better than normal, but still hard to get optimistic about, when the drama is consistently so snubbed. The series was nominated in the Best Television Series — Drama category, and Lena Headey got a nod for her kickass portrayal of Cersei Lannister which blew minds all season. And, while I'm so relieved and gratified that Headey's performance is getting her the credit she deserves, in some ways, this does feel like too little too late. Even though the show has historically been one of the most critically-acclaimed and universally appreciated of any on the air right now, Game of Thrones has consistently failed to come away from the Golden Globes with the nominations or wins that fans believe it deserves.
Although the HBO drama has 83 Emmy nominations under its studded leather belt, GoT has only ever been nominated for six Golden Globes, including Monday's nominations, and walked away with just one so far: Best Supporting Actor in a Series, Miniseries, or Film, for Peter Dinklage and his portrayal of Tyrion Lannister in 2012. Until this year, the other nominations had all been in the category of Best Television Series — Drama, which gave Game of Thrones nods at their 2012, 2015, 2016, and now 2017 ceremonies, but incredibly, never a win. It remains to be seen how GoT will fare this time around, but in the past, the show has lost out to Homeland, The Affair, and Mr. Robot, respectively. This year, it's going up against The Crown , Stranger Things , This Is Us , and Westworld , so it could be similarly difficult to walk away with a win. Westworld was a real favorite this year, and as a new, thematic series on HBO generating tons of conversation, it's hard not to see the parallels to Game of Thrones, which had similar momentum on the same network six seasons ago, when it first started airing.
But as we know, that momentum has never guaranteed the show a win so far, so it's hard to predict which way the Golden Globes will go on Jan. 8, 2017. This continual snubbing of Game of Thrones as a series by the Golden Globes is one of the most perplexing patterns of award season, and many were curious whether Monday's nomination would signal a turn of the tide or be more of the same. With the show's Season 6 netting two nominations on Dec. 12, there is cause for cautious optimism. Game of Thrones was expected to receive at least one Golden Globe nomination, in the same Best Television Series category where it's been nominally honored before, and it did. I don't personally predict a win there, but I have higher hopes for Lena Headey, who will be competing in the mouthful of a category Best Performance By An Actress In A Supporting Role In A Series, Limited Series, or Motion Picture Made For Television against The Night Manager's Olivia Colman, This Is Us stars Chrissy Metz and Mandy Moore, and Westworld's Thandie Newton.
It was an actor who brought home Game of Thrones' first Golden Globe, and it would be fitting if an actress brought home its second, but I have a feeling that across the board, it's going to come down to a tight race between Game of Thrones and Westworld. May the best alternate reality win!
Images: HBO; Giphy